The London Fish Exchange
Data / Market Insight / News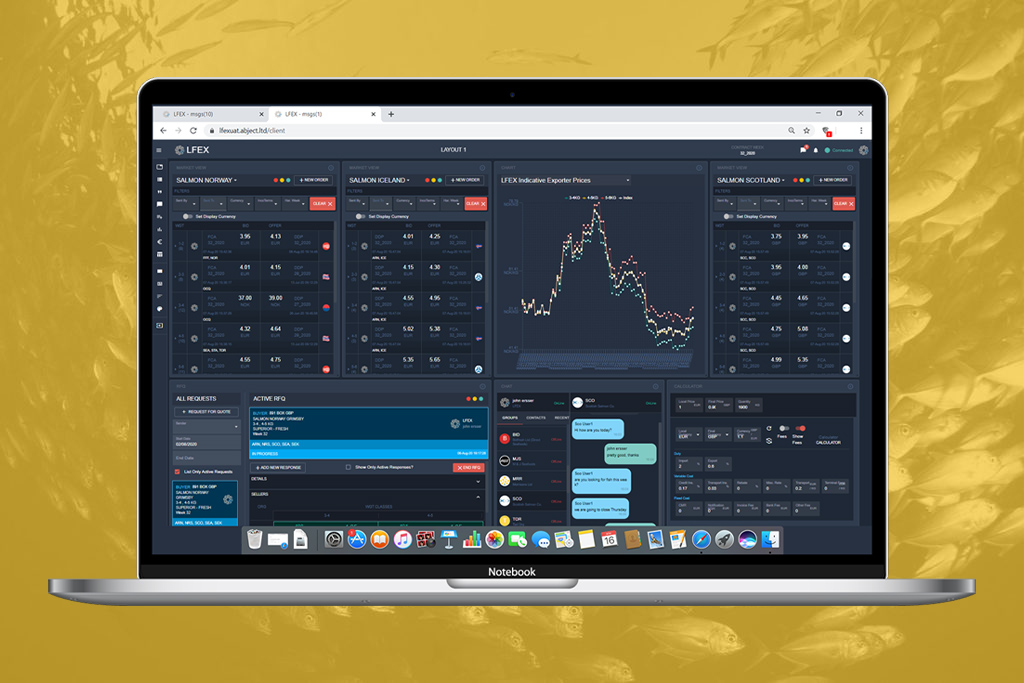 LFEX, the Global Electronic Seafood Market, Successfully Release of LFEX WebTrader version 3.5
Published: 7th June 2020

This Article was Written by: John Ersser
---
LFEX today announced that in line with the companies stated policy of continued development of the system based on customer feedback the following enhancements have been made available to registered users of the LFEX platform.
New Features / Modifications
The following new features and modifications are available in v3.5
A range of significant core platform technology enhancements have been implemented within v3.5. The purpose is to support the further rollout of planned products and services as LFEX continues to develop and enhance our platform inline with our vision for the products and services we wish to offer to support this market, and based on-going user feedback.
1. New MarketView (MV)
Market View had been redesigned. Visually users can now see time of update attached to each price displayed in the MV window, along with the contributor of the price – or where the prices were made to a list of counterparties, the list of these companies. Further, prices can be amended on the fly in real-time in MV (as well as blotters).
By pressing on the company logo in M|V the full quote information is available in a new format consistent across the platform, again including the full list of counterparties it has been sent to.
Scaling and formatting of MarketView widget has been improved (grab bottom RHS of widget to size).
2. LFEX Indicative Exporter Prices
LFEX Indicative Exporter Prices are now available for users to reference.
These prices are indication prices collect from exporters of Norwegian Salmon, and for the first time provide the industry with a daily indicative average prices taken from market contributors. This data is viewed in MarketView with composite prices, or by selecting LFEX_IND in the 'sent from' in the MarketView filters.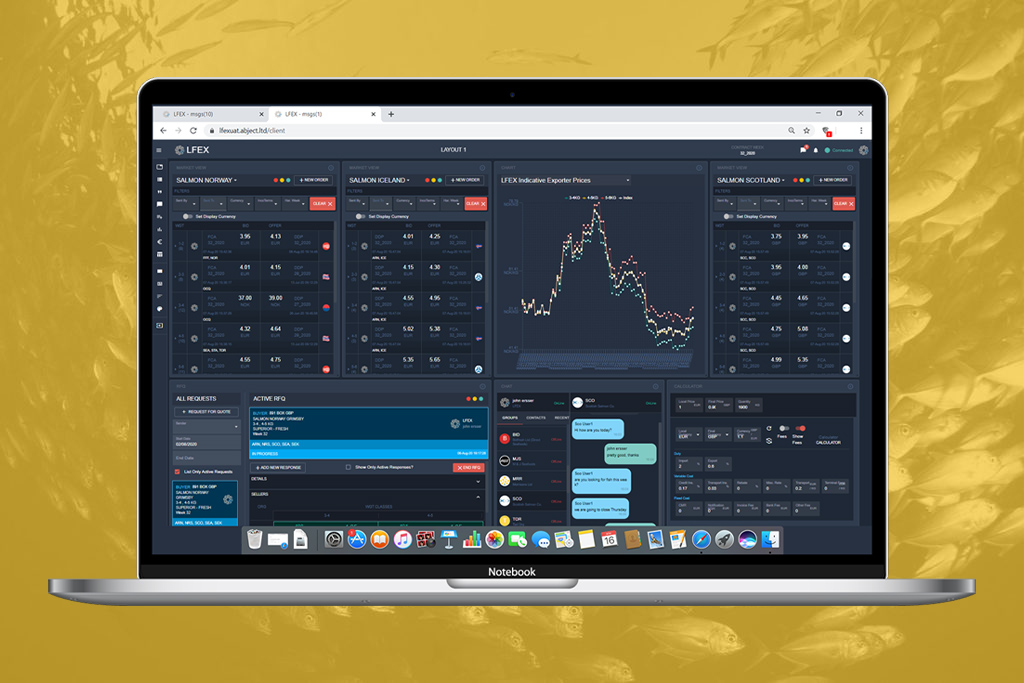 ---
More London Fish Exchange Articles...
3. New Charts – NASDAQ / LFEX Indicative Prices / LFEX Index
LFEX has added two data series to the LFEX charts, these are –
NASDAQ Buyers Prices and Index – Weekly – Historic NASDAQ weekly trading price data.
LFEX Indicative Prices and Index – Daily – currently indicative market prices, and the LFEX Index based on these prices.
New Service
LFEX Mobile Trader (beta) Release
LFEX is thrilled to announce the beta release of the LFEX Mobile Trading platform.
Power in the palm of your hand. Access the same core features and functionality as LFEX web trading platform. Mobile supports – Market View pricing service, with the same price ranking / sorting capabilities. View RFQ's in progress / create, view and amend RFQ's, live FX rates.
Send orders, negotiate with counterparties and trade on mobile. With trade confirmations to both mobile and web platform. Includes LFEX Chat services, all chat messages and data viewable in the LFEX Web Trader application.
Communicate with any counterparty, from home, office, while travelling, 24 x 7, fully integrated with LFEX Web Trader – never miss a call, a price, and order or trade.
About London Fish Exchange (LFEX)
Based in London and independent, LFEX Trading Platform has been released to a number of counterparties and trading has commenced in Atlantic Salmon.
Our core team have been at the forefront of the evolution of electronic trading in financial markets, having managed the rollout of the first real-time electronic equities platform in Europe in 1996 and the world's first real-time internet based FX platform in 1998.
LFEX is supported by a range of companies through investment, support and services including exporters, processors, farmers, leading industry news providers, currency and payments, technology partners, financial brokerage firms as well as legal, infrastructure and operational partners and logistics companies, and a global network of relationships stretching from the US, Europe and Asia.
We welcome global participants in the European farmed Atlantic Salmon market to register with us and start trading. In addition, we welcome fish and crustacean farmers, exporters, producers, fisheries, processors, buyers and related market participants and other interested parties to register with us.
We look forward to engaging and working with you as we rollout additional species and products on the platform.
---
More London Fish Exchange Articles...