The London Fish Exchange
Data / Market Insight / News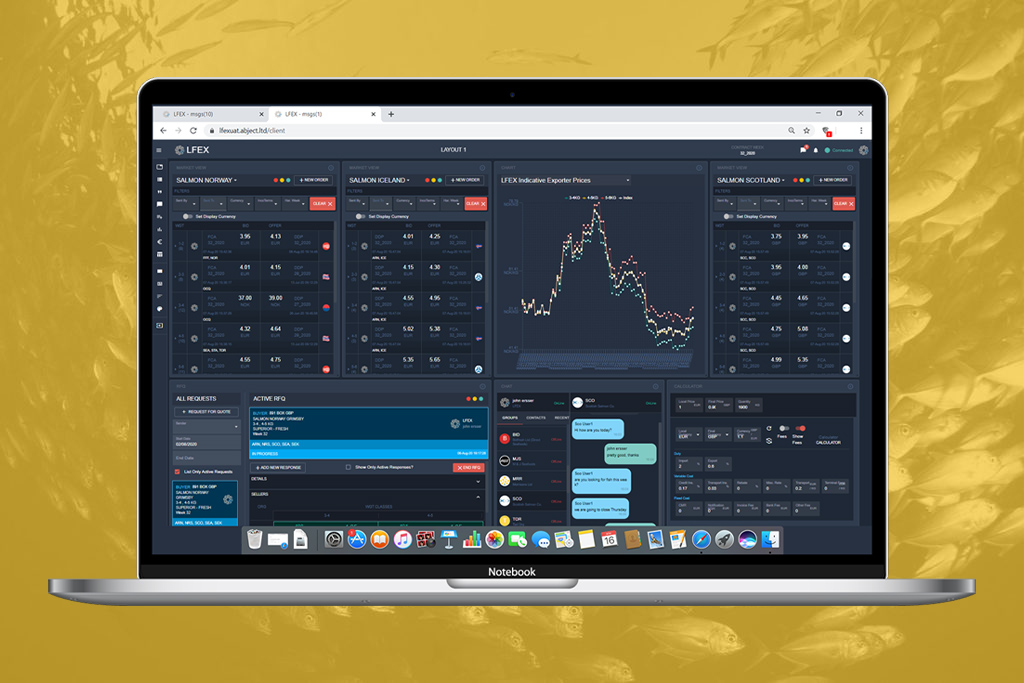 LFEX, the Global Electronic Seafood Market, Successfully Release of LFEX WebTrader version 3.4
Published: 5th April 2020

This Article was Written by: John Ersser
---
LFEX today announced that in line with the companies stated policy of continued development of the system based on customer feedback the following enhancements have been made available to registered users of the LFEX platform.
New Features / Modifications
1. Notifications Service
This is a brand-new application developed for users allowing them to set notifications of any changes in prices and orders on the system that affect their account. Notifications cover new orders, any amendment to orders, new RFQ's, any amendment to RFQ's and trade notifications.
Notifications can be accessed via User Setting. Notifications can be sent to your registered email and through SMS to the mobile phone number registered to your account. Users may choose which events to receive a notification for, and how they wish to be alerted.
2. Calculator
The calculator function has been amended in the system. The changes reflect User requests in the method of calculation and calculation fields. These enhancements allow users the ability further refine and calculate pricing.
3. Additional Order Types and Comments.
Users are now able to select a range of additional order types within the platform. Users are also able to add a 'comment' on orders for any additional order information they may wish to add.
4. Trading Efficiency
A number of changes have been added to the trading process to further enhance efficiency of the platform, based on user feedback. These include quick trade and further automation of the trading process.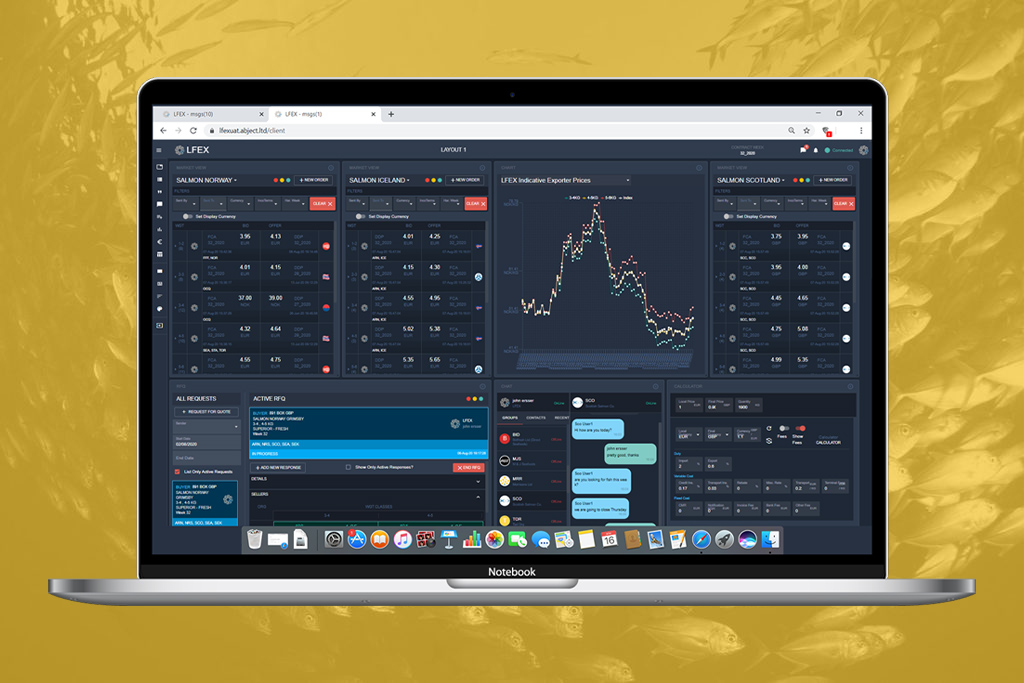 ---
More London Fish Exchange Articles...
5. New Trade Confirmation Acknowledgment / Order Details
A new version of the trade confirmation has been developed. The order viewer has also been enhanced.
6. New Blotter Functionality
Blotters offer a greater range of data to be displayed, and data can be displayed in any column, with enhanced filtering and sorting.
Other
A range of other amendments including modifications to the FX widget have been incorporated.
Current system up-time since launch has been recorded at 100%, with availability and access for users 24 x 7.
About London Fish Exchange (LFEX)
Based in London and independent, LFEX Trading Platform has been released to a number of counterparties and trading has commenced in Atlantic Salmon.
Our core team have been at the forefront of the evolution of electronic trading in financial markets, having managed the rollout of the first real-time electronic equities platform in Europe in 1996 and the world's first real-time internet based FX platform in 1998.
LFEX is supported by a range of companies through investment, support and services including exporters, processors, farmers, leading industry news providers, currency and payments, technology partners, financial brokerage firms as well as legal, infrastructure and operational partners and logistics companies, and a global network of relationships stretching from the US, Europe and Asia.
We welcome global participants in the European farmed Atlantic Salmon market to register with us and start trading. In addition, we welcome fish and crustacean farmers, exporters, producers, fisheries, processors, buyers and related market participants and other interested parties to register with us.
We look forward to engaging and working with you as we rollout additional species and products on the platform.
---
More London Fish Exchange Articles...