The London Fish Exchange
Data / Market Insight / News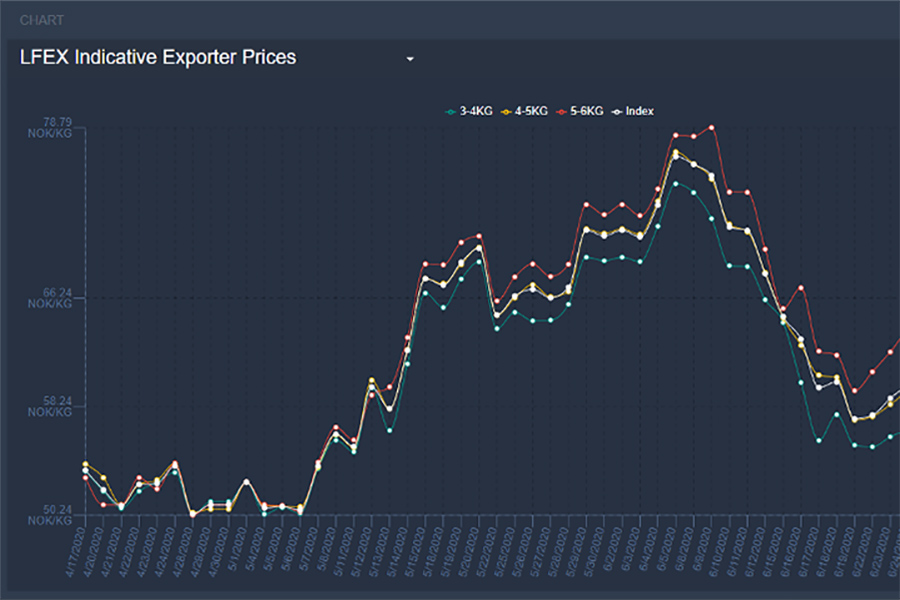 LFEX, the Global Electronic Seafood Market, Announces Release of the LFEX Exporters Index and LFEX Exporters Composite Indicative Prices.
Published: 14th June 2020

This Article was Written by: John Ersser
---
In addition to tradable and indicative prices on the platform sent between sellers and buyers, LFEX now provides composite indicative pricing for farmed Norwegian Salmon.
LFEX sources indicative pricing from a number of Norwegian exporters on its platform. These prices are then used as the basis to calculate an average market price by weight class, which are then published daily on the LFEX platform for the benefit of members.
Pricing is by weight classes 3-4KG, 4-5KG and 5-6KG. By using multiple sources, LFEX is able to offer a blended (or composite) price and representational of the market trend without being influenced by any one source. By publishing daily, it means for the first-time market participants have access to prices intra-week during the harvest week, allowing users the ability to track price development during the week, instead of waiting for weekly price statistics.
We see this as a great benefit to users, to provide greater transparency of pricing during the trading week. The new prices has been configured to appear in the MarketView window. To view this pricing individually, use the 'sent by' filter and select LFEX_IND. Further this information is now available in charts to help view current harvest week price development and historical price development.
Additionally, LFEX has launched the LFEX Exporters Index, which provides a combination of weight classes prices (3-4, 4-5 5-6) to calculate the Index average. This information is also published on the chart.
The LFEX indicative price service is based on 'offer' price indications from exporters and provided on a best efforts basis for information purposes. LFEX reserves the right to amend the basis of calculation and contributors. Interested parties should contact LFEX to register to become a member or enquire for more information.
For clarity firm tradeable prices from multiple exporters are available on the platform in the normal way.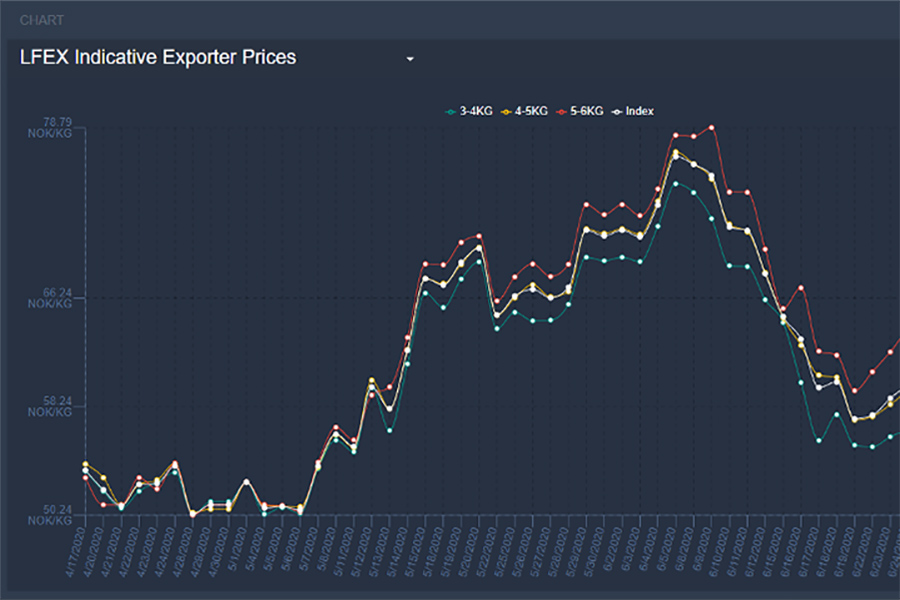 ---
More London Fish Exchange Articles...
About London Fish Exchange (LFEX)
Based in London and independent, LFEX Trading Platform has been released to a number of counterparties and trading has commenced in Atlantic Salmon.
Our core team have been at the forefront of the evolution of electronic trading in financial markets, having managed the rollout of the first real-time electronic equities platform in Europe in 1996 and the world's first real-time internet based FX platform in 1998.
LFEX is supported by a range of companies through investment, support and services including exporters, processors, farmers, leading industry news providers, currency and payments, technology partners, financial brokerage firms as well as legal, infrastructure and operational partners and logistics companies, and a global network of relationships stretching from the US, Europe and Asia.
We welcome global participants in the European farmed Atlantic Salmon market to register with us and start trading. In addition, we welcome fish and crustacean farmers, exporters, producers, fisheries, processors, buyers and related market participants and other interested parties to register with us.
We look forward to engaging and working with you as we rollout additional species and products on the platform.
---
More London Fish Exchange Articles...