The London Fish Exchange
Data / Market Insight / News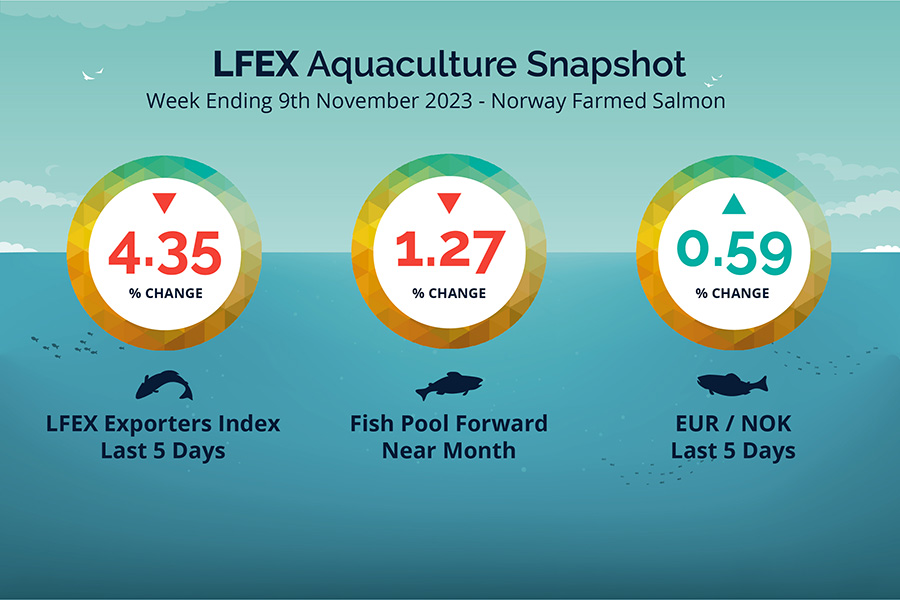 LFEX European Aquaculture Snapshot to 9th November, 2023
Published: 10th November 2023

This Article was Written by: John Ersser
---
The LFEX Norwegian Exporters Index for Week 45 2023 ended the week down -4.35%, -3.45 NOK to stand at 75.81 NOK (in EUR terms 6.35 / – 0.33 / – 4.91%) FCA Oslo Week ending Thursday vs previous Thursday.
The NOK rate ended up at 11.94 to the Euro over the period Thursday to Thursday +0.07 NOK or +0.59%. The Fish Pool future November was reported down -1.00 NOK, -1.27% at 78.0 NOK.
The index price opened on the Friday at 78.69 NOK / – 0.72 %, -0.57 NOK bang in-line with expectations, and subsequently found a little strength to 80 on Monday and Tuesday (the high). However Wednesday saw a drop off (77.67), and Thursday closed at the low for the week 75.81. The NOK slide continued this week to 11.94. Volumes were good. Some buyers looking to stock freezers at the lower levels concerned about higher prices Q1 / Q2 '24. This is speculative demand as opposed to customer demand which appears to be softening and buyers were more cautious. The Euro low was approximately 6 EUR / Kg back in August, and we closed at 6.35 Thursday. Next week early indications are to open around current levels 74.5 / 75 .5 / 76.5 and may see a further drop off as the week progresses. Updated index pricing as usual will be published later today.
David Nye's technical analysis report will be published on Monday.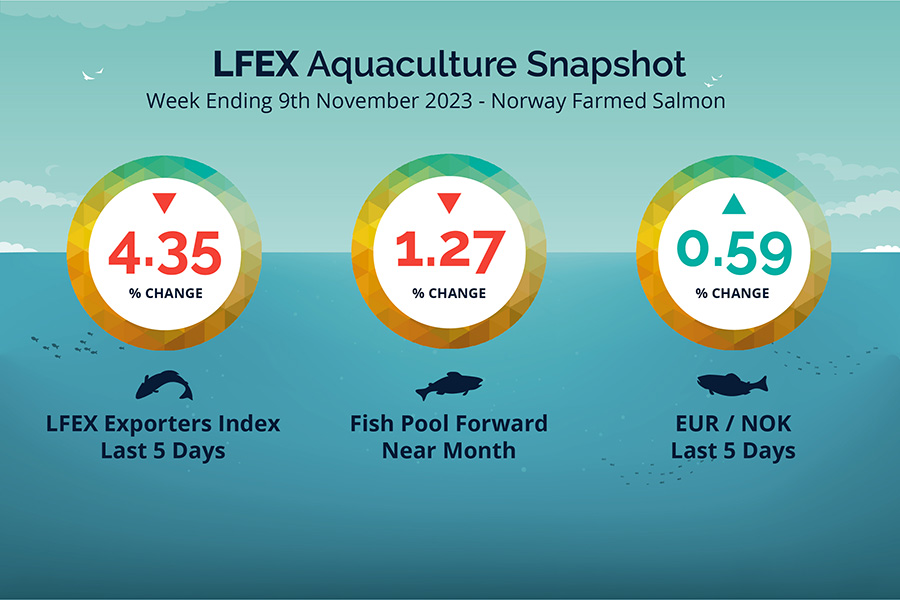 Market Data (Click Each to Expand)
| | | | |
| --- | --- | --- | --- |
| LFEX Prices | FX Rates | LFEX Indicative Exporter Prices (4 Week) | EUR / NOK FX Rate (4 Week) |
Did You Know?
Last week we posted a resistance level at 81 NOK as several moving averages converged around this point.
The market seemed to bounce off of this level, back lower, as the analysis suggested. A support level of 77 was broken this week as well, which could indicate further weakness – it got down to 75.81. Next analysis report will be published on Monday.
FAQ's
Q. Can everyone see my prices?
A. The answer is a definitive no. Although you can connect to different counterparties, the system maintains a 1-2-1 relationship between you and the seller / buyer. It securely brings your relationships onto the platform and you decide who can see your prices and offers / requests and all actions and activity are private.