The London Fish Exchange
Data / Market Insight / News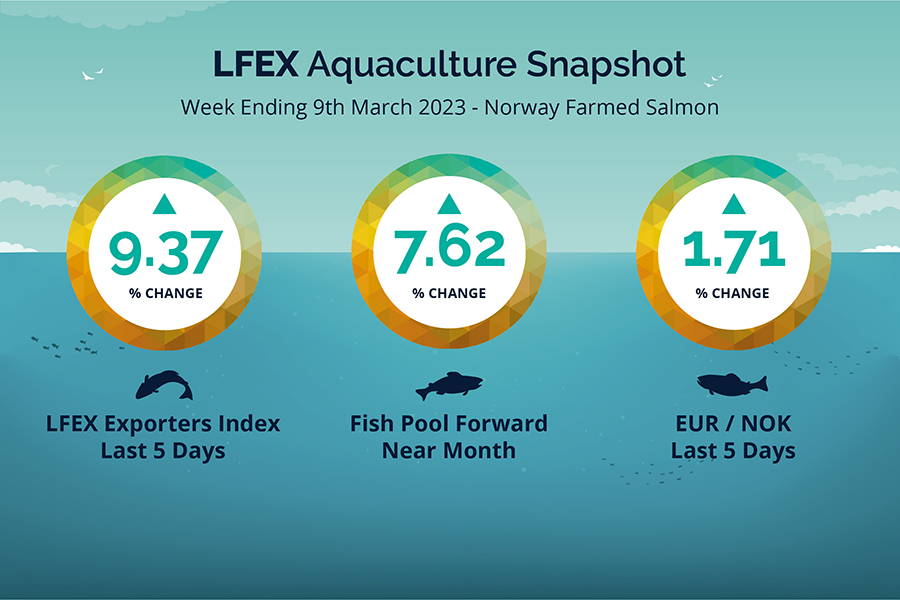 LFEX European Aquaculture Snapshot to 9th March, 2023
Published: 10th March 2023

This Article was Written by: John Ersser
---
The LFEX Norwegian Exporters Index Week 10 2023 was up +9.37% +10.69 NOK to stand at 124.79 NOK FCA Oslo Week ending Thursday vs previous Thursday.
The NOK rate was up at 11.27 to the Euro over the period Thursday to Thursday +0.19 NOK or +1.71%. The Fish Pool future March was reported higher at 113 NOK up +8.00 NOK or +7.62%.
Very high prices this week but none of the volatility experienced in the prior week. Prices pushed back up to the higher levels on week open as predicted at 126.03 NOK, up 11.93 NOK or 10.46% based on the previous Thursday's short-term drop. Monday saw 124.91 NOK and pricing remained consistent across the week around the 124 – 125 offered levels. There have been low volumes of smaller 3-6 fish available, which has been attributed to the large volumes taken out over the Christmas period meaning not so much volume left, as well as ongoing issues of supply of superior quality fish. Week 9 volumes were 15,004. Technical analysis last week saw prices headed toward the 128.9 resistance level. Next week and without available volume there doesn't look like a reprieve in the situation. We shall see.
David Nye's technical analysis report will be published on Monday.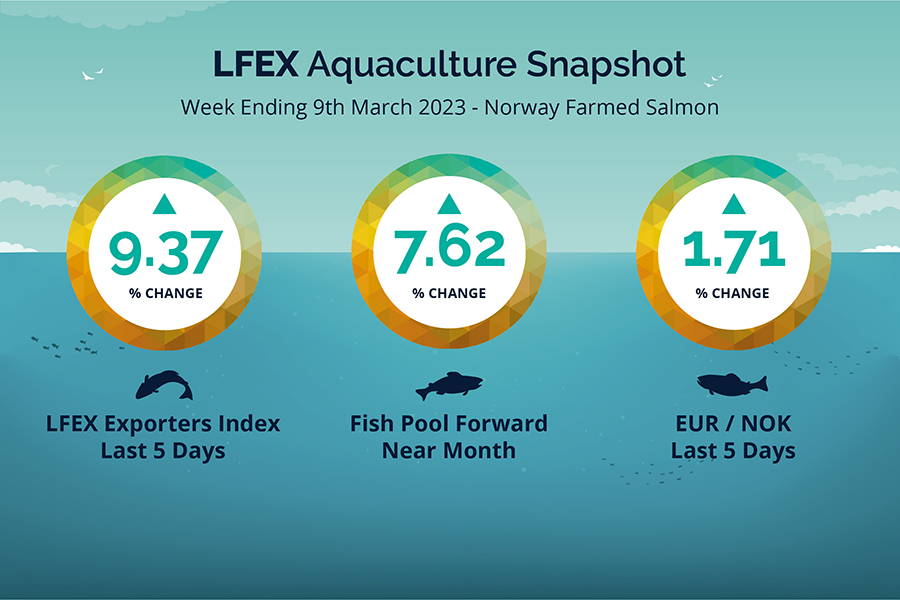 Market Data (Click Each to Expand)
| | | | |
| --- | --- | --- | --- |
| LFEX Prices | FX Rates | LFEX Indicative Exporter Prices (4 Week) | EUR / NOK FX Rate (4 Week) |
Did You Know?
The recent pricing is of course linked to available supply.
We track the volumes coming out of Norway on the platform for you, with Week 8 2023 showing 14,905 tons versus 17,513 tons for the equivalent week 8 in 2022, and week 9 2023 15,004 versus week 9 22 at 16,643 to provide an idea of the supply curve. You can also track the Chilean volumes through DataSalmon to help build a global supply picture. Chilean pricing last week (9) saw Fresh HON 10-12lbs FoB PMC at US$8.62 / Kg as a comparison.
FAQ's
Q. I'm worried competitors can see my price – can they?
A. The answer is no. The system is built to manage and curate your business, securely bringing your relationships onto the platform. This means that you decide who can see your prices and offers, which could be specific to just one customer or group of customers. It also means that your competitors (as a seller) can't see your pricing. For buyers putting up prices or responding to RFQ's with counter offers, this information is secure and private between you and the counterparty you are negotiating with.