The London Fish Exchange
Data / Market Insight / News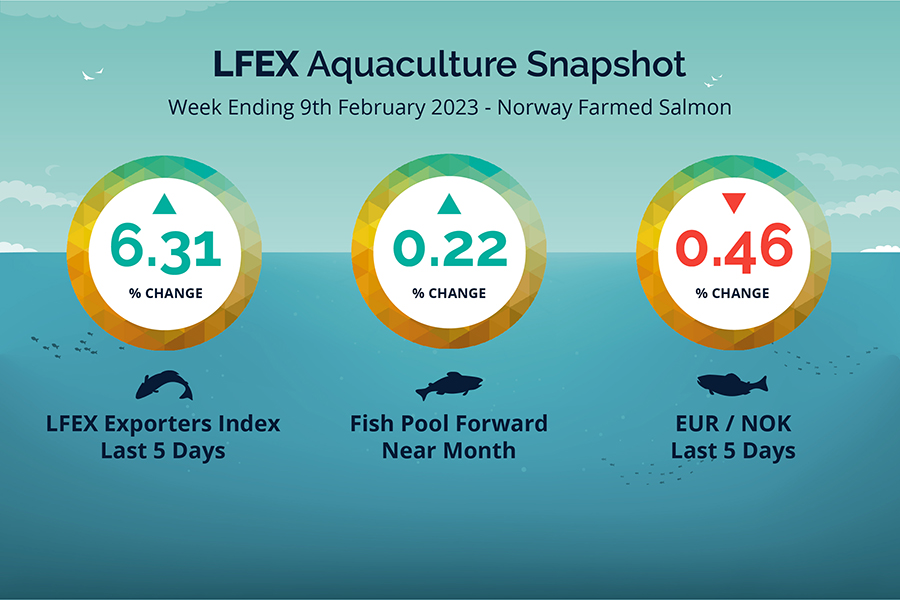 LFEX European Aquaculture Snapshot to 9th February, 2023
Published: 10th February 2023

This Article was Written by: John Ersser
---
The LFEX Norwegian Exporters Index Week 6 2023 was up +6.31%, +5.52 NOK to stand at 92.94 NOK FCA Oslo Week ending Thursday vs previous Thursday.
The NOK rate gave a little ending at 10.91 to the Euro after some volatility over the period Thursday to Thursday -0.05 NOK or -0.46%. The Fish Pool future February was reported higher at 91.2 NOK up 0.2 NOK or +0.22%.
The market seemingly made a jump up this week of over 6%, but if put into context of the prior weeks close price dip the market has found a relative equilibrium around this week's levels. Friday saw the market push back to 90.7 NOK levels, up 3.3% and settled around this price point for the majority of the week, with Monday showing 91.01 and Tuesday 90.64. Prices started to edge up later in the week with Wednesday showing 92.34 and Thursday closing out at 92.94 based on the prospect of a potential storm impacting harvesting. Early indications for next week are more of the same with maybe a push on pricing early in the week. As usual we shall see what the week brings.
David Nye's technical analysis report will be published on Monday.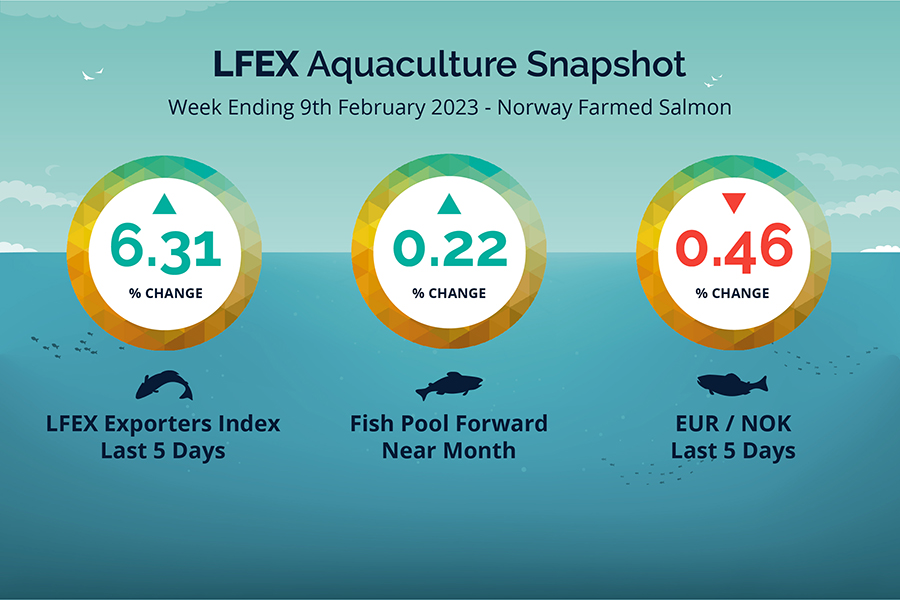 Market Data (Click Each to Expand)
| | | | |
| --- | --- | --- | --- |
| LFEX Prices | FX Rates | LFEX Indicative Exporter Prices (4 Week) | EUR / NOK FX Rate (4 Week) |
Did You Know?
As a manager you can get a snapshot in moments of the activity in your business.
You can see all order histories with ease on the platform. You can sort and search and see who are the biggest parties, discover who is buying / selling at optimal prices, and identify those companies to focus more on and reduce supply shock exposure by evaluating history. It's all at your fingertips.
FAQ's
Q. Can I trade with multiple counterparties on one order?
A. This is happily supported in the system and means that a buyer can make a request to several counterparties and trade part of the order with one company (who may have the best price but not the total volume required) and the balance with a second or third seller. Sellers on the other hand can put up an offer with an inventory level in any amount and work this with multiple customers. The system will allow the seller to see and manage each separate negotiation with the buyers, and most importantly the system won't let sellers over-trade – i.e. sell inventory they don't have – easy.