The London Fish Exchange
Data / Market Insight / News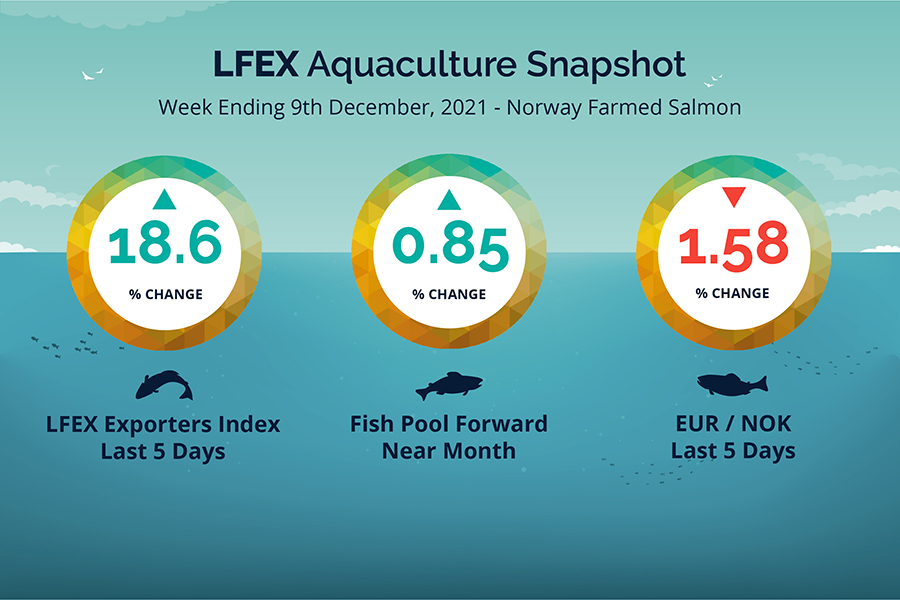 LFEX European Aquaculture Snapshot to 9th December, 2021
Published: 10th December 2021

This Article was Written by: John Ersser
---
Market Insight – Europe
Significant upwards price movements this week. The LFEX Norwegian Exporters price was up +18.59%, +11.44 NOK at 72.98 FCA Oslo Week 49 ending Thursday vs previous Thursday price.
The NOK was stronger against the Euro at 10.14 down -0.16 NOK or -1.58% Thursday to Thursday and the Fish Pool future December increased +0.55 to 64.75 NOK or +0.85% over the same period.
A huge week with massive volatility for participants to try and negotiate. Friday opened the week up 2.3 NOK or 3.6% followed by a similar jump on Monday. Tuesdays small drop lulled people into a false sense of security as the market took off +4.2% on Wednesday breaching 70 NOK and (against expectations?) carried on going. The 3 – 6 spreads closed out around 3.3 NOK. Seasonality and lack of inventory cited.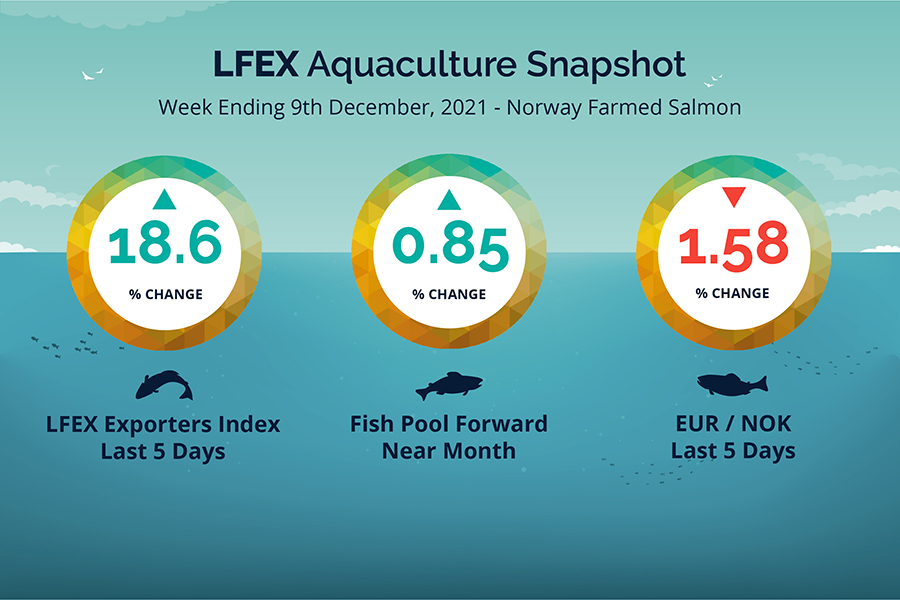 Market Data (Click Each to Expand)
| | | | |
| --- | --- | --- | --- |
| LFEX Prices | FX Rates | LFEX Indicative Exporter Prices (4 Week) | EUR / NOK FX Rate (4 Week) |
Did You Know?
The best way for any market to handle volatility is to increase the number of participants which increases available liquidity, and LFEX participants should push to try and achieve this.
For sellers making better margins in an upward market is easier, but it also allows them ability to be a little more aggressive where they have inventory available. In falling markets, the bigger the universe to go for, the better chance, which is beneficial for sellers with inventory to go.
FAQ's
Q. How can LFEX help me in volatile markets?
A. In weeks like we have just experienced it can be hard for buyers to manage. We know from experience that one of the best ways to handle upward price volatility is to get connected to as many sellers as possible, as quickly as possible, and give yourself the optimal chance to secure a price and inventory. If you have to trade, it will get you the best price at the time you can secure.