The London Fish Exchange
Data / Market Insight / News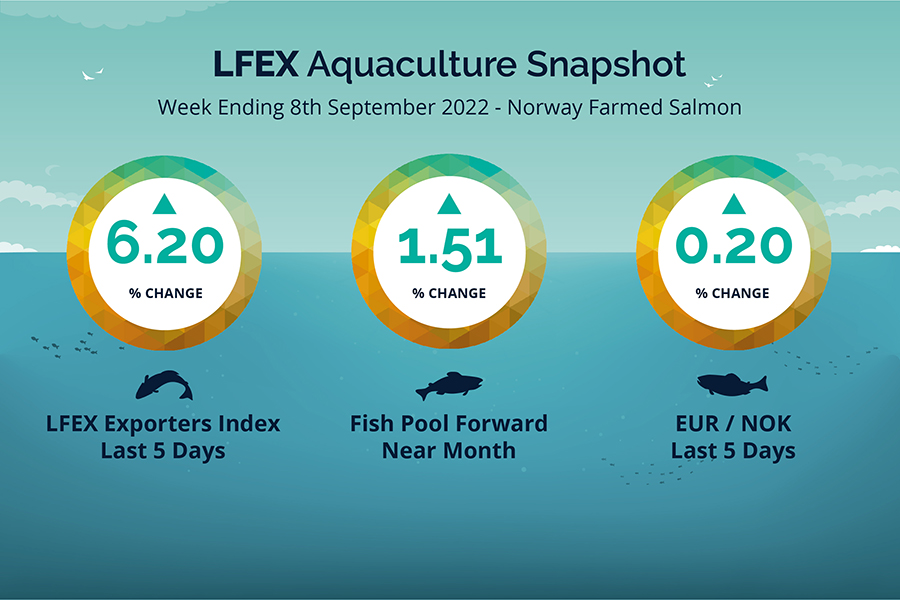 LFEX European Aquaculture Snapshot to 8th September, 2022
Published: 9th September 2022

This Article was Written by: John Ersser
---
The LFEX Norwegian Exporters Index week 36 was overall up +6.20%, +3.69 NOK to stand at 63.17 NOK FCA Oslo Week ending Thursday vs previous Thursday.
The NOK was flat ending at 10.04 to the Euro over the period Thursday to Thursday +0.02 NOK or +0.02%. The Fish Pool future September was up +0.90 NOK at 60.40 NOK.
A stable week for pricing. The market opened with a jump up to 62.28 NOK up 2.80 NOK or 4.71% despite earlier indications for a flatter start. It was then business as usual as the market found its level Monday through Wednesday at 62.32, 62,17 and 62.50 NOK respectively. Thursday saw a small increase to 63.17 NOK around 1%. The holiday period over and everyone back to work and high late summer volumes coming through. Export volumes for week 35 were circa 24,000 tons and volumes would have been around this level. Spreads on 4/5 – 5/6 expanded to 1.95 NOK versus 0.60 NOK the week prior. Indications for next week are steady as she goes, with similar volumes, NOK set at around 10 to the Euro and pricing kicking off around Thursdays levels. As usual, we will see…
David Nye's analysis for a Technical viewpoint will be published on Monday.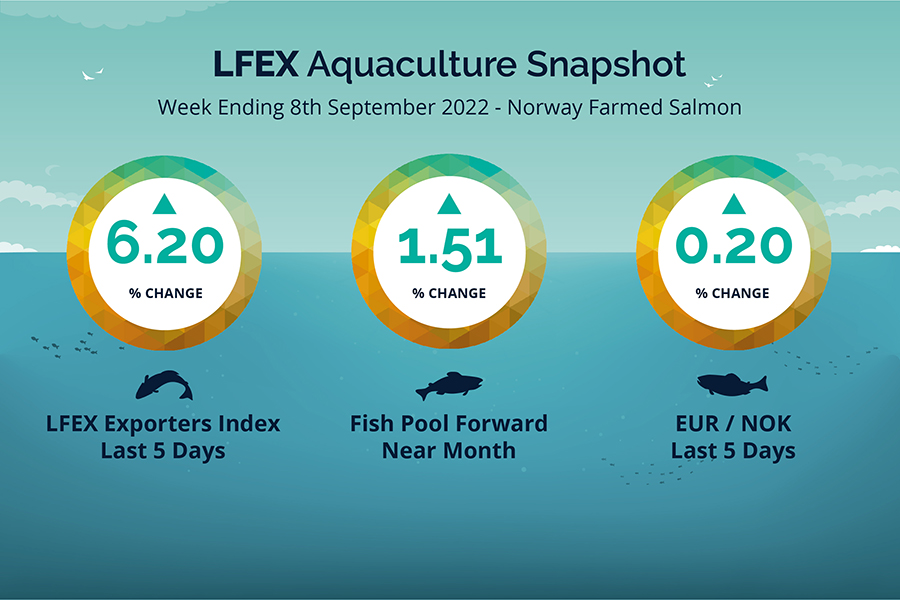 Market Data (Click Each to Expand)
| | | | |
| --- | --- | --- | --- |
| LFEX Prices | FX Rates | LFEX Indicative Exporter Prices (4 Week) | EUR / NOK FX Rate (4 Week) |
Did You Know?
Today our thoughts go to King Charles III and family on the very sad news of the death of Queen Elizabeth II after a reign of 70 years and 214 days the longest of any UK monarch.
A long and extraordinary life of duty and service providing a sense of a nation and stability and a steadfast role model for the UK and around the world.
FAQ's
Q. Can I buy wild salmon on LFEX?
A. The LFEX platform can be configured to handle pretty much any product regardless of location or product specifications, which would include the possibility of wild salmon. The system currently offers salmon, coho, trout and barramundi with more products to come on stream, fresh, frozen, chilled or other.