The London Fish Exchange
Data / Market Insight / News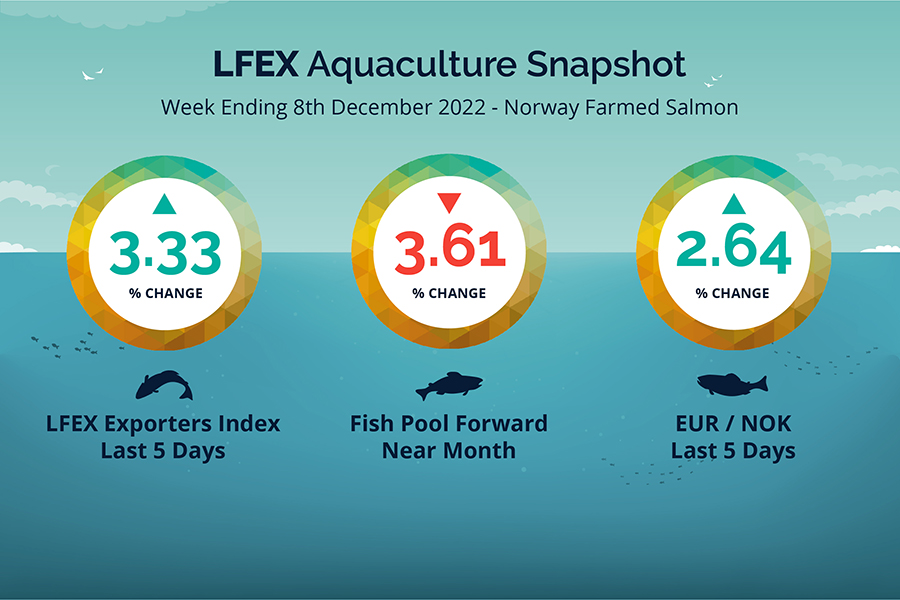 LFEX European Aquaculture Snapshot to 8th December, 2022
Published: 9th December 2022

This Article was Written by: John Ersser
---
The LFEX Norwegian Exporters Index week 49 was up +3.33%, +2.6 NOK to stand at 80.67 NOK FCA Oslo Week ending Thursday vs previous Thursday.
The NOK ended higher over the week ending at 10.50 to the Euro over the period Thursday to Thursday +0.27 NOK or +2.64%. The Fish Pool future November was reported up at 80 NOK -3.0 NOK for December.
The suggested continuing of softening of pricing didn't play out last Friday as the market opened up 1.36 NOK at 79.43 or 1.74.%. and remained pretty consistent throughout the week. Prices picked up from the week low on Monday at 78.78 to close out at 80.67 NOK. For next week pricing is proving hard to read, and probably remaining in the same ballpark unless there are a lot of fish left over from week 49. It is worth noting that these are historically high prices for this time of year. As usual we will see…
David Nye's analysis for a Technical viewpoint will be published on Monday.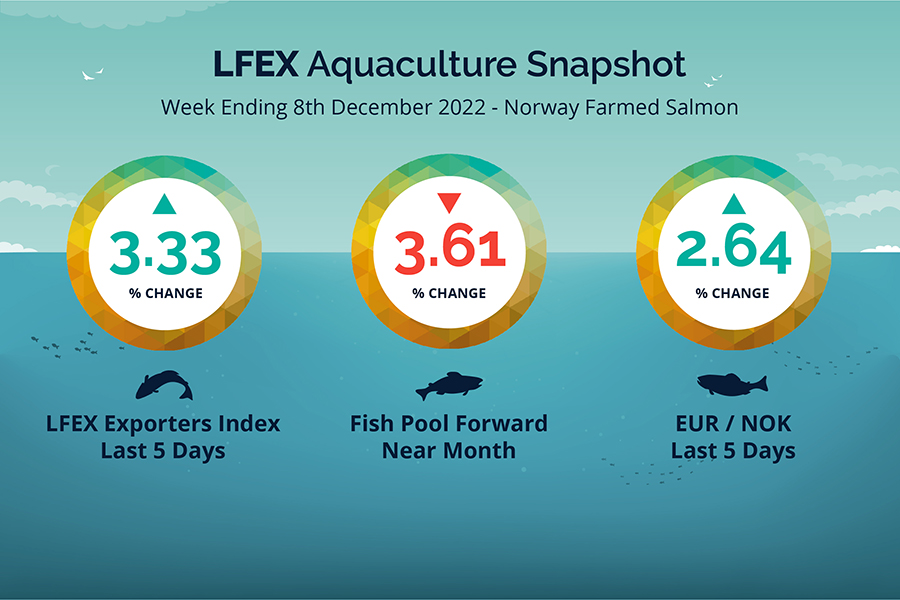 Market Data (Click Each to Expand)
| | | | |
| --- | --- | --- | --- |
| LFEX Prices | FX Rates | LFEX Indicative Exporter Prices (4 Week) | EUR / NOK FX Rate (4 Week) |
Did You Know?
The more you use the system the more benefit you will get from it.
It has been designed to be the focus of your daily activity providing pricing and updates, with centralised communication through chat services, alerts and notifications, and secure trading and confirmations with all data tracked and managed in one place for you.
FAQ's
Q. I trade the same products each week how can I set the system up for me?
A. We understand that different users have different requirements, and the system has been designed to cater for different needs. The RFQ is configurable and saved by user. This means that you can set it up perfectly for what you want to trade and at a single click have your own fully populated orders ready to go. We allow users to configure their LFEX Web workspaces to reflect how they want to operate and use the platform with bespoke and default layouts.