The London Fish Exchange
Data / Market Insight / News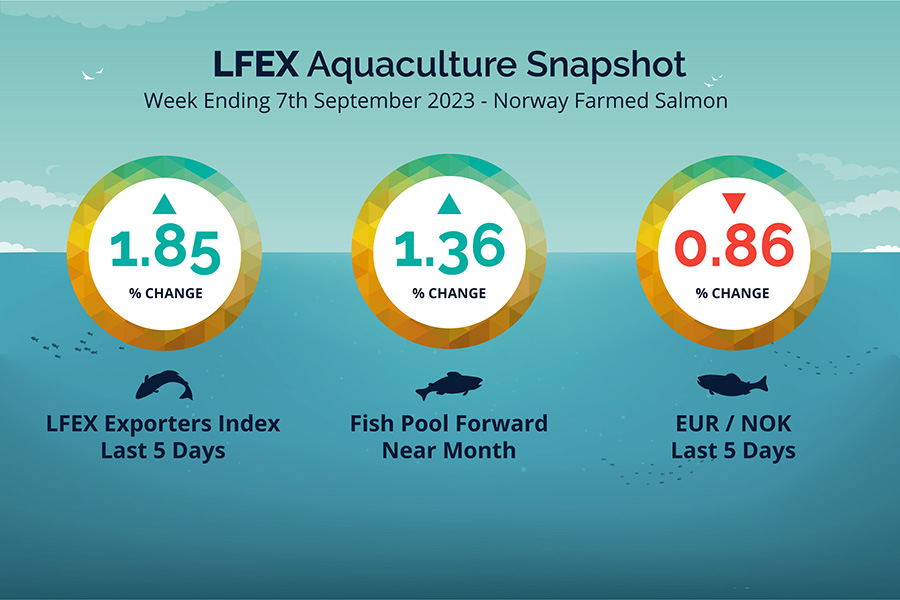 LFEX European Aquaculture Snapshot to 7th September, 2023
Published: 8th September 2023

This Article was Written by: John Ersser
---
The LFEX Norwegian Exporters Index for Week 36 2023 was up +1.85%, +1.34 NOK to stand at 73.87 NOK (approximately 6.43 EUR) FCA Oslo Week ending Thursday vs previous Thursday.
The NOK rate was down at 11.48 to the Euro over the period Thursday to Thursday -0.10 NOK or -0.86%. The Fish Pool future September was reported up +1.00 NOK, +1.00 NOK at 70.75 NOK.
We picked up prices popping last Thursday, which meant that pricing for week 36 opened slightly softer at 71.7 NOK or down 1% on the Thursday close as traders started to find their feet from the price increase. 5/6s were stronger as anticipated. By Monday prices had regained to the 72.52 level and remained flat for Wednesday. Prices moved up – hitting 74.16 on the Wednesday the high of the week and closing out close to the top on Thursday at 73.87. Why? Most producers / exporters sold their fish early in the week at lower prices with demand forcing up prices towards the end. Also, some northern locations experienced adverse weather which would have gone into the pricing mix. If we look back at week 36 in 2022 and 21 we also see prices rising in this week – so this isn't unusual.
For next week maybe slightly smaller expected volumes seems to be bringing prices up overall around +2 NOK over last week. Early indications around (72 / 74.5 / 76-77). We shall see.
David Nye's technical analysis report will be published on Monday.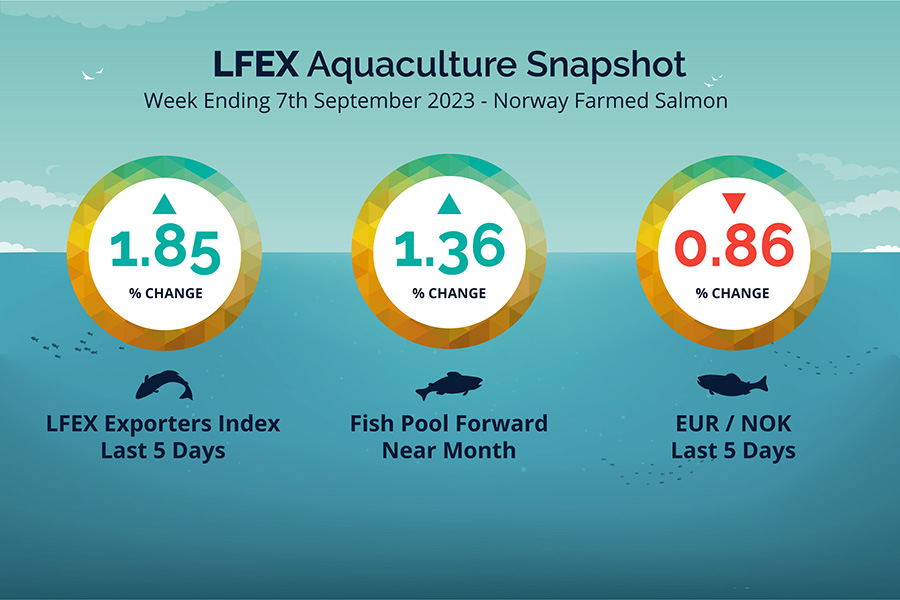 Market Data (Click Each to Expand)
| | | | |
| --- | --- | --- | --- |
| LFEX Prices | FX Rates | LFEX Indicative Exporter Prices (4 Week) | EUR / NOK FX Rate (4 Week) |
Did You Know?
You can find historical weekly reports from LFEX going back over 2 years?
We collect manage and maintain all data to allow the market the ability to use and interpret information they find useful. Using this information for example we can see that while the NOK price week 36 between 2022 and 2023 is significantly different (73.87 -63.17) in Euros the price is very similar (6.43 – 6.29) – which helps to give a perspective on the market.
FAQ's
Q. If I use your chat service – who can see my messages?
A. LFEX Chat is available on both web and mobile devices and allows users to communicate in real-time with the unique individuals they want to chat with. It works a bit like everyone having their own contact number – you only 'connect' to that 'number'. This is a secure, robust and private service and free to use as part of the LFEX service.