The London Fish Exchange
Data / Market Insight / News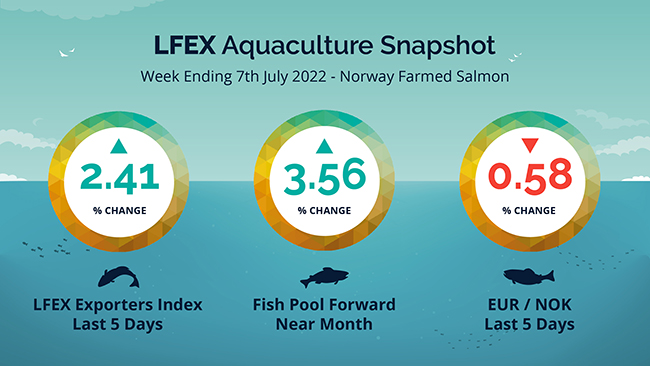 LFEX European Aquaculture Snapshot to 7th July, 2022
Published: 8th July 2022

This Article was Written by: John Ersser
---
The LFEX Norwegian Exporters Index week 27 was up +2.41%, +2.28 NOK to stand at 97.00 NOK FCA Oslo Week ending Thursday vs previous Thursday.
The NOK was a little stronger at 10.29 to the Euro over the period Thursday to Thursday -0.06 NOK or 0.58%. The Fish Pool future July up 3.20 NOK at 93.00 NOK.
This week went against expectations with an overall 2.41% rise. The market kicked off 2% higher on Friday against the previous close, although it edged back down Monday and Tuesday to its previous week close at 94.72, it picked up again Wednesday to 97.13 and finishing up at 97 dead, with lack of fish supporting the price rise. Against general market expectation prices have been rising. Visibility on harvesting next week is unclear with total volumes hard to assess. Expectations for next week to be similar to this, maybe 5+ fish a little lower, but overall prices up a little. As usual we will see.
David Nye's analysis for a Technical viewpoint will be published on Monday.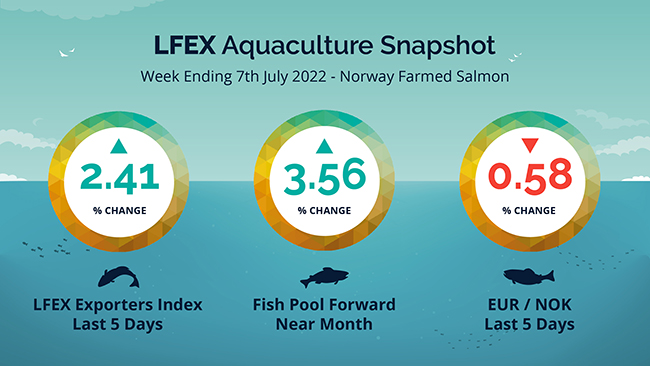 Market Data (Click Each to Expand)
| | | | |
| --- | --- | --- | --- |
| LFEX Prices | FX Rates | LFEX Indicative Exporter Prices (4 Week) | EUR / NOK FX Rate (4 Week) |
Did You Know?
The London Fish Exchange works 365 days, 24/7!
Let the LFEX work for you. It never needs an afternoon off, or a day off, or holiday (although you can access it on your vacation). It can help your company buy or sell efficiently and in a cost effective manner. Let the LFEX be a key member of your team.
FAQ's
Q. I would like to begin a relationship with a company in another country or continent, can LFEX help with that?
A. Of course we can. Please contact us and let us know who you would like to bring to your network on the platform, and we can assist in building your relationship with those counterparties. We can work diligently with you to move both old and new relationships onto the platform for you.