The London Fish Exchange
Data / Market Insight / News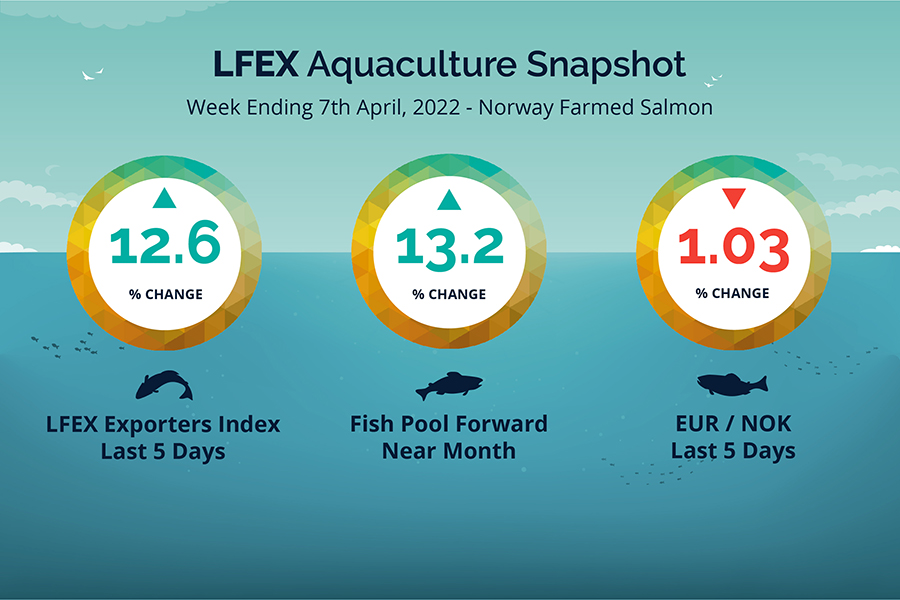 LFEX European Aquaculture Snapshot to 7th April, 2022
Published: 8th April 2022

This Article was Written by: John Ersser
---
One of the most incredible weeks in the history of Norwegian salmon pricing, as prices burst through the 100NOK level to record highs. The LFEX Norwegian Exporters index was up +12.61%, +11.50 NOK to stand at 102.7 NOK FCA Oslo Week ending Thursday vs previous Thursday price.
The NOK was steady at a strong 9.59 to the Euro over the period Thursday to Thursday -0.10 or 1.03% stronger. The Fish Pool future April gained +11.50 NOK to 98.50 +13.22% over the same period.
The markets massively gapped upwards on the Friday to 103.12 NOK, +11.92 or 13.07% as expectations came true, peaked on Monday at 104.37, before gently giving a little back to close at 102.7. The spread between 3's and 6's showing around 2.7 NOK. Next week is Easter week, demand is high and harvest levels are down, which leads to continued high pricing, maybe even eclipsing Week 14. However, at these levels will there be buyers?
David Nye's analysis for a Technical viewpoint will be published on Monday.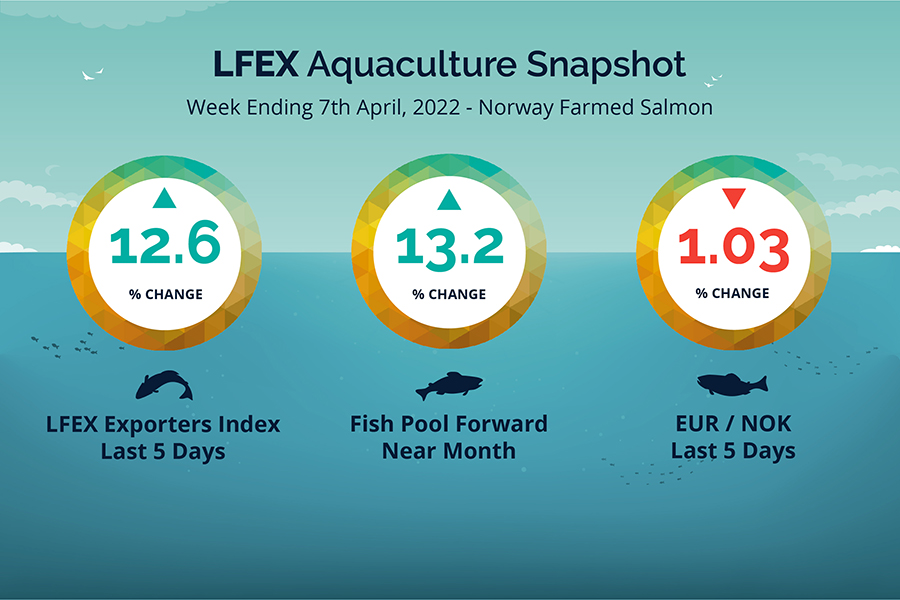 Market Data (Click Each to Expand)
| | | | |
| --- | --- | --- | --- |
| LFEX Prices | FX Rates | LFEX Indicative Exporter Prices (4 Week) | EUR / NOK FX Rate (4 Week) |
Did You Know?
Our technical analyst has been nailing the market trends – this was last weeks' view: The Oslo FoB market is looking bullish in my eyes.
Notice the bottom two indicators have moved down to test the positive crossover of their respective moving averages. The indicator doesn't always bounce while testing the positive crossover but when the indicator does bounce, we usually see large price gains. There are several things pointing to prices going back to at least their old highs, the NOK96.59 area. There is also some confluence around the NOK105.48 price area as a possible target price.
FAQ's
Q. Can I buy Chilean VAP products in Europe?
A. The answer is yes, you can use the platform in the same way to request quotes from any market. We can help you connect with counterparties for offers and quotes depending on what you need, whether it is whole fish, Trims or other products. Purchasing from Chile tends to be based on payment terms as opposed to credit insured in Europe.