The London Fish Exchange
Data / Market Insight / News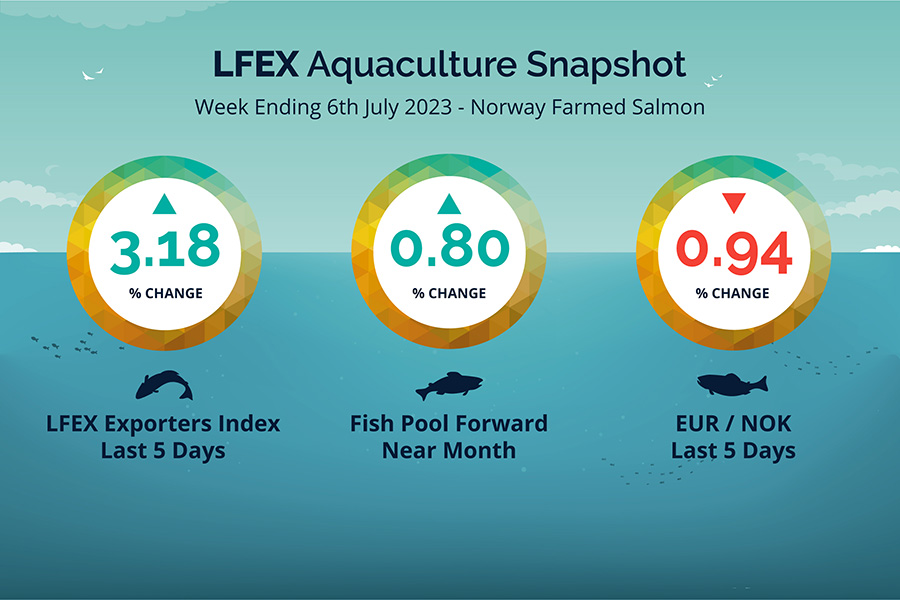 LFEX European Aquaculture Snapshot to 6th July, 2023
Published: 7th July 2023

This Article was Written by: John Ersser
---
The LFEX Norwegian Exporters Index for Week 27 2023 was up + 3.18%, +3.06 NOK to stand at 99.24 NOK FCA Oslo Week ending Thursday vs previous Thursday.
The NOK rate was down at 11.64 to the Euro over the period Thursday to Thursday -0.11 NOK or -0.94%. The Fish Pool future July was reported higher at 88.7 NOK up +0.7 NOK or +0.80%.
The index price opened lower last Friday at 94.08 NOK -2.1 from the previous week partly accounted for by cheaper smaller sized fish. 5/6s went up as expected and the spread between 3/4s and 5/6 gapped to 18.46 NOK reflecting volumes and demand. Average prices nudged up Monday driven by larger fish (106.24), although 3/4s were further down at 82.77, with the spread further widening to 23.46 NOK. The index moved up each day Tue/Wed/Thu 95.71, 97.70 and 99.24. Although the 5/6s peaked on Wednesday at 111.06 NOK before coming down to 108 on Thursday – and it was the smaller fish that rallied which brought the index up. The spread still large but less at 19. As a comparison volume in week 26 was 17,238, the same week in 2022 was lower 16,407, with higher average prices in 2022 (98 NOK vs 91.5 NOK). Next week is a bit of a guess and will be volume dependent. It could be that Q3 saw some contracts start reducing spot availability which helped prices up last week. No initial expectation of a lot more volume however.
David Nye's technical analysis report will be published on Monday.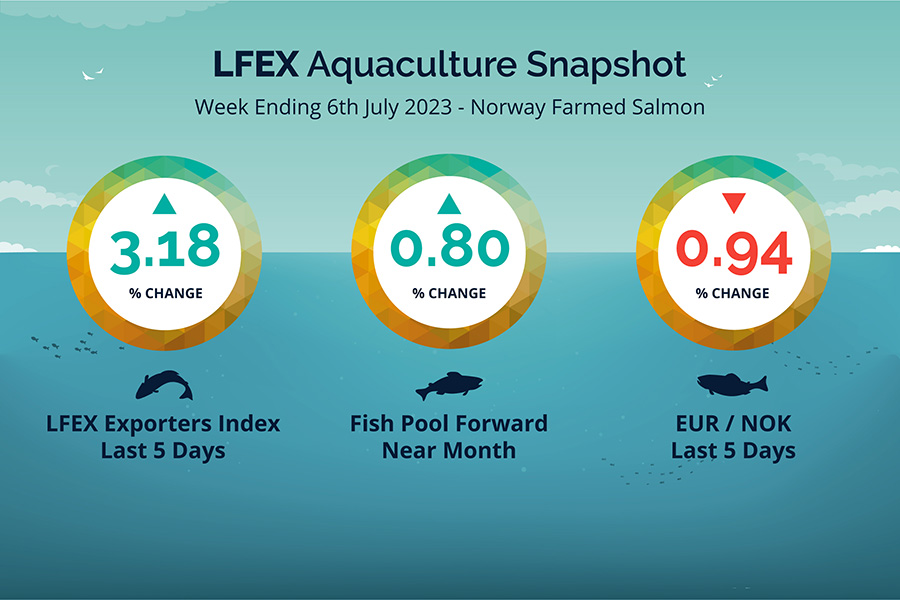 Market Data (Click Each to Expand)
| | | | |
| --- | --- | --- | --- |
| LFEX Prices | FX Rates | LFEX Indicative Exporter Prices (4 Week) | EUR / NOK FX Rate (4 Week) |
Did You Know?
The LFEX stores all your previous orders and transactions for immediate access to all your activity on the platform.
It also saves previous orders so that you can quickly and accurately input new orders / RFQ's without having to constantly key in new order information, reducing errors and increasing efficiency.
FAQ's
Q. Can my colleagues see / participate in my activity and / or communications on the LFEX platform?
A. The platform will allow 'internal' users to share / access information on the platform, and therefore users will be able to see offered prices by colleagues as well as trades and history. It allows you to handle customers when colleagues are away from the desk / office and tracks and records each users activities, meaning your business will never miss an order or sale. The same is also true for larger buying organisations, with real-time access across departments.