The London Fish Exchange
Data / Market Insight / News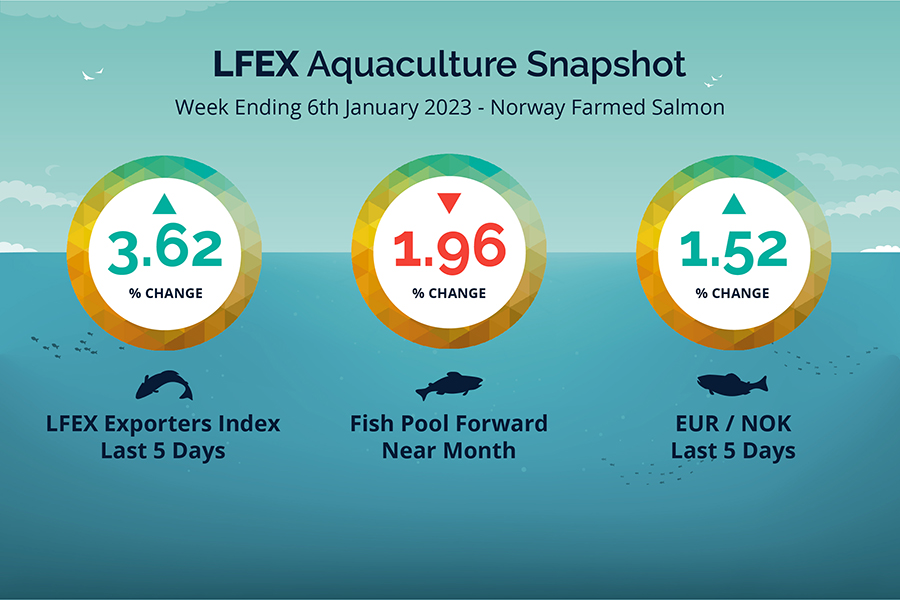 LFEX European Aquaculture Snapshot to 6th January, 2023
Published: 6th January 2023

This Article was Written by: John Ersser
---
The LFEX Norwegian Exporters Index Week 1 2023 was up +3.62%, +3.14 NOK to stand at 89.92 NOK FCA Oslo Week ending Thursday vs previous Thursday.
The NOK rate ended up over the week ending at 10.70 to the Euro over the period Thursday to Thursday +0.16 NOK or +1.52%. The Fish Pool future January was reported lower at -1.55 NOK down -1.55%.
The dog days of the Christmas / New Year period continued this week as expected. Prices were pushed a little higher at the week open with little harvest or fish around up 2.87 NOK to 89.65 and pretty much stayed at these levels for the rest of the week closing out around 89.92 NOK. A very thin market with little trading, where low harvest volumes were matched with low demand. Prices look set to remain at these levels next week with maybe more activity in week 3. The up-coming Chinese New Year is seeing some interest in larger fish. As usual we shall see
David Nye's technical analysis report will be out on Monday.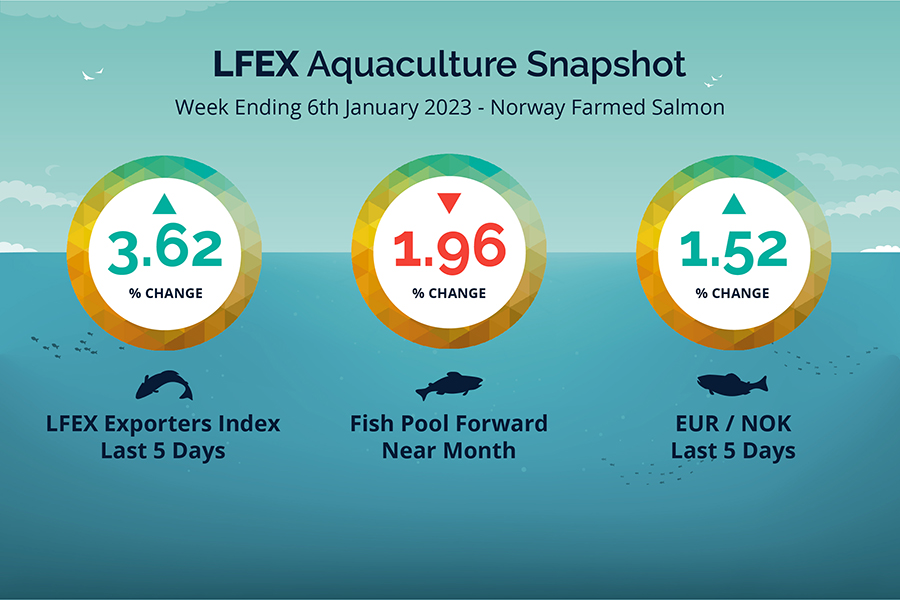 Market Data (Click Each to Expand)
| | | | |
| --- | --- | --- | --- |
| LFEX Prices | FX Rates | LFEX Indicative Exporter Prices (4 Week) | EUR / NOK FX Rate (4 Week) |
Did You Know?
LFEX delivers secure and trusted connectivity with counterparties globally for order routing, price discovery and transactions.
We deliver unique market data for the industry to help support price discovery and risk management, and we offer pre and post trade services and data to support industry operations – all in a single, real-time, seamlessly integrated technology platform.
FAQ's
Q. Can I trade with multiple counterparties on one order?
A. This is happily supported in the system and means that a buyer can make a request to several counterparties and trade part of the order with one company (who may have the best price but not the total volume required) and the balance with a second or third seller. Sellers on the other hand can put up an offer with an inventory level in any amount and work this with multiple customers. The system will allow the seller to see and manage each separate negotiation with the buyers, and most importantly the system won't let sellers over-trade – i.e. sell inventory they don't have.