The London Fish Exchange
Data / Market Insight / News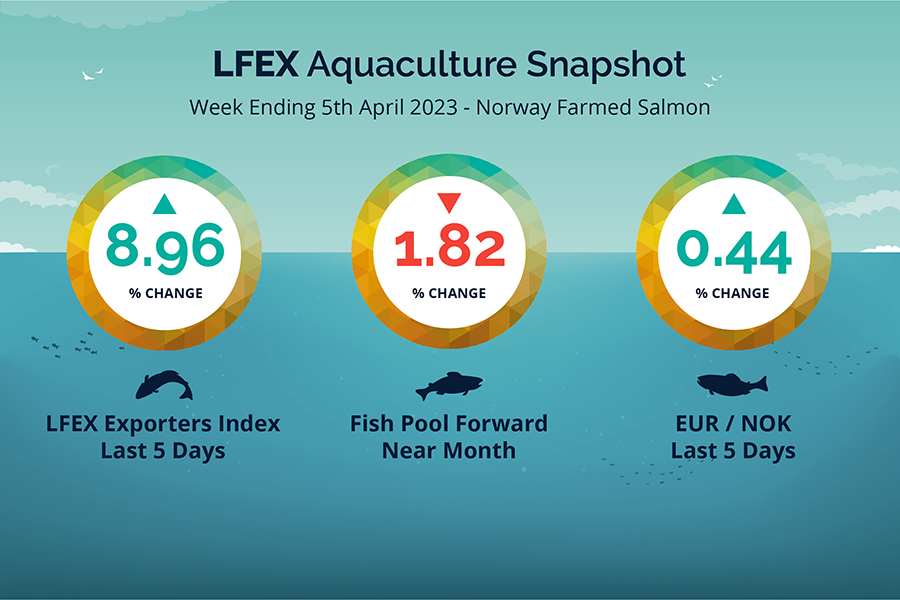 LFEX European Aquaculture Snapshot to 5th April, 2023
Published: 11th April 2023

This Article was Written by: John Ersser
---
The LFEX Norwegian Exporters Index for the short Week 14 2023 was up +8.96%, +9.92 NOK to stand at 120.68 NOK FCA Oslo Week ending Wednesday vs previous Thursday.
The NOK rate was up at 11.39 to the Euro over the period Thursday to Thursday +0.05 NOK or +0.44%. The Fish Pool future April was reported lower at 108.0 NOK down -2.0 NOK or -1.82%.
Pricing came up after the Thursday lows of the previous week, opening at 115.65, up 4.89 NOK or 4.41% which represented the average pricing found the week before. A short pre-Easter week and traders weren't quite sure how it would play out. Monday as a consequence saw a softening in pricing to 113.5 NOK, but Tuesday and Wednesday found their pricing mojo popping to the 120 levels where the week finished. Long weekend in the middle and predictions for next week are difficult, but given current production levels we could see current prices being maintained, maybe even edge up a little. We shall see.
David Nye's technical analysis report will be published later today (Tuesday, 11th).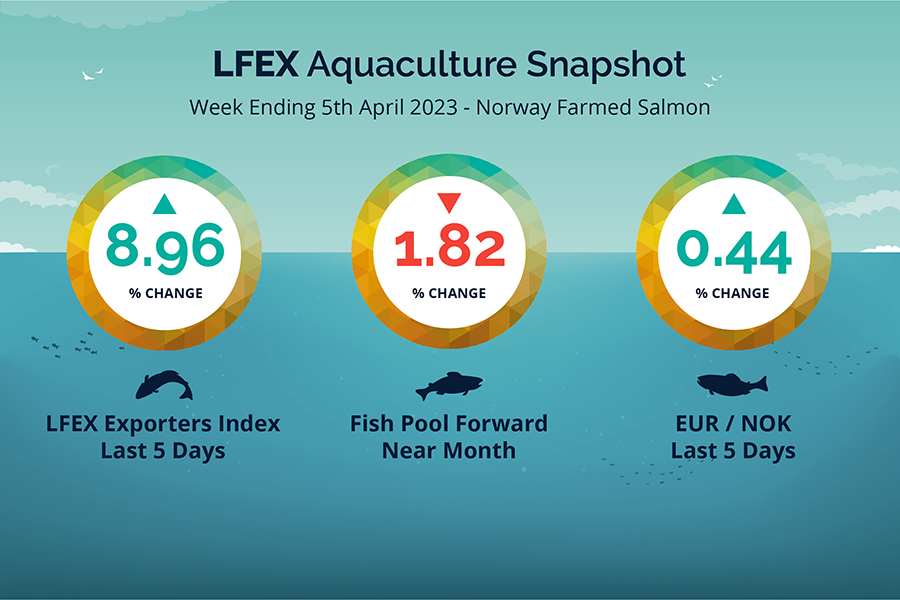 Market Data (Click Each to Expand)
| | | | |
| --- | --- | --- | --- |
| LFEX Prices | FX Rates | LFEX Indicative Exporter Prices (4 Week) | EUR / NOK FX Rate (4 Week) |
Did You Know?
You and your company can work multiple orders on the platform simultaneously.
For example, you can work to transact on this weeks' needs for usual supply of fish, as well as any surplus requirements you may have for the week, while at the same time using the RFQ's to start getting pricing and offers for the following week(s) business. You can also have constantly updated prices on these requests from sellers (when the market is rising or falling) track price development and decide when is optimal to buy. This is particularly useful in the weekly market where we see both intraweek volatility and also trading patterns emerging.
FAQ's
Q. I'm not very skilled with technology, is LFEX difficult to learn?
A. We have worked diligently to make LFEX as user friendly as possible and are always open to suggestions on streamlining. We can provide a thorough demonstration on using the platform and can help with actual order placing and transactions – please just asks.