The London Fish Exchange
Data / Market Insight / News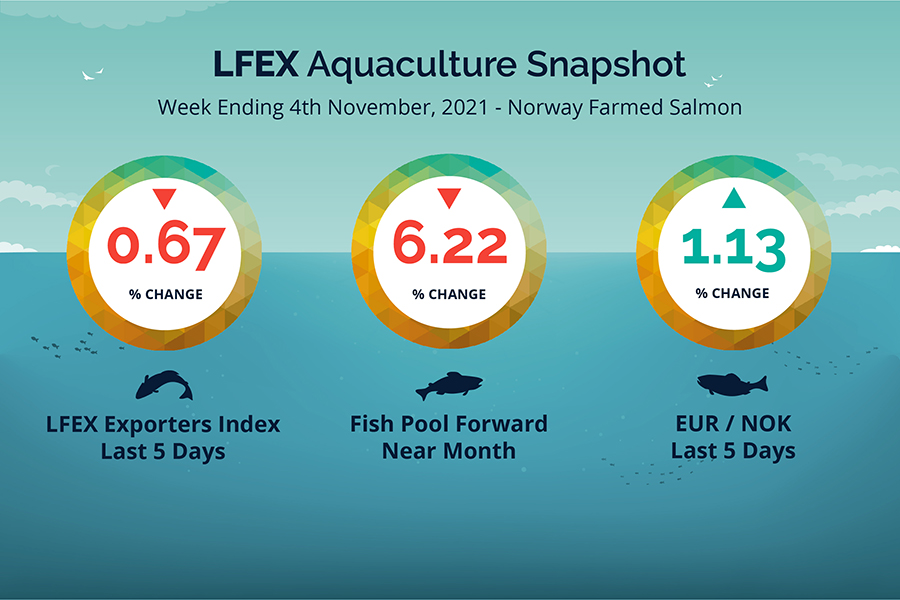 LFEX European Aquaculture Snapshot to 4th November, 2021
Published: 5th November 2021

This Article was Written by: John Ersser
---
Market Insight – Europe
The LFEX Norwegian Exporters price was down -0.67%, -0.37 NOK at 55.20 FCA Oslo Week 44 ending Thursday vs previous Thursday price.
The NOK weakened slightly against the Euro at 9.87 up +0.11NOK or + 1.13% Thursday to Thursday and the Fish Pool future November fell -3.75 to 56.5 NOK or -6.22% over the same period, a big jump down in the week.
Prices were pushed up on the Friday (56.55 vs 55.57), and for the rest of the week gently tailed off to below their start point. More interestingly 3 – 6 spreads compressed from 2.98 NOK down to less a NOK at 0.88.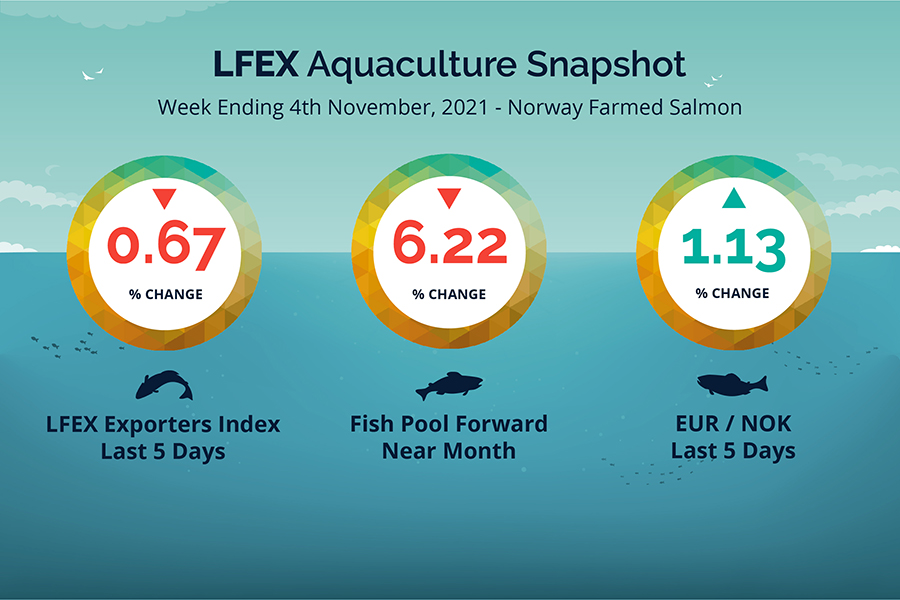 Market Data (Click Each to Expand)
| | | | |
| --- | --- | --- | --- |
| LFEX Prices | FX Rates | LFEX Indicative Exporter Prices (4 Week) | EUR / NOK FX Rate (4 Week) |
Did You Know?
We are able to handle pretty much any parameter or configuration for pricing and trading for users.
The platform handles and makes light work of standard orders and trades, but it also has massive depth in the way it can handle the complexities of order management and trading ensuring that whatever your needs, we will have a solution to meet your expectations now and in future.
FAQ's
Q. I spend a lot of time on different communications technology and it can get confusing, can you help?
A. This was an excellent question and really drives home one of the key purposes of using the LFEX platform – connectivity. We know that companies have to use multiple solutions to communicate with each other, sometimes 6 or 7 including text, WhatsApp, Skype, email, WeChat, Telegram etc. LFEX Chat allows users to replicate this communication but in one centralised, secure location. However, the platform also offers the benefits of sending, receiving and managing prices, orders and trades in the same place as well, but much more efficiently.