The London Fish Exchange
Data / Market Insight / News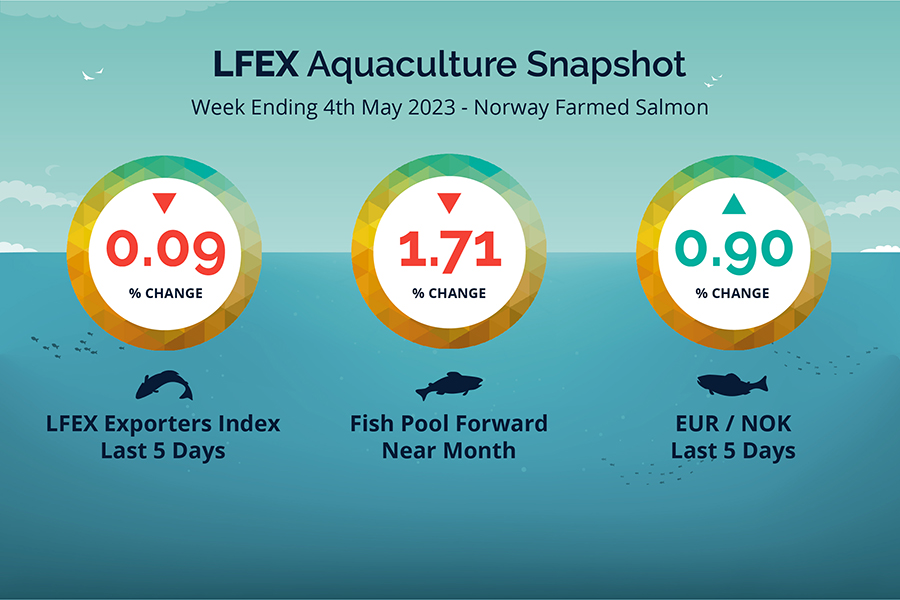 LFEX European Aquaculture Snapshot to 4th May, 2023
Published: 5th May 2023

This Article was Written by: John Ersser
---
The LFEX Norwegian Exporters Index for Week 18 2023 was pretty flat overall down -0.09%, -0.1NOK to stand at 112.79 NOK FCA Oslo Week ending Thursday vs previous Thursday.
The NOK rate was up at 11.835 to the Euro over the period Thursday to Thursday +0.105 NOK or +0.90%. The Fish Pool future May was reported lower at 110.0 NOK down -2.00 NOK or -1.71%.
A slightly shorter week and the market for the first time in forever opened weaker on the Friday, down 1.83 NOK or -1.62% at 111.06. Although an apparently flat week, we again saw intra-week volatility with pricing spiking after the bank holiday to 116.63 on Tuesday before a gentle descent through Wednesday (113.9) to land flat at the 112.79 level. The EURNOK peaked at 11.88 this week on Wednesday closing off its highs. Are these turning points? DNB published research noting a global lack of supply side growth in '23, '24 and '25 with stronger average annual price expectations of 90, 87 and 87 NOK respectively. Next week is a full production week which could indicate a small drop in prices, but no forecasts of a dramatic drop with the 17th-18th public holiday looming. Good availability of 2-4's next week but 5-6's will retain their significant premium with demand from Asia and also European sushi for the bigger fish. We shall see.
David Nye's technical analysis report will be published on Tuesday.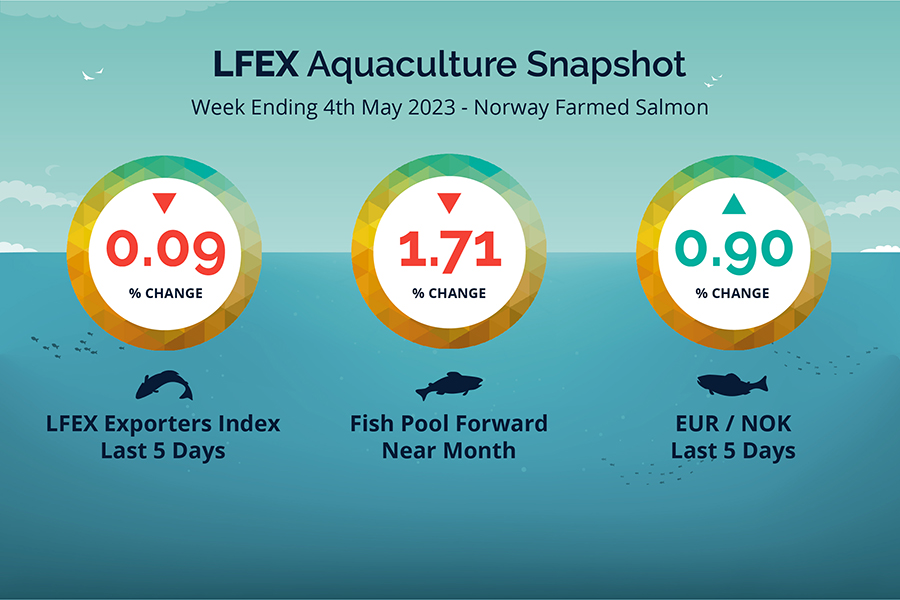 Market Data (Click Each to Expand)
| | | | |
| --- | --- | --- | --- |
| LFEX Prices | FX Rates | LFEX Indicative Exporter Prices (4 Week) | EUR / NOK FX Rate (4 Week) |
Did You Know?
The salmon market trades fundamentally like every other commodity market? We have seen and continue to see significant volatility in many agricultural commodities.
Markets and platforms help both buyers and sellers, in periods of high or low volumes find price levels and trading partners, and provide the mechanism to connect, engage, and execute. Because markets are fluid and supply and demand ebb and flow it pays to be connected, present and involved. The more activity placed on an electronic market, the better and more useful data can be produced, with improved and accessible transparency helping you and your business.
FAQ's
Q. How can I find orders and trades on the system?
A. The system captures all pricing, orders and trading activity in real-time for users. You have immediate access to all your pricing and trade data, and the ability to search and sort this data by any data item(s). Further users can add post trade information within the same environment, meaning sales staff, management, logistics and finance staff can all view, use and manage business activity, as well as start to analyse their own data at a very granular level.