The London Fish Exchange
Data / Market Insight / News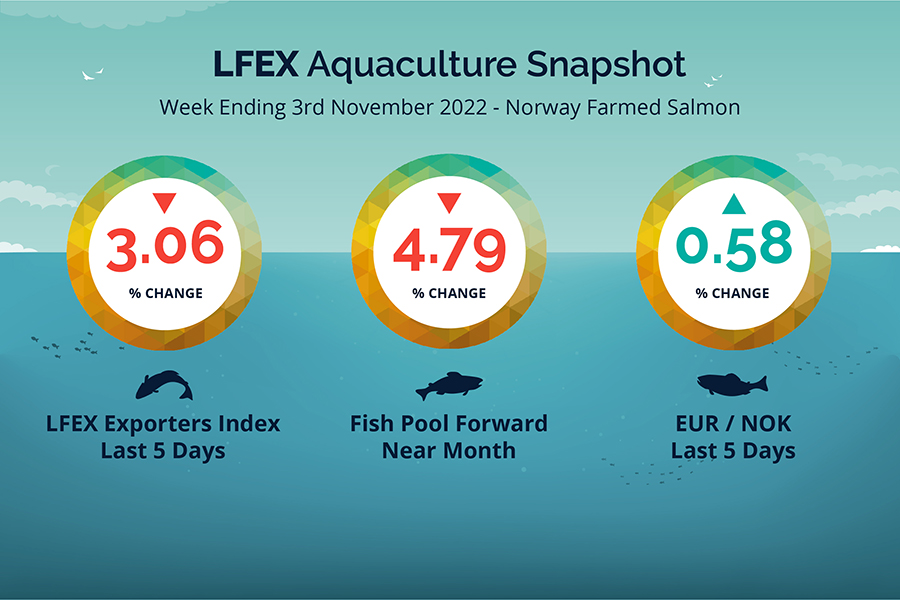 LFEX European Aquaculture Snapshot to 3rd November, 2022
Published: 4th November 2022

This Article was Written by: John Ersser
---
The LFEX Norwegian Exporters Index week 44 was down -3.06%, -2.1 NOK to stand at 66.54 NOK FCA Oslo Week ending Thursday vs previous Thursday.
The NOK ended up over the week ending at 10.39 to the Euro over the period Thursday to Thursday +0.06 NOK or +0.58%. The Fish Pool future November was also down -3.75 NOK at 74.5 NOK down 4.79%.
We saw the drag on pricing as expected this week with the Polish holiday and a lot of harvesting coming through. Friday opened at 69.21 NOK pushed up +0.57 NOK or 0.83% on the previous Thursday but had given this back on Monday at 68.39. Tuesday was softer at 68.05 and Wednesday and Thursday continued the downward trend with a lot of fish in the market down 67.5 and 66.54 respectively. Total fall top to bottom 3.85%. A lot more smaller fish meant that the spread between 3-4 and 5-6 gapped reaching up to 8 NOK during the week. From the recent peak on the 11th September the market is off over 10.1%. For next week there is a lot of fish being harvested and a further holiday on Friday 11th in many parts of Europe. Buyers are eyeing lower 60's with sellers similar ball-park to this week. As usual we will see…
David Nye's analysis for a Technical viewpoint will be published on Monday.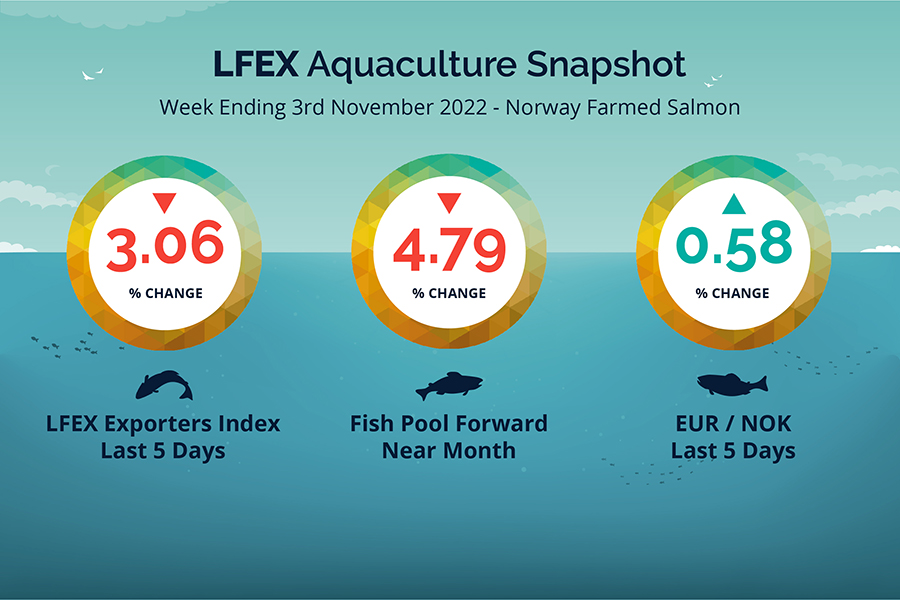 Market Data (Click Each to Expand)
| | | | |
| --- | --- | --- | --- |
| LFEX Prices | FX Rates | LFEX Indicative Exporter Prices (4 Week) | EUR / NOK FX Rate (4 Week) |
Did You Know?
LFEX helps sellers and buyers to connect, communicate, negotiate, and trade farmed salmon from Norway, Scotland, Iceland and Chile as well as Trout and CoHo and more product and species being added.
Spot, forward, or contracts, whole fish or VAP the LFEX can handle your orders.
FAQ's
Q. How can I motivate my sales people to use the platform?
A. It is important that your salespeople understand LFEX is a tool to help them perform better at their responsibilities. They can use the platform to get a better idea of market prices, liquidity and direction, as well as joining in the conversation and making themselves known.