The London Fish Exchange
Data / Market Insight / News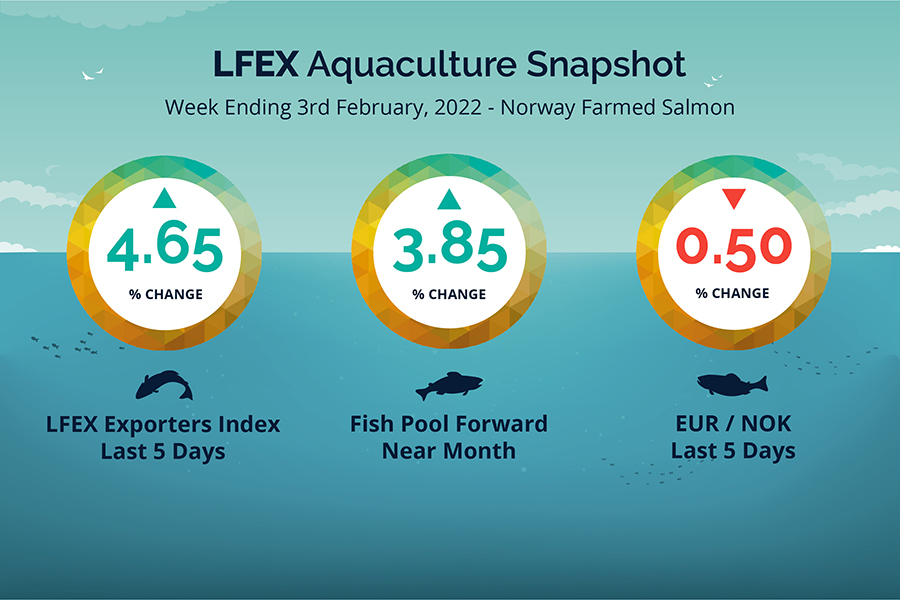 LFEX European Aquaculture Snapshot to 3rd February, 2022
Published: 4th February 2022

This Article was Written by: John Ersser
---
Market Insight – Europe
Another strong week with the market up again. The LFEX Norwegian Exporters prices were +4.65% better, +3.35 NOK at 75.33 NOK FCA Oslo Week 5 ending Thursday vs previous Thursday price.
The NOK was -0.5% stronger to the Euro -0.05 at 9.95 NOK over the period Thursday to Thursday having peaked on Friday at 10.03 NOK, and the Fish Pool future February also climbed +2.65 to 71.5 NOK, +3.85% better over the same period.
The market opened up +2.25% on Friday at 73.6 NOK, trimmed a little on Monday (73.04) before a steady climb through to Thursday. A lot of people searching for fish this week, farmers / exports selling out and rumours of some struggles to cover contracts. Supply was affected by available volumes and dented through a larger number of fish downgrades to production quality, which reduced available export volumes. Low volumes set to remain a challenge into next week.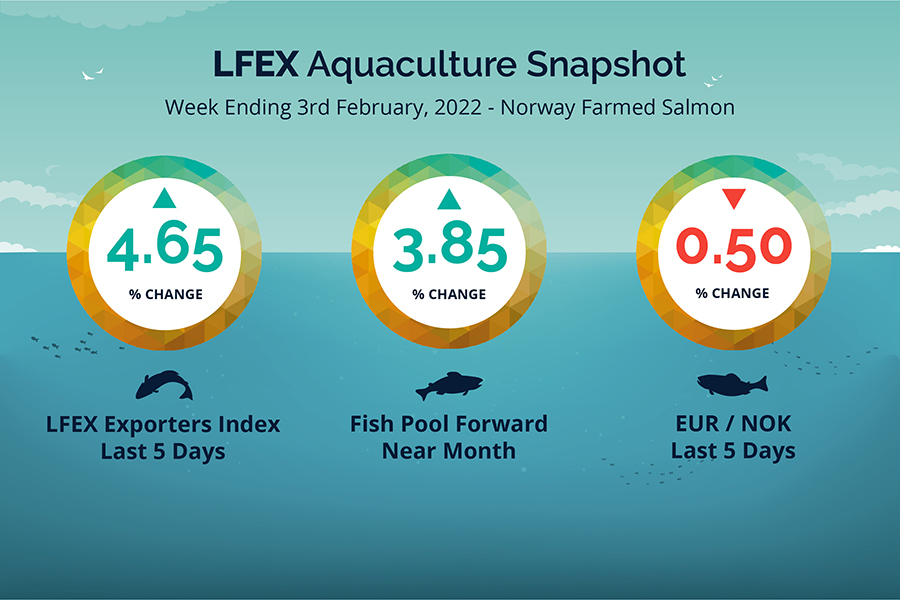 Market Data (Click Each to Expand)
| | | | |
| --- | --- | --- | --- |
| LFEX Prices | FX Rates | LFEX Indicative Exporter Prices (4 Week) | EUR / NOK FX Rate (4 Week) |
Did You Know?
The salmon market trades fundamentally like every other commodity market?
Many agricultural commodities are also jumping at the moment and commodity exchanges are recording record numbers. Commodity markets and platforms help both buyers and sellers, especially in stress situations like this week, find price levels and trading partners, and provide the mechanism to connect, engage, and when desirable or because of necessity execute. Because markets are fluid and supply and demand ebb and flow it pays to be connected, present and involved.
FAQ's
Q. Help – I need to buy urgently in the market, what can I do?
A. This week was pretty tough with the volume squeeze making it difficult for buyers to secure fish as the prices moved up. There are two main elements to this; the first is being prepared for this type of eventuality in the first place, by having as many counterparties set-up as possible to source potential inventory quickly along with a good working practise on the system, the second is to proactively put requests with prices (bids) into the market and to work these. Waiting to be offered prices when someone finally picks up a phone isn't the answer, if you are there and engaged people have an opportunity to react to you and help to get you filled.