The London Fish Exchange
Data / Market Insight / News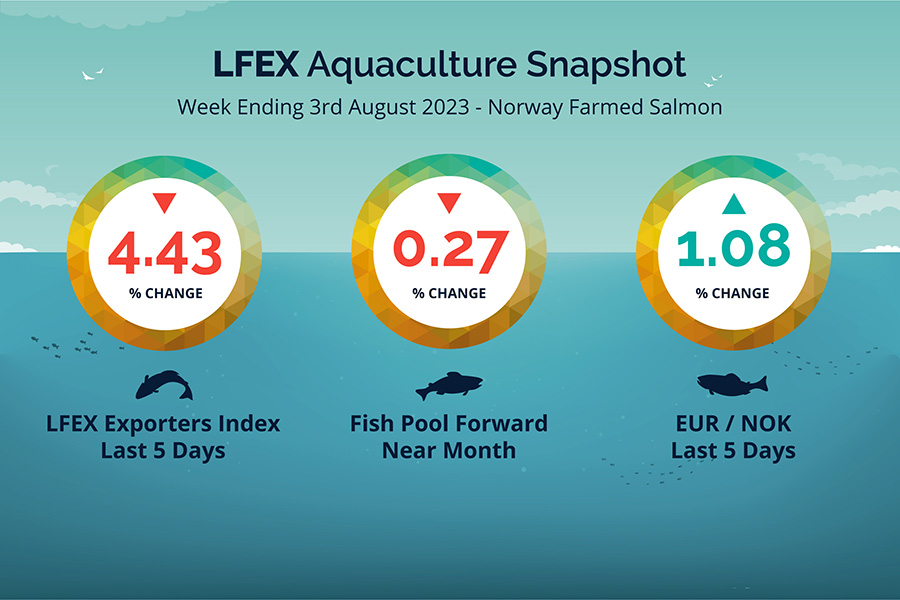 LFEX European Aquaculture Snapshot to 3rd August, 2023
Published: 4th August 2023

This Article was Written by: John Ersser
---
The LFEX Norwegian Exporters Index for Week 31 2023 was down -4.43%, -3.68 NOK to stand at 79.36 NOK FCA Oslo Week ending Thursday vs previous Thursday.
The NOK rate was up at 11.26 to the Euro over the period Thursday to Thursday +0.12 NOK or +1.08%. The Fish Pool future August was reported lower at 73.5 NOK down -0.20 NOK or -0.27%.
The index price opened higher for week 31 trading last Friday at 83.35 NOK +0.31 NOK from the previous week as suggested, with smaller fish 2-4's leading the small increase, while the 5/6s continued to fall. Pricing wise a gentle week of small declines each day at 82.68 for Monday through 80.82 Tuesday, 80.5 Wednesday and 79.36 for the weeks close. Spread continued to close ending around 8.5 NOK. Fresh volumes for week 30 were 19,604. Looking forward to next week and price formation is slow. More fish and summer holidays means downward pressure. Starting pricing is hard to gauge with a flatish start seeming likely at the moment, and weakness to follow, probably as most expect at this time of year – assuming no other news to impact pricing. We shall see.
David Nye's technical analysis report will be published on Monday.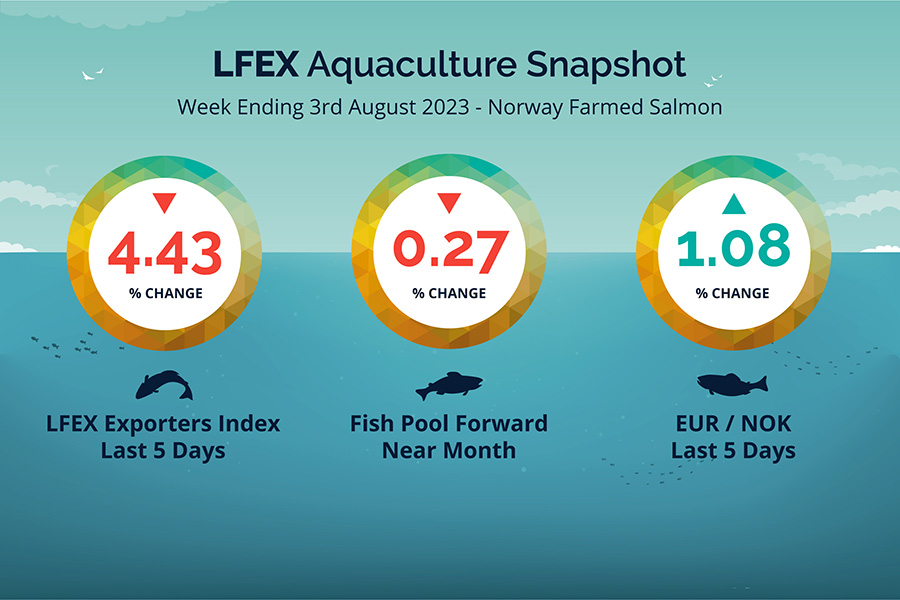 Market Data (Click Each to Expand)
| | | | |
| --- | --- | --- | --- |
| LFEX Prices | FX Rates | LFEX Indicative Exporter Prices (4 Week) | EUR / NOK FX Rate (4 Week) |
Did You Know?
You can amend or add to orders transacting on LFEX?
The system allows you to very quickly put up offers / orders within the RFQ service and manage pricing in real-time. The system not only lets you manage order parameters during the sale/purchase process but by single or multiple counterparties. It has been built to replicate your business workflows, is highly flexible and captures your business activity / management perfectly.
FAQ's
Q. As a buyer I'm interested in just getting the best price, I don't mind where from – can you help?
A. The very volatile pricing we have seen over the past 12 months has been a challenge for all parts of the market, regardless of geographical supply, spot or contract. At LFEX we aim to support buyers by giving a choice of trading participants from Europe (Norway, Iceland and Scotland) as well as from the Americas, to help source and securely trade with different counterparties. This includes FX rates and calculators to help identify the best opportunities for Buyers.