The London Fish Exchange
Data / Market Insight / News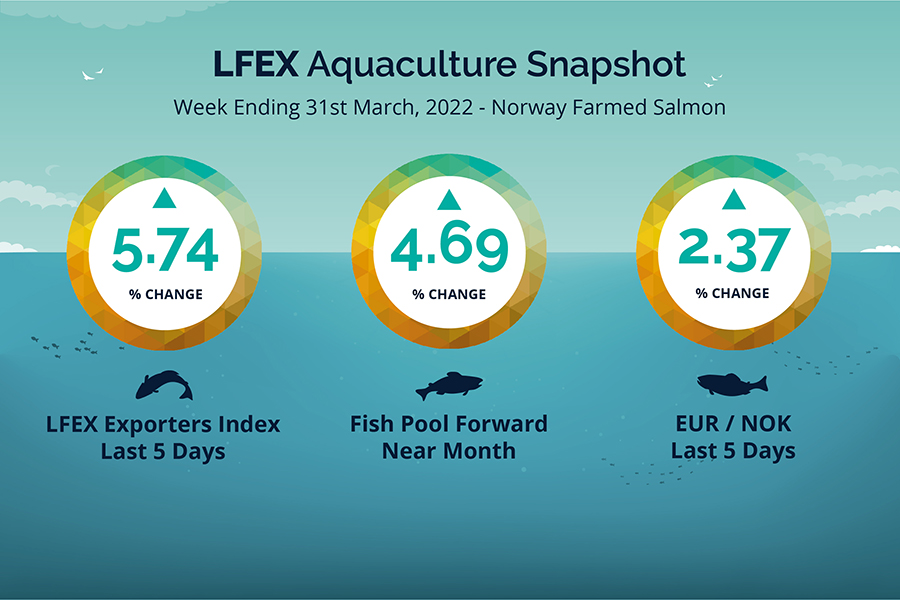 LFEX European Aquaculture Snapshot to 31st March, 2022
Published: 1st April 2022

This Article was Written by: John Ersser
---
Prices for Week 13 made steady strong progress upwards. The LFEX Norwegian Exporters index was up +5.74%, +4.95 NOK to stand at 91.20 NOK FCA Oslo Week ending Thursday vs previous Thursday price.
The NOK gave back this week at 9.69 to the Euro over the period Thursday to Thursday +0.22 or 2.37% weaker. The Fish Pool future April gained +3.90 NOK to 87.00, +4.69% over the same period.
The markets opened pretty level as expected at 86.95 versus 86.22, and then consistently rose over the week – 88.14, 89.70, 90.81 to end 91.2. The spread between 3's and 6's increased to around 2.2 NOK. Expectations for next week are possible price hikes, and maybe towards the 11 Euro level (100 NOK+) based on lack of fish, with harvest volumes broadly similar to this week – we'll see. Colder temperatures have meant less fish growth for some farmers which also adds to the picture.
David Nye's analysis for a Technical viewpoint will be published on Monday.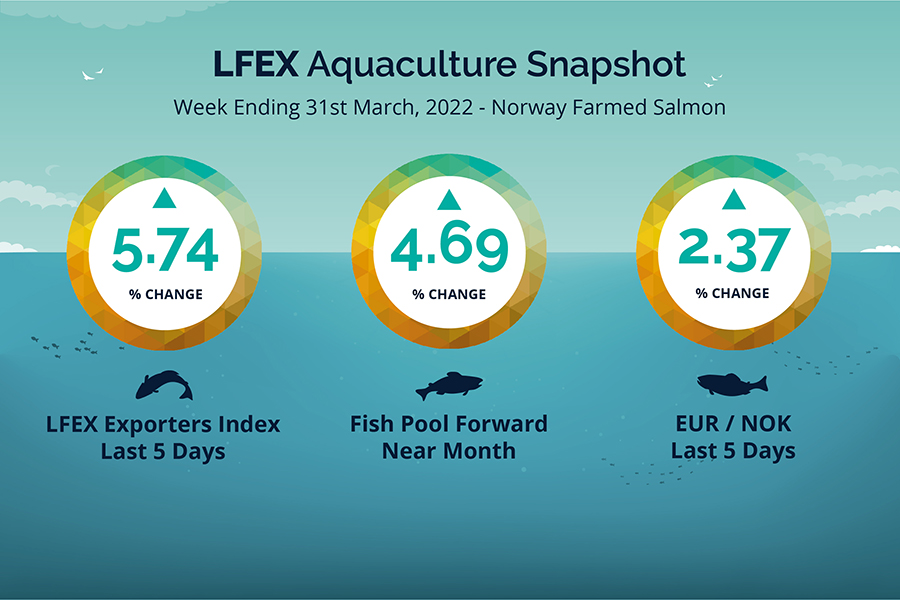 Market Data (Click Each to Expand)
| | | | |
| --- | --- | --- | --- |
| LFEX Prices | FX Rates | LFEX Indicative Exporter Prices (4 Week) | EUR / NOK FX Rate (4 Week) |
Did You Know?
As a manager you can get a snapshot in moments.
You can see all order histories with ease on the platform. See who are the biggest parties, discover who is buying / selling at optimal prices, identify those to focus more on and reduce supply shock exposure by evaluating history. It's all at your fingertips.
FAQ's
Q. Can multiple people from my company use the platform and see the same information?
A. The answer is yes, we can set the system up to be able to see all offers or trades going through the system and allow multiple users access to this information in real-time. This helps build a picture of sales/ purchases and pricing across the business and facilitates teams work and optimisation of the selling / buying process.