The London Fish Exchange
Data / Market Insight / News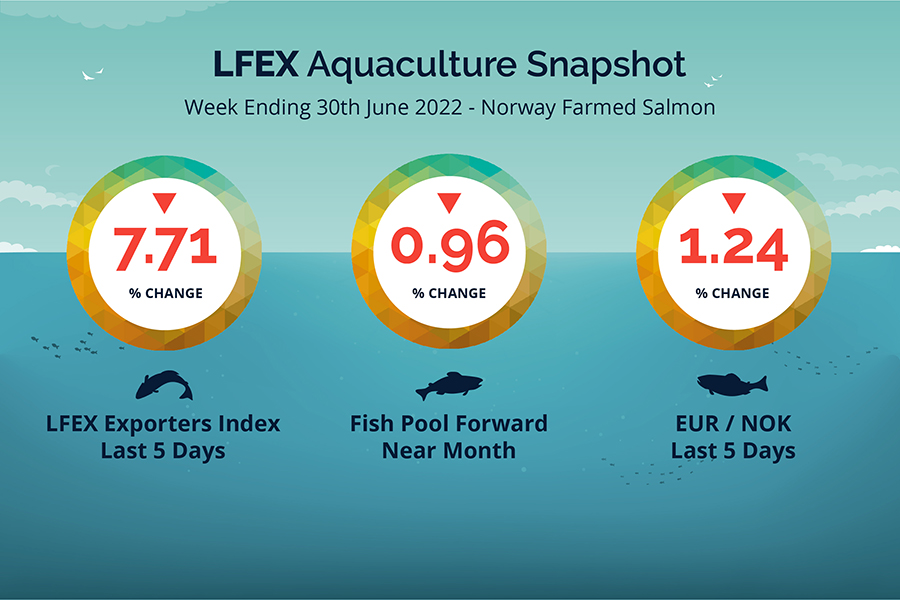 LFEX European Aquaculture Snapshot to 30th June, 2022
Published: 1st July 2022

This Article was Written by: John Ersser
---
The LFEX Norwegian Exporters index week 26 was down -7.71%, -7.91 NOK to stand at 94.72 NOK FCA Oslo Week ending Thursday vs previous Thursday.
The NOK was a little stronger at 10.35 to the Euro over the period Thursday to Thursday -0.13 or 1.24%. The Fish Pool future June dropped to 103.0 NOK July showing 89.8 NOK.
Trend wise this week was all downhill with prices falling below the 100 NOK level. Prices opened at 101.11 on Friday a drop of 1.48% from the previous close and continued a steady and continuous drop from Monday at 98.89 through to Thursday at 94.71, as more fish starts to come through. This week will be affected by ILA – infectious salmon anaemia with problems in Iceland and Norway. A lot of the smaller 2-3 fish are already sold at lower prices. Prices to soften a little more this week is the consensus, although not by much. Debate over how much more volume will be available (from not much with prices in a balance / to a likely increase impacted by the hot weather in Europe causing more demand for frozen and less for fresh). As usual we will see.
David Nye's analysis for a Technical viewpoint will be published on Monday.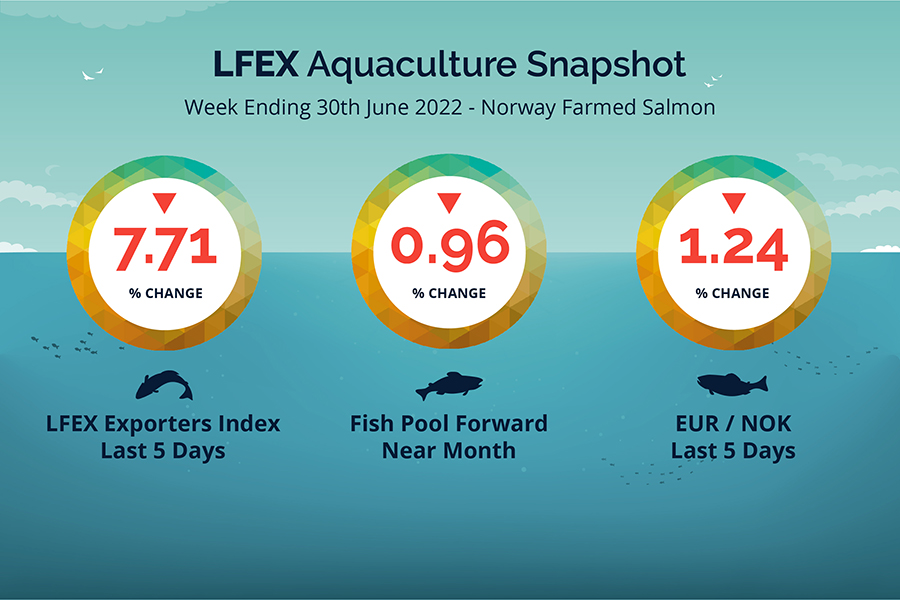 Market Data (Click Each to Expand)
| | | | |
| --- | --- | --- | --- |
| LFEX Prices | FX Rates | LFEX Indicative Exporter Prices (4 Week) | EUR / NOK FX Rate (4 Week) |
Did You Know?
You and your company can work multiple orders on the platform simultaneously.
For example, you can work to transact on this weeks' needs while using the RFQ's for the following week(s) business. You can also have constantly updated prices on these requests from sellers (so where the market is dropping) and track price development and decide when is optimal to buy.
FAQ's
Q. I'm not very skilled with technology, is LFEX difficult to learn?
A. We have worked diligently to make LFEX as user friendly as possible and are always open to suggestions on streamlining. We can provide a thorough demonstration on using the platform and can help with actual order placing and transactions – please just ask.