The London Fish Exchange
Data / Market Insight / News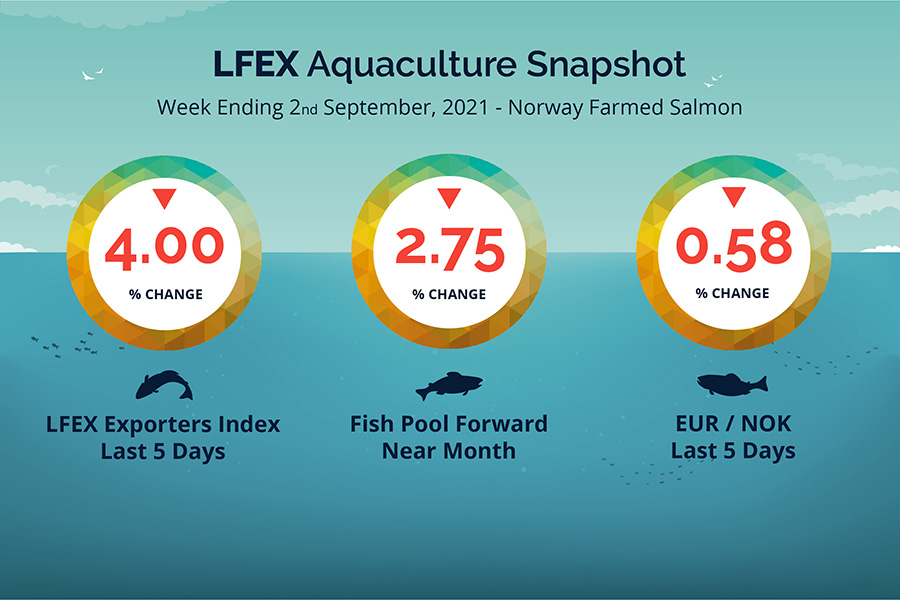 LFEX European Aquaculture Snapshot to 2nd September, 2021
Published: 3rd September 2021

This Article was Written by: John Ersser
---
Market Insight – Europe
The LFEX Norwegian Exporters price was down -2.14 NOK at 51.39 over the week 35 ending Thursday.
The NOK strengthened versus Euro down – 0.06 to 10.29 and the Fishpool future September was down – 1.5 to 53.0 over the same period. Average prices were steady during the week with the spread between sizes increasing a little until Thursday which saw a sharp drop in prices and a compression in the spread mainly from larger sizes reducing.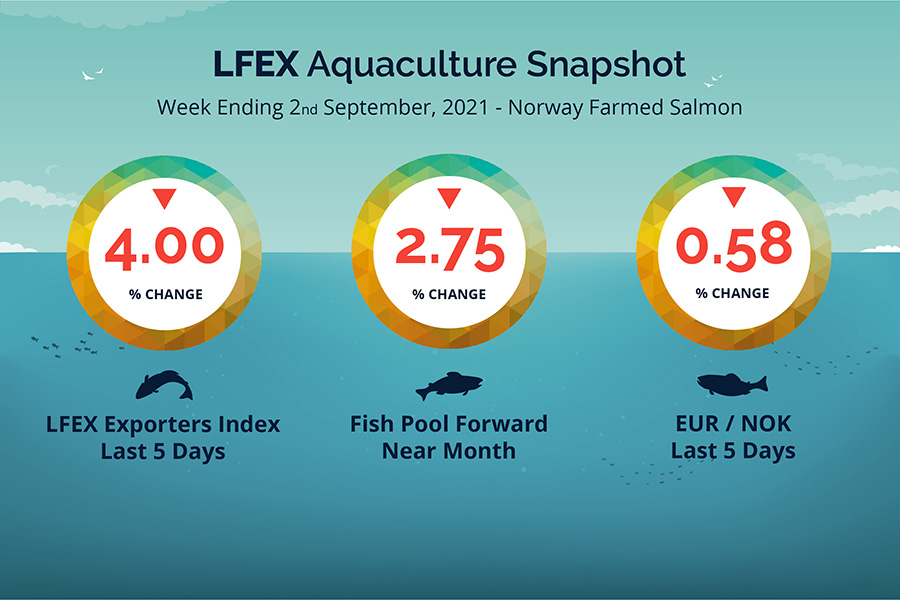 Market Data (Click Each to Expand)
| | | | |
| --- | --- | --- | --- |
| LFEX Prices | FX Rates | LFEX Indicative Exporter Prices (4 Week) | EUR / NOK FX Rate (4 Week) |
Prices Ending 2nd September, 2021
Did You Know?
The LFEX DataSalmon seminar is taking place on the 8th September 2021. The theme for this seminar is the coming digitalisation of the Chilean salmon industry.
Along with FAQ's and Q and A's hosted by DataSalmon, we have two special guest speakers at this event; Tad Lundborg and John McCabe. Both have been senior executives at various major financial trading institutions globally over the past 20 years, and will share some of their personal experiences, views and insights into the use of technology and how is has helped transform their markets over the last 20 years.
FAQ's
Q. How do I know I'm getting the right price?
A. At the moment it is hard to judge whether sellers and buyers are getting the right price. The only way a market can truly find the right price is when a sufficient volume of buyers and sellers business collides together and the result of this will deliver the right price. The price will also more accurately reflect the different needs and requirements of the participants that make up the market.