The London Fish Exchange
Data / Market Insight / News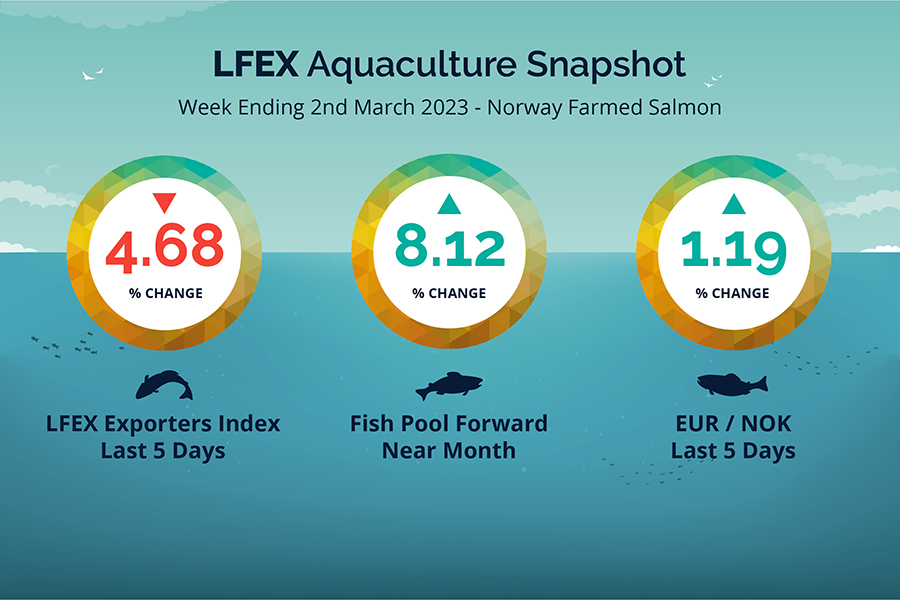 LFEX European Aquaculture Snapshot to 2nd March, 2023
Published: 3rd March 2023

This Article was Written by: John Ersser
---
The LFEX Norwegian Exporters Index Week 9 2023 was down -4.68% -5.6 NOK to stand at 114.1 NOK FCA Oslo Week ending Thursday vs previous Thursday.
The NOK rate was up at 11.08 to the Euro over the period Thursday to Thursday +0.13 NOK or +1.19%. The Fish Pool future March was reported higher at 105 NOK up +8.00 NOK or +8.12%.
Brutal week for pricing and volatility as prices jump up to the near record highs seen in April 22. Prices leaped a further 7.34%, + 8.79 NOK on Fridays open at 128.49 based on continuing poor supply of fish, which progressed into Monday at 128.74 with buyers having a torrid time finding product. Tuesday and Wednesday gave a little back, but by Thursday with falling appetite at these price levels saw a correction to 114.1 or -9.3% on the day with some sellers outing stock at the 110 level. In one week, prices were up, bottom to top 7.5% (9 NOK) and down, top to bottom -11.37% (-14.64 NOK). Next week is hard to call and a nervous market, still not much volume will keep price pressure up especially for those buyers who need fresh (sushi / retail), but smokers and processors won't want to be buying at these levels which will bring downward pressure especially on unsold stock. Maybe see higher level prices again for the open. We shall see.
David Nye's technical analysis report will be published on Monday.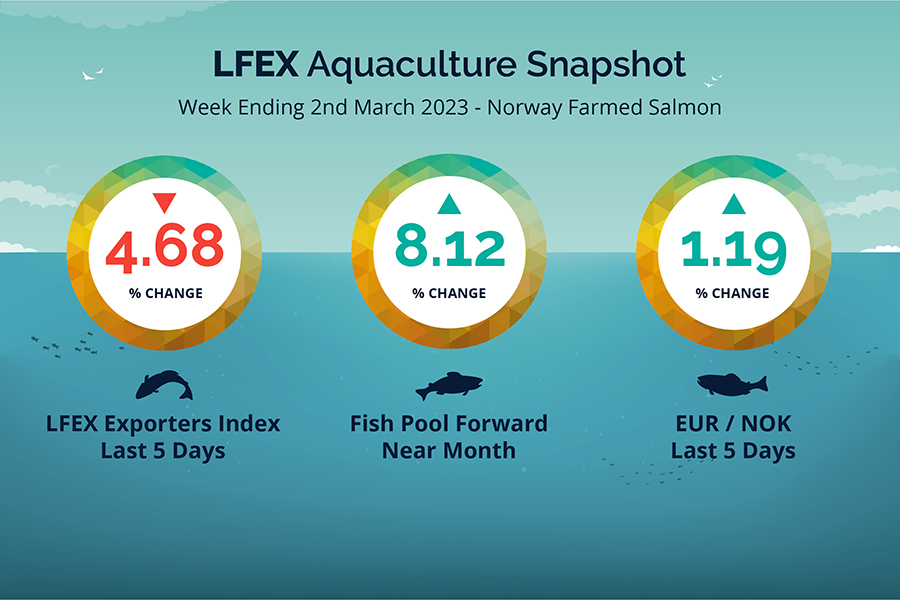 Market Data (Click Each to Expand)
| | | | |
| --- | --- | --- | --- |
| LFEX Prices | FX Rates | LFEX Indicative Exporter Prices (4 Week) | EUR / NOK FX Rate (4 Week) |
Did You Know?
LFEX produces intra-week data and analysis?
LFEX provides a unique view of price progression intra week. Our LFEX Exporters index tracks the market price and intra week volatility to give a better insight into to market movements and trends within the market. We also provide analysis and commentary to provide an historic, current and potential future price trends for market participants. Register to find out more.
FAQ's
Q. Can I as a buyer enter a price that I am prepared to trade on?
A. 100% yes. Buyers can not only make specific requests based on their own requirements, they can also add a price to the request that they are prepared to buy at. Sellers can accept this price and trade with you, or counter with their own price(s). Buyers can amend their prices, or withdraw them at any time, and are in complete control of the prices they want to show and to whom they want to show them.
This is a great way of building an understanding of a market where there are both sellers prices and buyers prices are visible.