The London Fish Exchange
Data / Market Insight / News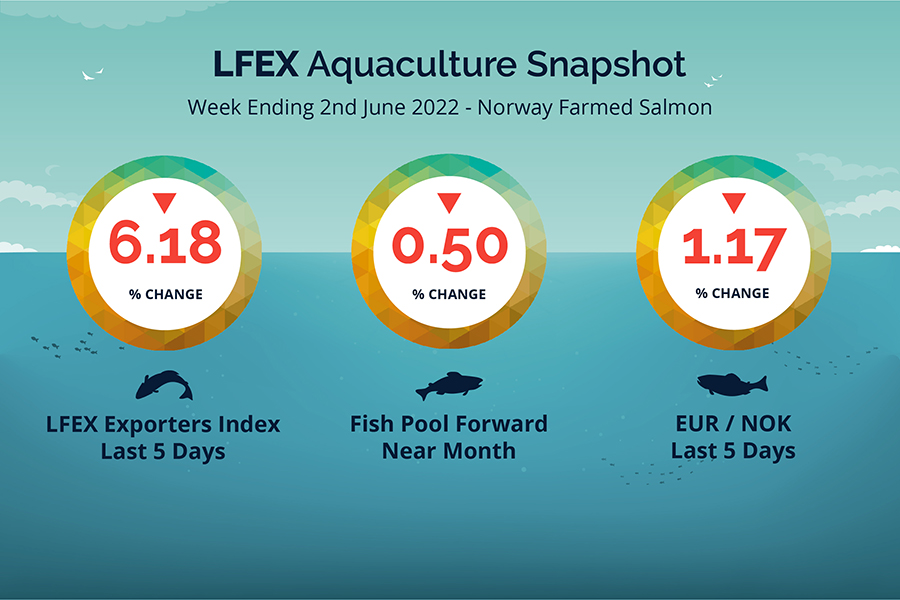 LFEX European Aquaculture Snapshot to 2nd June, 2022
Published: 3rd June 2022

This Article was Written by: John Ersser
---
A full trading week this week. The LFEX Norwegian Exporters index was down – 6.18%, -6.58 NOK to stand at 99.96 NOK FCA Oslo Week ending Thursday vs previous Wednesday.
The NOK was slightly stronger at 10.12 to the Euro over the period Thursday to Thursday -0.12 or 1.17% stronger. The Fish Pool future June lost – 0.5 NOK to 99.00, -0.5% over the same period.
Although a full week, there was no trading on Thursday and prices gapped down from 106.54 NOK, -6.73% on the previous Wednesday to 99.82 NOK on Friday. This seemingly created a flat week to Thursday 2nd March close at 99.96, but the truth was prices climbed to a peak on Wednesday at 103.8 before falling off Thursday. Rumours of a larger volume being outed early in the week at lower prices pushed things lower, before drifting up. Next week Monday is another holiday. Harvesting levels remain low, but demand is also demonstrably lower than the same period last year, expectation that prices will come under a little pressure in week 23. Eyes are on week 24 where more volumes are expected to come through and pricing has shown itself to be sensitive to increases in volume. Chile 'D' Trim Miami showing $7.17. We'll see.
David Nye's analysis for a Technical viewpoint will be published on Monday.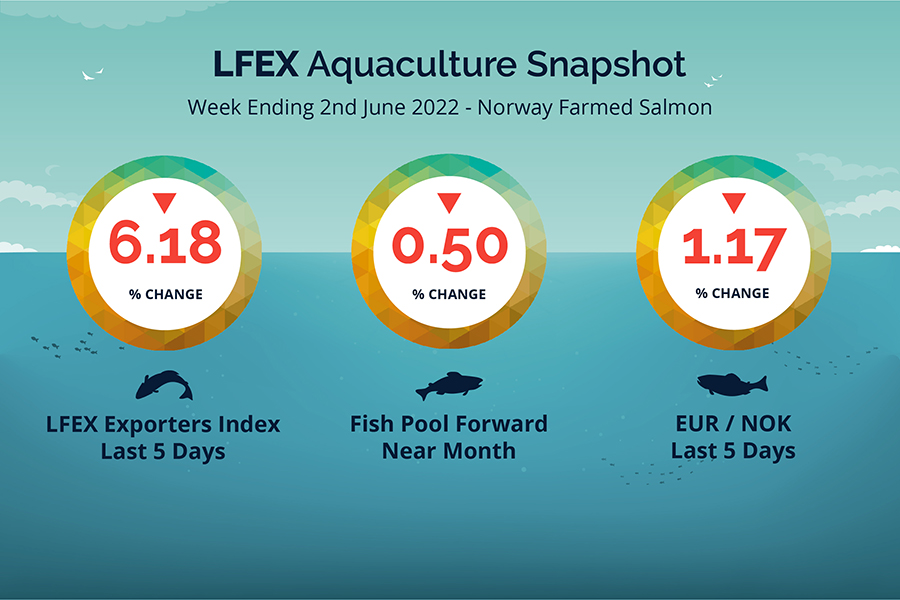 Market Data (Click Each to Expand)
| | | | |
| --- | --- | --- | --- |
| LFEX Prices | FX Rates | LFEX Indicative Exporter Prices (4 Week) | EUR / NOK FX Rate (4 Week) |
Did You Know?
The Queen of England has been monarch since 1952 and celebrates her Platinum Jubilee this weekend.
It would take another 30 years before commercial salmon farming took off in Norway! A lot has happened since then and despite many challenges along the way it is now one of the most successful and profitable farming industries. Back then of course computers and the internet as we know it didn't exist, whereas today salmon farmers can chat and trade securely and privately at the touch of a button on LFEX anywhere on the planet.
FAQ's
Q. The system will let you manage orders in many different ways.
A. As a seller you can put up an order for one or a group of customers, you can partial fill this order against multiple counterparties or just one, and if you want to add more volume to this order and leave it running you can, amending the price along the way. As a buyer you can do the same, put up an RFQ, trade, and then leave the order up with more volume to entice other sellers using the same details. We believe in the old adage "success breeds success".