The London Fish Exchange
Data / Market Insight / News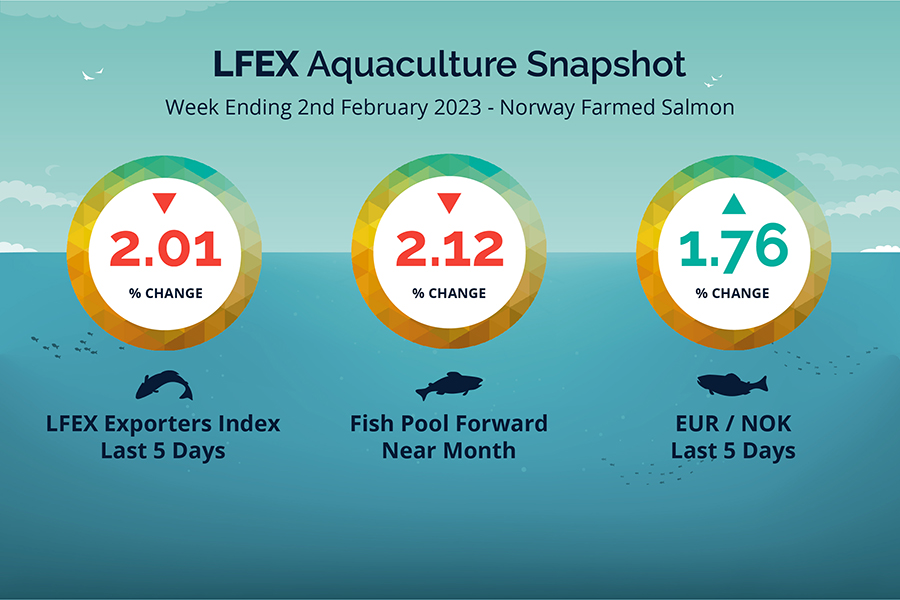 LFEX European Aquaculture Snapshot to 2nd February, 2023
Published: 3rd February 2023

This Article was Written by: John Ersser
---
The LFEX Norwegian Exporters Index Week 5 2023 was down -2.01%, -1.79 NOK to stand at 87.42 NOK FCA Oslo Week ending Thursday vs previous Thursday.
The NOK rate progressed further over the week ending at 10.96 to the Euro over the period Thursday to Thursday +0.19 NOK or +1.76%. The Fish Pool future February was reported lower at 91.0 NOK down -1.9 NOK or -2.12%.
The market over the week registered a smallish fall, but there appears to me more to the story. Friday saw prices pushed up on open at 92.81, a jump up of +4% from the prior Thursday close and held up on Monday at 92.94. Prices started to soften mid-week, and Thursday was down to 87.42, a top to bottom drop of 6% over the week. It seems this week that without contracts and the spot market having bought what it needed, there wasn't much demand left in the system at these levels, with sellers still having fish to sell at the end of the week. Is this weaker consumer demand starting to show through or just an anomalous week? No read on expectations going into Friday. As usual we shall see what the week brings.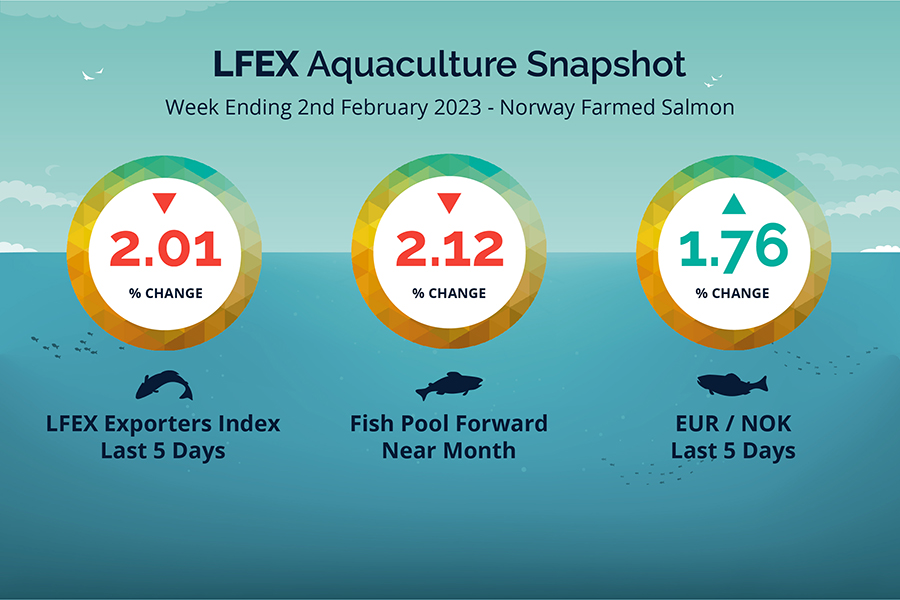 Market Data (Click Each to Expand)
| | | | |
| --- | --- | --- | --- |
| LFEX Prices | FX Rates | LFEX Indicative Exporter Prices (4 Week) | EUR / NOK FX Rate (4 Week) |
Did You Know?
You can place orders or RFQ's on the system for an hour, a week, 2 weeks or longer, or any time period you want, allowing you to match your orders with your business demands.
It also means you can, for example, put up offers for available frozen inventory, and update those prices as often as you want to making it a great way to manage and control inventory over a period of time, and always having some stock in the market.
FAQ's
Q. I want to track the business I do with each of my counterparties- how can I do this?
A. The system saves all of your; order, pricing and trading data with each and every counterparty you have an interaction with on the platform. We then provide you with the tools to sort and cut this data yourself by any parameter in real-time. If you want to find / track trades with just one counterparty this is easily achieved, as well as any pricing/data, or documentation against these trades. It's a super flexible real-time system to get you the information and data you need, when you need it.