The London Fish Exchange
Data / Market Insight / News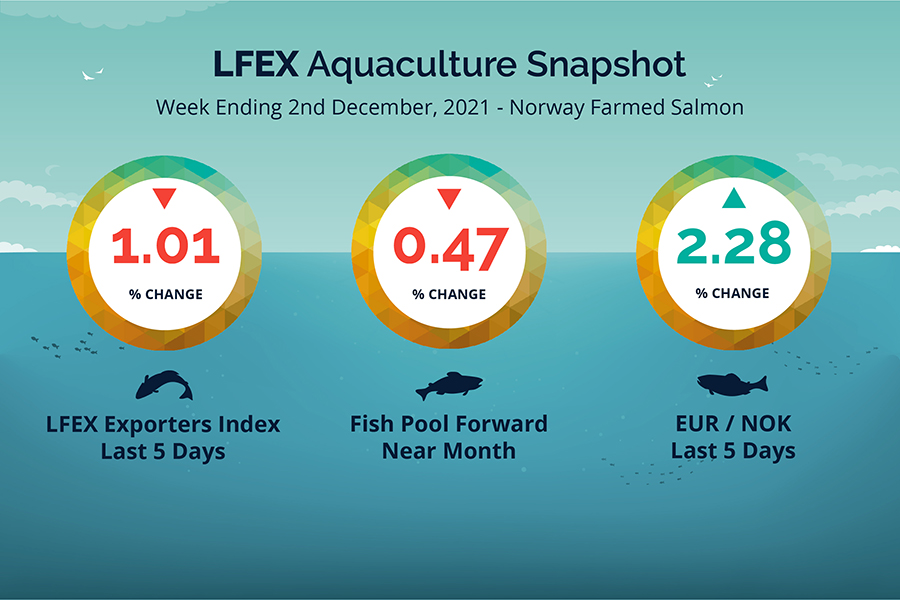 LFEX European Aquaculture Snapshot to 2nd December, 2021
Published: 3rd December 2021

This Article was Written by: John Ersser
---
Market Insight – Europe
The LFEX Norwegian Exporters price was down -1.01%, -0.63 NOK at 61.54 FCA Oslo Week 48 ending Thursday vs previous Thursday price.
The NOK was weaker against the Euro at 10.3 up +0.23 NOK or +2.28% Thursday to Thursday and the Fish Pool future December fell -0.3 to 64.2 NOK or -0.47% over the same period.
A stable week after the recent volatility with the Friday opening at 62.34 NOK just +0.27% ahead of Thursdays close. A relative flat market with prices edged up on Monday to 62.48 the high of the week, before gently giving back -1.5% over Tuesday through to Thursday. The 3 – 6 spreads closed out around 2.45 NOK.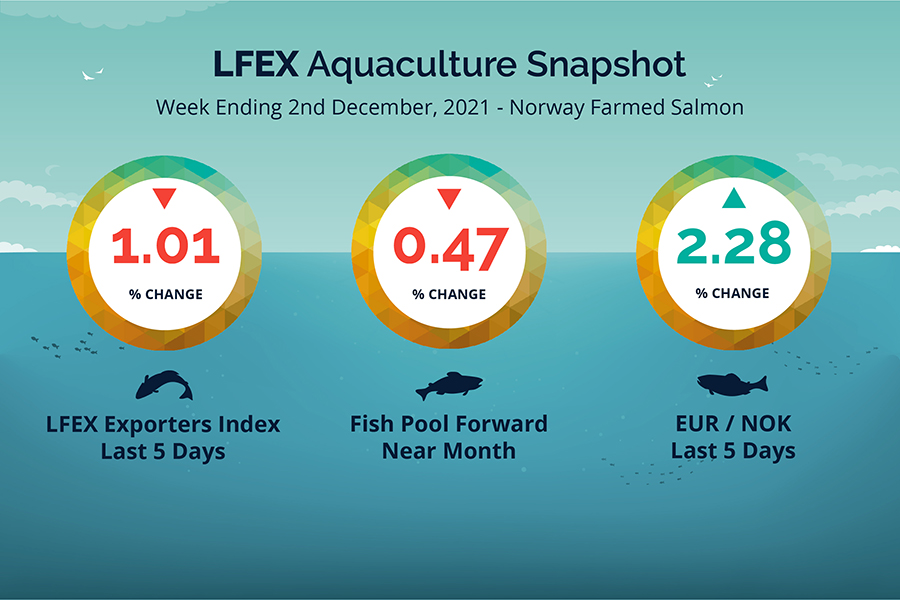 Market Data (Click Each to Expand)
| | | | |
| --- | --- | --- | --- |
| LFEX Prices | FX Rates | LFEX Indicative Exporter Prices (4 Week) | EUR / NOK FX Rate (4 Week) |
Did You Know?
The platform is live 24 x 7 which means that it doesn't matter where your buyer or seller is based, you can connect with them live day or night, which is perfect for covering global time zones from one place.
Sellers can put up offers at the end of the day and send to customers in Asia or Russia for example, and come back in the morning to collect their overnight trades, the system doing the work for you and a great way to capture business.
FAQ's
Q. For some customers English is not the preferred language, can you help?
A. By using the templates on the system, it is very easy for buyers or sellers to send offers or orders to counterparties anywhere. The chat service supports multilanguage / characters meaning as long as users have the necessary input keyboard they can communicate in any language they chose – even emojis.