The London Fish Exchange
Data / Market Insight / News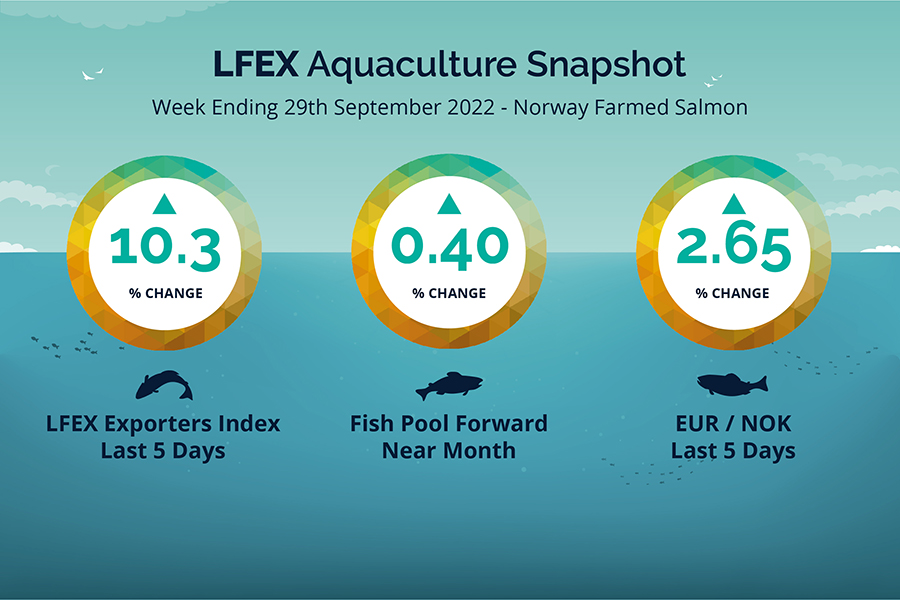 LFEX European Aquaculture Snapshot to 29th September, 2022
Published: 30th September 2022

This Article was Written by: John Ersser
---
The LFEX Norwegian Exporters Index week 39 was up +10.35%, +6.25 NOK to stand at 66.64 NOK FCA Oslo Week ending Thursday vs previous Thursday.
The NOK was up ending at 10.47 to the Euro over the period Thursday to Thursday +0.27 NOK or +2.65 %. The Fish Pool future September was up +0.25 NOK at 62.25 NOK.
Pricing kicked off around the 62 NOK level as predicted at 62.36, a move up of nearly 2 NOK from the previous close which was the result of a weak dip at the end of that week as volumes hit (peaked?) at 27,880 tons. However, sentiment pushed the market stronger on Monday to 63.62 where it settled for Tuesday at 63.34 NOK. Wednesday may prove to be a landmark day in the industry as the Norwegian government announced the proposed new 40% 'rent' tax on larger producers (+4k/5k tons) from 2023 and the market and particularly the producers started to digest this huge news. The tax take if the proposal is adopted adds up to a 62% tax on sea production of salmon and trout. The news had a significant impact on the big listed companies share prices with SalMar hit with a 30% drop on the day. Pricing also started to increase up at 65.53 on Wednesday and 66.64 on Thursday. For next week the psychology for the new tax and lesser volumes are expected to start to push up pricing and we can expect to see higher numbers on Friday. As usual we will see…
David Nye's analysis for a Technical viewpoint will be published on Monday.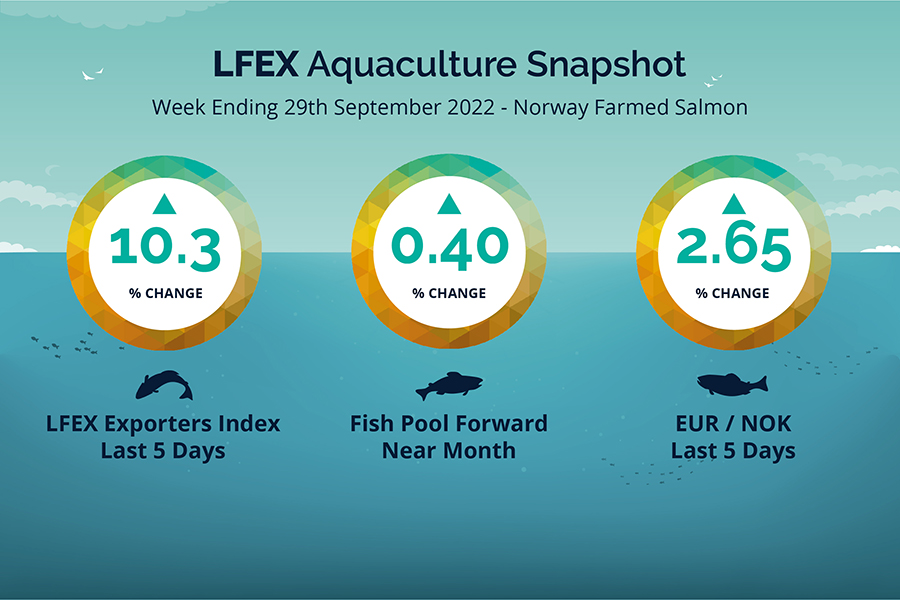 Market Data (Click Each to Expand)
| | | | |
| --- | --- | --- | --- |
| LFEX Prices | FX Rates | LFEX Indicative Exporter Prices (4 Week) | EUR / NOK FX Rate (4 Week) |
Did You Know?
The LFEX stores all your previous orders and transactions for immediate access to all your activity on the platform.
It also saves previous orders so that you can quickly and accurately input new orders / RFQ's without having to constantly key in new order information.
FAQ's
Q. How can I better draw attention to my orders entered on LFEX?
A. An old trading adage says "size opens your eyes". Yes, a good price is nice at getting attention, but if you are willing and able to move a good volume of product it will capture attention and may help in getting the trade/s completed.