The London Fish Exchange
Data / Market Insight / News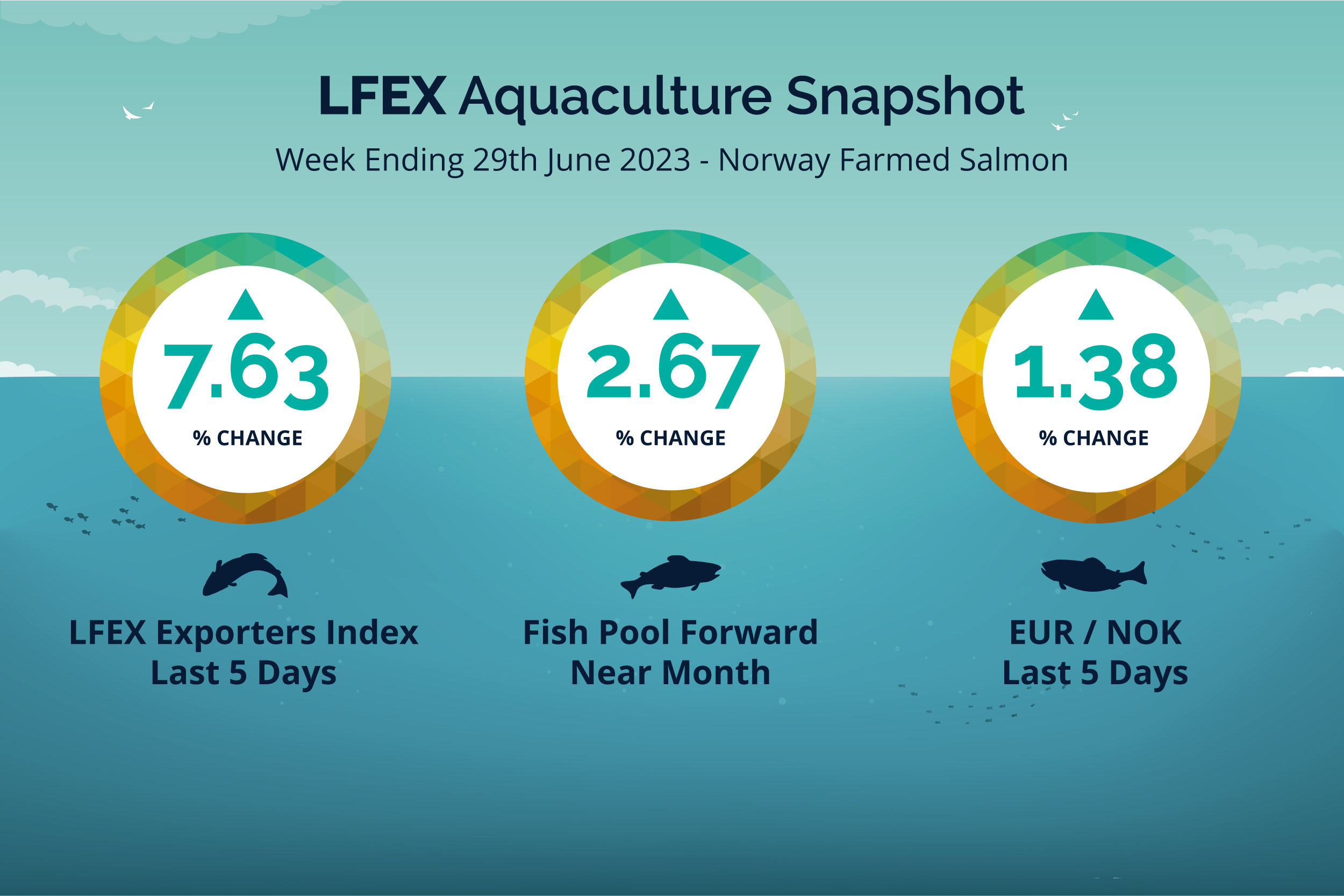 LFEX European Aquaculture Snapshot to 29th June, 2023
Published: 30th June 2023

This Article was Written by: John Ersser
---
The LFEX Norwegian Exporters Index for Week 26 2023 was up + 7.63%, +6.82 NOK to stand at 96.18 NOK FCA Oslo Week ending Thursday vs previous Thursday.
The NOK rate was up at 11.75 to the Euro over the period Thursday to Thursday +0.16 NOK or +1.38%. The Fish Pool future June was reported higher at 96.0 NOK up +2.5 NOK or +2.67%.
Prices opened marginally higher last Friday at 90.72 NOK +1.36 from the previous week as farmers pushed prices up a little. Monday and Tuesday were relatively flat at 91.79 and 91.35 respectively, while Wednesday saw a pick-up to 93.32 which accelerated into Thursday at 96.18 to close out the week, and a good increase, albeit without the huge volatility. Supply and Demand collided this week, with supply found slightly wanting meaning upward pressure on pricing. A large spread between smaller and larger fish of 12.5 NOK – 3/4s to 5/6s. Interestingly David Nye noted a technical resistance level at 96.47 NOK in last week's report. The coming week will see some more volume in smaller sizes coming through, and it will depend on where buyers are prepared to pay for smaller fish – early indications from bigger buyers pushing around 84 NOK 3/4s. However, bigger fish 5+ in demand from Asia and Sushi are expected to be stronger with a life of their own. It is noticeable that recently there is less certainty on pricing for Fridays in the last few weeks as the market tries to work out where it's at. We shall see.
David Nye's technical analysis report will be published on Monday.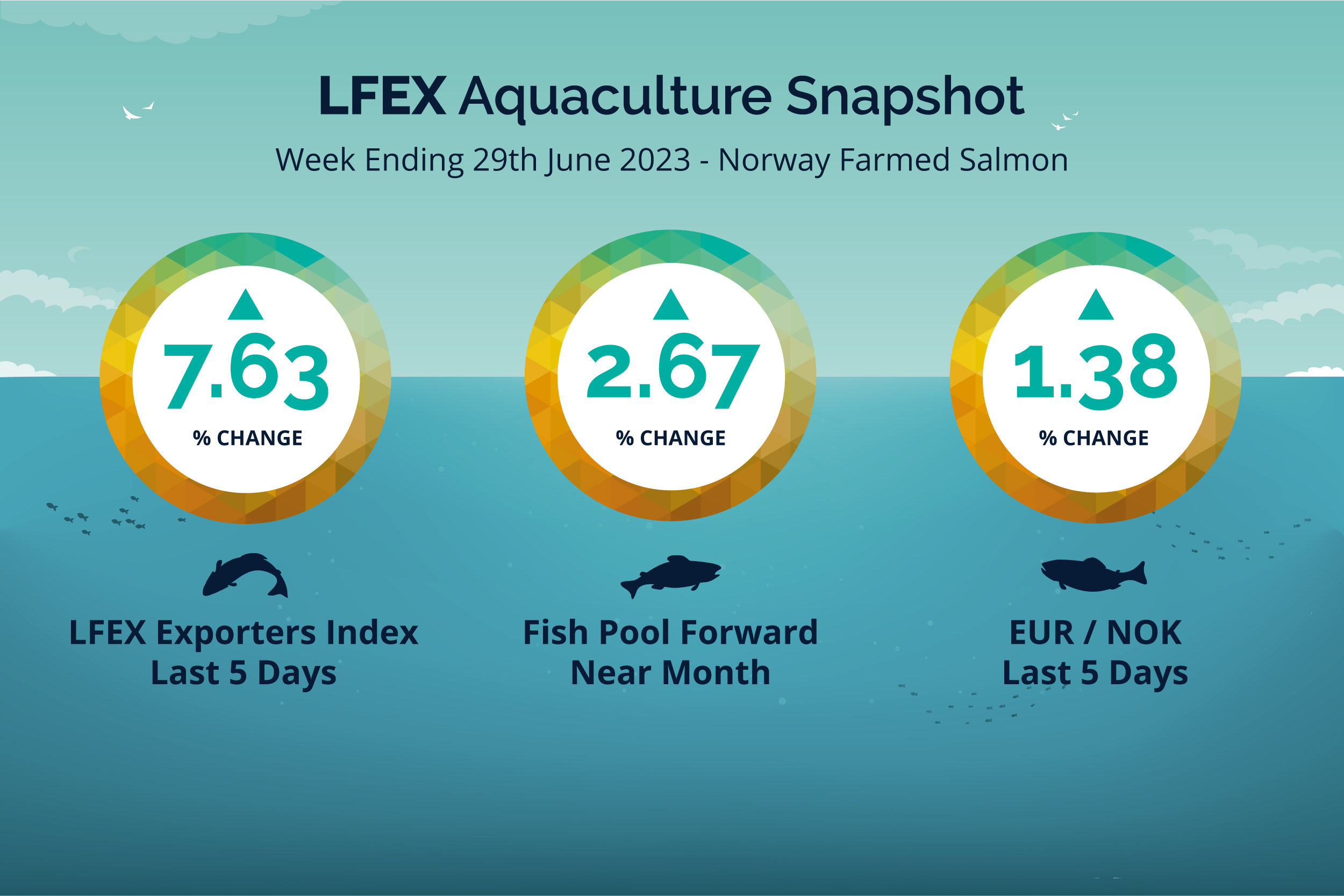 Market Data (Click Each to Expand)
| | | | |
| --- | --- | --- | --- |
| LFEX Prices | FX Rates | LFEX Indicative Exporter Prices (4 Week) | EUR / NOK FX Rate (4 Week) |
Did You Know?
The LFEX platform helps sellers manage and distribute multiple prices to different customers in real-time on the system.
Customers are different and have different demands, whether it is sizes, classifications, certifications, currencies or INCO terms. The platform allows sellers to manage this process, getting bespoke pricing out to a universe of customers quickly and easily allowing buyers more immediate access to offers to see and react to.
FAQ's
Q. With pricing volatility I am concerned about getting caught selling too much at the wrong level – how can you help?
A. There are a number of ways we enable business to protect their offers / orders to give users comfort that they won't be exposed. Primarily a specific amount of inventory can be offered to a group of buyers – the system won't let you over trade. You can change available volumes and pricing instantly, as well as suspending pricing or cancelling offered prices or cancelling the offer completely as examples of some of the protection functionality we offer.