The London Fish Exchange
Data / Market Insight / News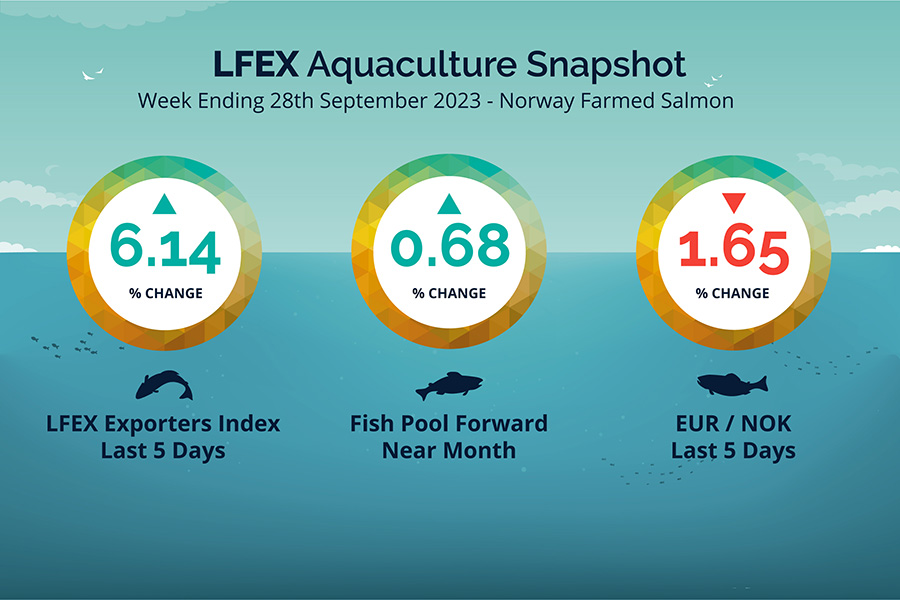 LFEX European Aquaculture Snapshot to 28th September, 2023
Published: 29th September 2023

This Article was Written by: John Ersser
---
The LFEX Norwegian Exporters Index for Week 39 2023 was up +6.14%, +4.69 NOK to stand at 81.13 NOK (approximately 7.17 EUR) FCA Oslo Week ending Thursday vs previous Thursday.
The NOK rate was fell to 11.32 to the Euro over the period Thursday to Thursday -0.19 NOK or -1.65%. The Fish Pool future September was reported up +0.5 NOK, +0.68% at 74.5 NOK with October showing 74.
Index prices opened up significantly higher than early indications for offered prices week 39, +3.81 NOK to the good over last Thursday's price at 80.25 NOK based on supply and demand, and last week supply was reduced. Monday was flat, while Tuesday saw a small increase again to 81.64 which held for the week. With the NOK rate finding strength this week +1.65% the cost for Euro buyers was a more pronounced up 7.92% to 7.17, which explains some cost increase as well as reduced volumes. For next week the currency strength will continue to play a part, as well as it seems less medium and large fish from some larger suppliers. Throw an emergency harvest of 2700 tons in the north (due to pancreatic disease), into the mix and a price point that some buyers might start to get sensitive to given the still large seasonal volumes and it's difficult to call. Early price formation indications are still ranging from around 80 to 84 3-6's with some in the middle at 82.5 So, no clarity on pricing as we report. We shall see.
David Nye's technical analysis report will be published on Monday.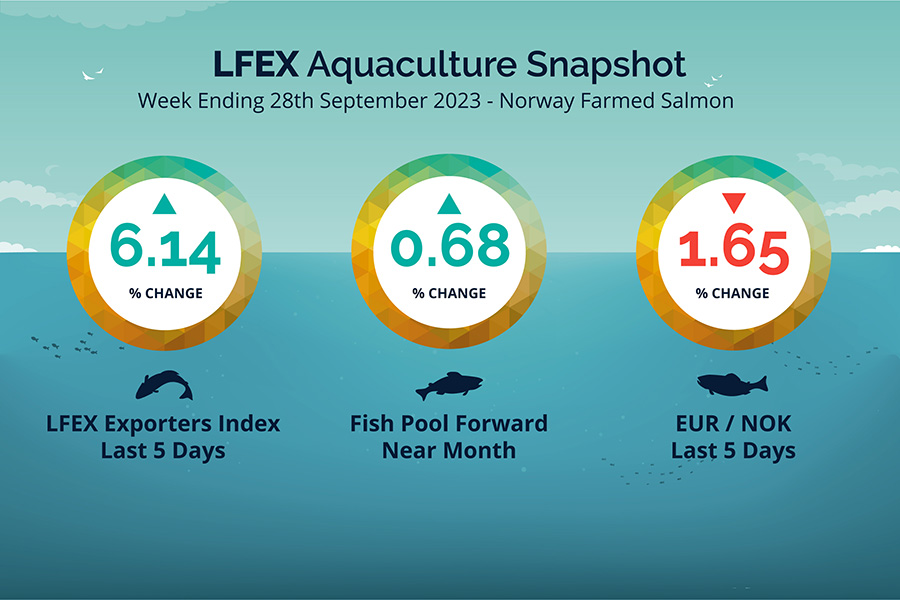 Market Data (Click Each to Expand)
| | | | |
| --- | --- | --- | --- |
| LFEX Prices | FX Rates | LFEX Indicative Exporter Prices (4 Week) | EUR / NOK FX Rate (4 Week) |
Did You Know?
LFEX delivers secure and trusted connectivity with counterparties globally for order routing, price discovery and transactions.
If you have a group of customers in Asia, you are a processor in northern Europe or a retailer in the US, we provide in a single, real-time, seamlessly integrated technology platform including pre and post trade services and data to support industry operations.
FAQ's
Q. I trade the same products each week how can I set the system up for me?
A. The RFQ is configurable and saved by user. This means that you can set it up perfectly for what you want to trade with your own parameters and at a single click have your own fully populated orders ready to go. We understand that different users have different requirements, and the system has been designed to cater for everyone's different choices. We also allow users to configure their LFEX Web workspaces to reflect how they want to operate and use the platform with bespoke and default layouts.