The London Fish Exchange
Data / Market Insight / News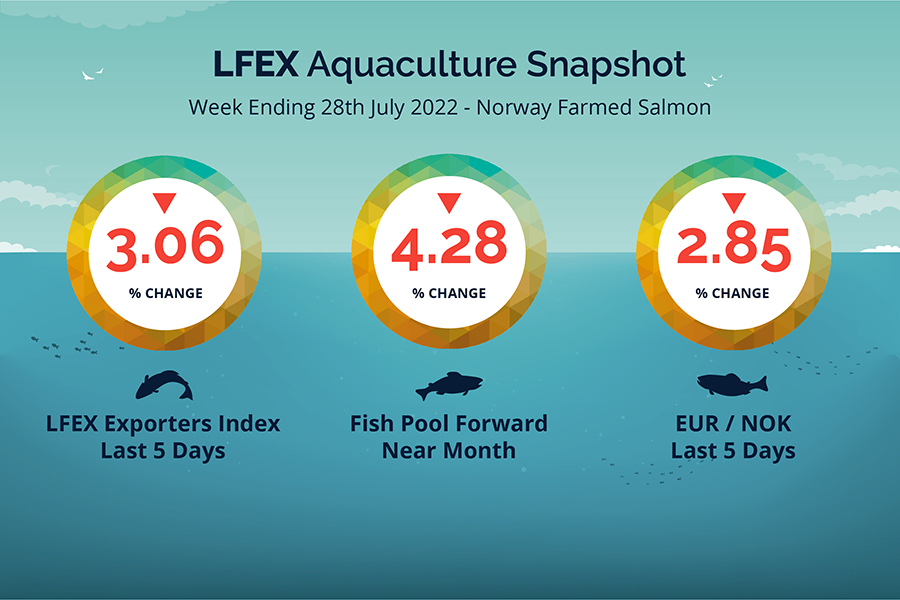 LFEX European Aquaculture Snapshot to 28th July, 2022
Published: 29th July 2022

This Article was Written by: John Ersser
---
The LFEX Norwegian Exporters Index week 30 was down -3.06%, -2.28 NOK to stand at 72.25 NOK FCA Oslo Week ending Thursday vs previous Thursday.
The NOK was strong ending at 9.88 to the Euro over the period Thursday to Thursday -0.29 NOK or 2.85%. The Fish Pool future July down -3.80 NOK at 84.95 NOK with August showing 73.25.
Prices for the week were pretty stable with an overall fall of -3.06%. The market dropped -2.98% on the Friday to 72.31 and remained pretty much flat for the rest of the week. Wednesday saw the bottom at 71.58 NOK with cheaper fish going through, while Thursday saw a slight pick-up in prices. The overall fall was matched in percentage terms by a similar strengthening in the EURNOK rate leaving sellers relatively flat (albeit the FX rate dropped across the week). Next week there are more volumes coming through and holiday periods in Europe, however, the feeling generally is for stability in pricing, with maybe a drop later depending on volumes available. Fresh volumes in week 29 were 18,927 tons. As usual, we will see…
David Nye's analysis for a Technical viewpoint will be published on Monday.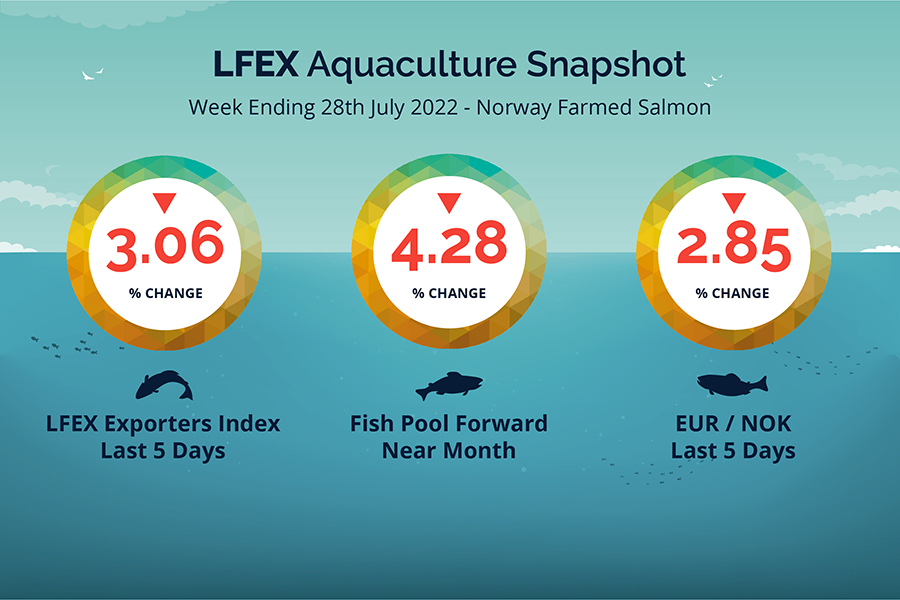 Market Data (Click Each to Expand)
| | | | |
| --- | --- | --- | --- |
| LFEX Prices | FX Rates | LFEX Indicative Exporter Prices (4 Week) | EUR / NOK FX Rate (4 Week) |
Did You Know?
LFEX is the only source providing technical analysis based on daily prices for the Norwegian aquaculture market and weekly Chilean market.
The unique analysis brings a different way to view prices and trends in a multitude of markets and its history dates back as far as the Assyrian trading stations. Over time the analysis has developed and evolved and is now a critical tool for market participants across a huge array of markets.
FAQ's
Q. Can I work multiple orders simultaneously on the platform?
A. LFEX allows users to work as many separate orders as they like on different species, trims, packaging etc. Whether it is simple repeat orders or complex multi-legged orders the system can support your business. Take advantage of the systems capability in managing several orders or RFQ's.