The London Fish Exchange
Data / Market Insight / News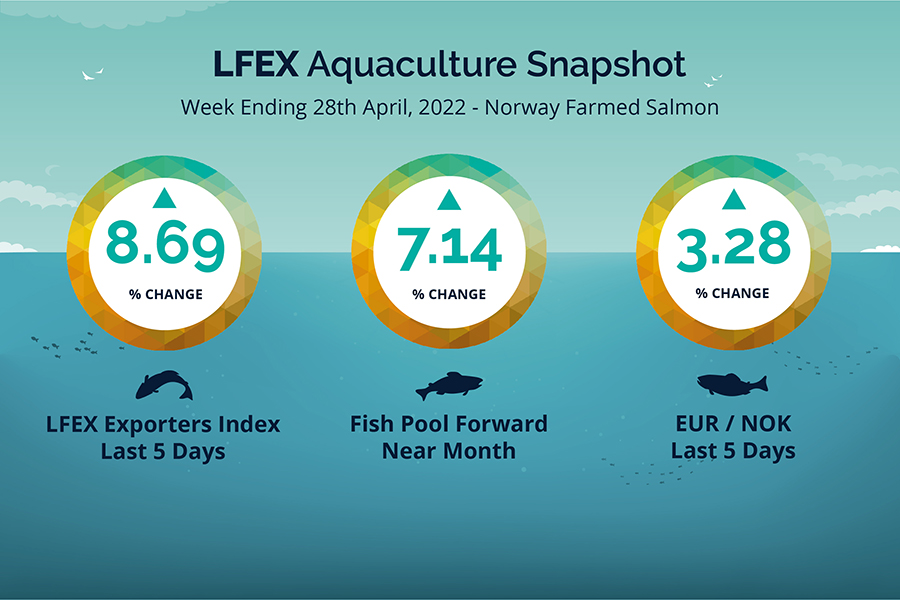 LFEX European Aquaculture Snapshot to 28th April, 2022
Published: 29th April 2022

This Article was Written by: John Ersser
---
The market kept climbing again this week to new record highs. The LFEX Norwegian Exporters index week 17 was up +8.69%, +10.27NOK to stand at 128.5NOK FCA Oslo Week ending Thursday vs previous Thursday price.
The NOK weakened a little at 9.89 to the Euro over the period Thursday to Thursday +0.31or 3.28% weaker. The Fish Pool future April gained +7.50 NOK to 112.50, +7.14% over the same period.
Another record week opening at 127.46 NOK showing a jump of 9.23 NOK versus 118.23 NOK +7.81% against last weeks close. Pricing moved up to peak at 130.44 breaching the 130 level for the LFEX index for the first time before coming back slightly at the end of the week at 128.5 NOK. Same story of lack of fish pushing up pricing. Sea temperatures remain cool and fish aren't feeding which means reduced growth. The sense is that next week will remain similar to this given not much has changed. Prices tend to slip in spring but warmer temperatures are needed to promote fish growth.
David Nye's analysis for a Technical viewpoint will be published on Monday.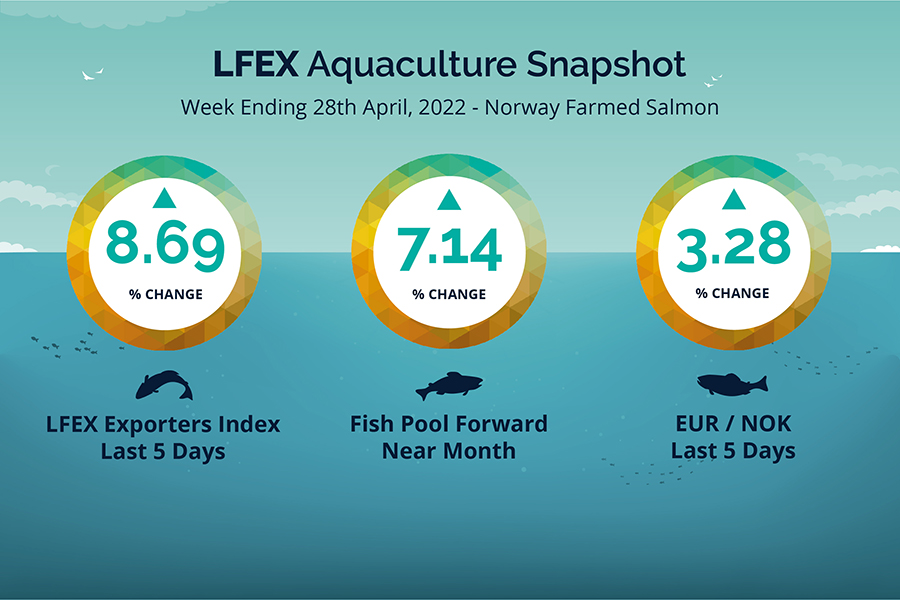 Market Data (Click Each to Expand)
| | | | |
| --- | --- | --- | --- |
| LFEX Prices | FX Rates | LFEX Indicative Exporter Prices (4 Week) | EUR / NOK FX Rate (4 Week) |
Did You Know?
LFEX produces intra-week data and analysis?
LFEX provides a unique view of price progression intra week. Our LFEX Exporters index tracks the market price and intra week volatility to give a better insight into to market movements and trends within the market. We also provide analysis and commentary to provide an historic, current and potential future price trends for market participants. Register to find out more.
FAQ's
Q. I hear a lot about digitisation – is it difficult?
A. This is obviously a big topic and can cover every aspect of your business. The migration to using technology and tools to help improve your company's business is relentless, some of the challenges are knowing what services are available and what is possible. Digitising requires changing of habits, daily work routines and the investment in time and resources. At LFEX we provide an easy path to migrating your relationships and business onto leading technology, and the benefits this provides to you and your business.