The London Fish Exchange
Data / Market Insight / News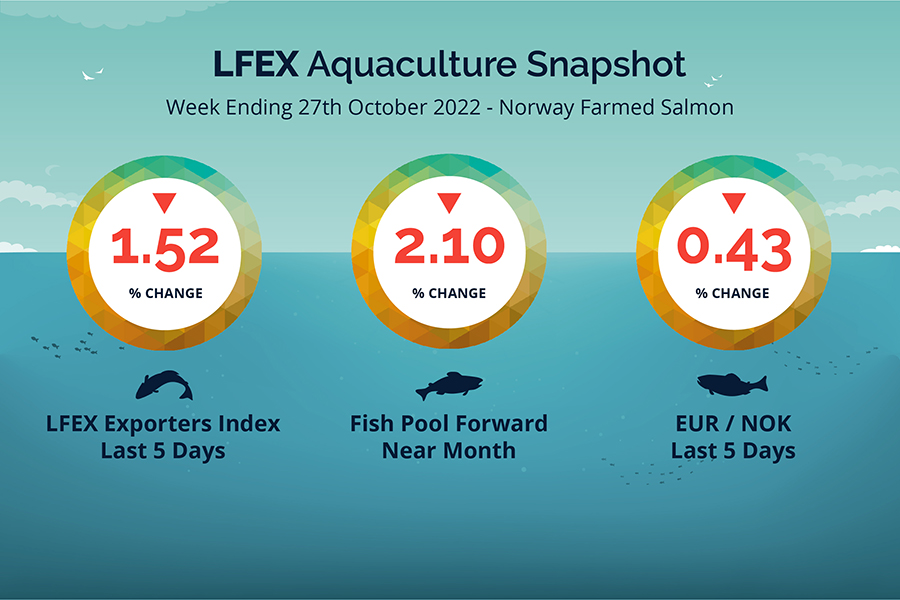 LFEX European Aquaculture Snapshot to 27th October, 2022
Published: 28th October 2022

This Article was Written by: John Ersser
---
The LFEX Norwegian Exporters Index week 43 was down -1.52%, -1.06 NOK to stand at 68.64 NOK FCA Oslo Week ending Thursday vs previous Thursday.
The NOK ended down slightly over the week ending at 10.33 to the Euro over the period Thursday to Thursday -0.045 NOK or -0.43%. The Fish Pool future October was also down -1.5 NOK at 70.0 NOK with November showing 78.25.
The market has traded in the same way for the past 3 weeks with broadly sideways pricing. Friday opened at 71.68 NOK pushed up +1.98 NOK +2.84% on the previous Thursday. Held Monday at 71.65 before giving back on Tuesday at 70.65 and Wednesday at 70.30. Thursday was off 1.66 NOK to finish the week at 68.64 NOK and down overall. A lot of volume still going through and just below the 7 Euro level. Next week and the following week (1st and 11th November) are holidays in Poland and factories close taking a chunk out of production. Activity is slowing in anticipation and tends to put a psychological drag on pricing. Expectations that pricing to remain soft with trading in a similar range. 3/4s might get a little lower. As usual we will see…
David Nye's analysis for a Technical viewpoint will be published on Monday.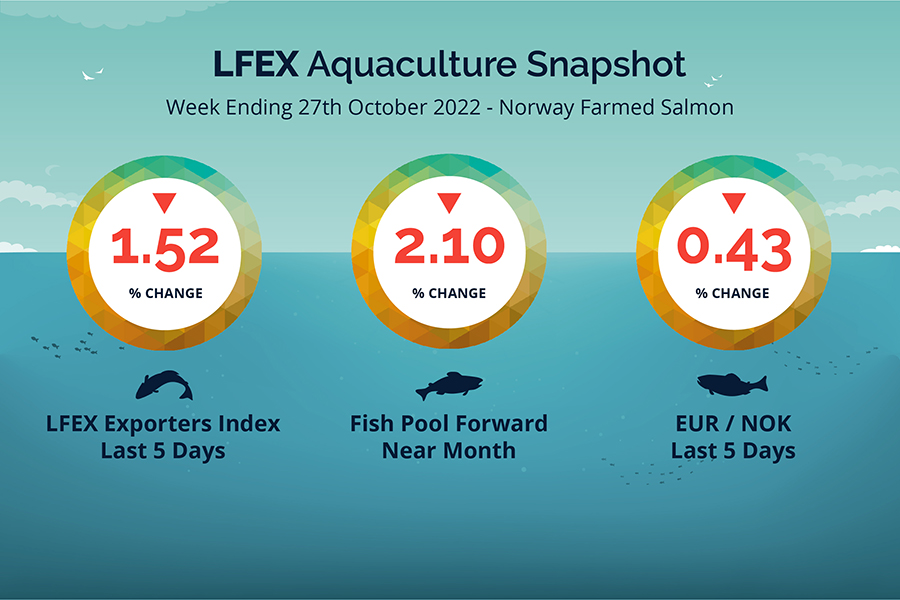 Market Data (Click Each to Expand)
| | | | |
| --- | --- | --- | --- |
| LFEX Prices | FX Rates | LFEX Indicative Exporter Prices (4 Week) | EUR / NOK FX Rate (4 Week) |
Did You Know?
You can set your company up now to be better prepared for the up-coming busy holiday seasons by engaging with LFEX and opening trading relationships with buyers or suppliers.
With these in place you give yourselves the best opportunity for your business.
FAQ's
Q. How can I optimise my sales in weeks where there may be a reduction in buying volume?
A. Active engagement with as many counterparties as possible will help with distribution. Widening global reach would also help with this, especially if the softness is within a particular market, and funnel volume elsewhere. Proactive updating of pricing and offers will create a sense of movement in the market and spur activity, as well as targeted pricing by clients or geography. Encourage engagement with dialogue on chat and market updates and even get buyers to put up bids to you help build a better market picture.