The London Fish Exchange
Data / Market Insight / News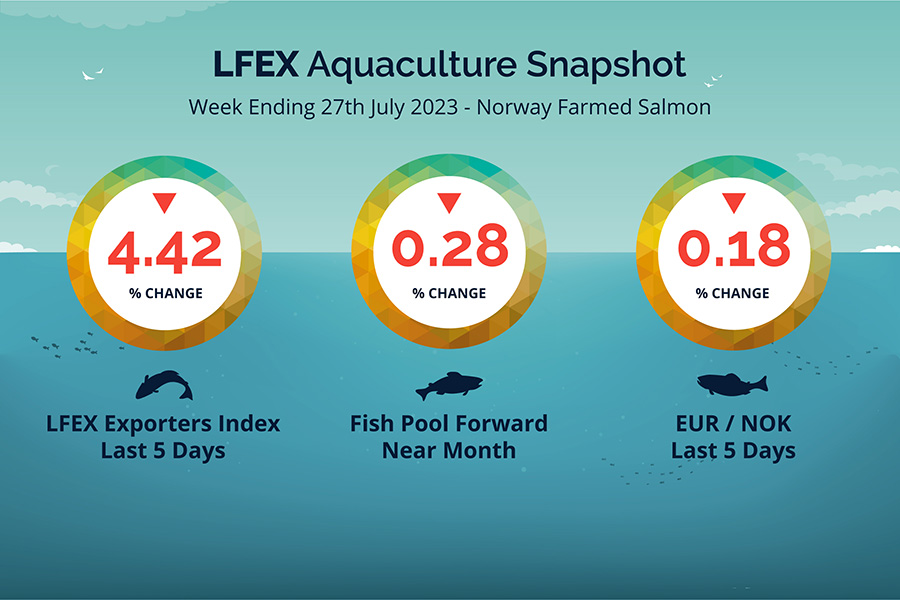 LFEX European Aquaculture Snapshot to 27th July, 2023
Published: 28th July 2023

This Article was Written by: John Ersser
---
The LFEX Norwegian Exporters Index for Week 30 2023 was down -4.42%, -3.84 NOK to stand at 83.04 NOK FCA Oslo Week ending Thursday vs previous Thursday.
The NOK rate was flat/down at 11.14 to the Euro over the period Thursday to Thursday -0.02 NOK or -0.18%. The Fish Pool future July was reported lower at 88.75 NOK down -0.25 NOK or -0.28%.
The index price opened lower for week 30 trading last Friday at 82.15 NOK -4.73 NOK from the previous week, reflecting the price reductions of the 4/5s and 5/6s, dropping around 5 NOK each. 3/4s were down less around 2.3 NOK. Monday was flat (2/3s+ and 5/6s-) at 82.18, Tuesday the low at 80.98 NOK and then the market found some support at 82.70 for Wednesday and closing out on the weeks high at 83.04 and over all intra week increase of +0.89 NOK. Spread was around 11.5. Looking forward to next week we only have very early suggestions from Thursday suggesting an early push on prices to start, but probably a more normal pattern of weakness later in the week with good availability of fish. Fishpool August future is currently showing 73.7 NOK which gives some indication of direction of travel. David Nye posted some useful analysis last week trying to pick the bottom of the market. Also see the 'did you know' section for a comparison to last year. We shall see.
David Nye's technical analysis report will be published on Monday.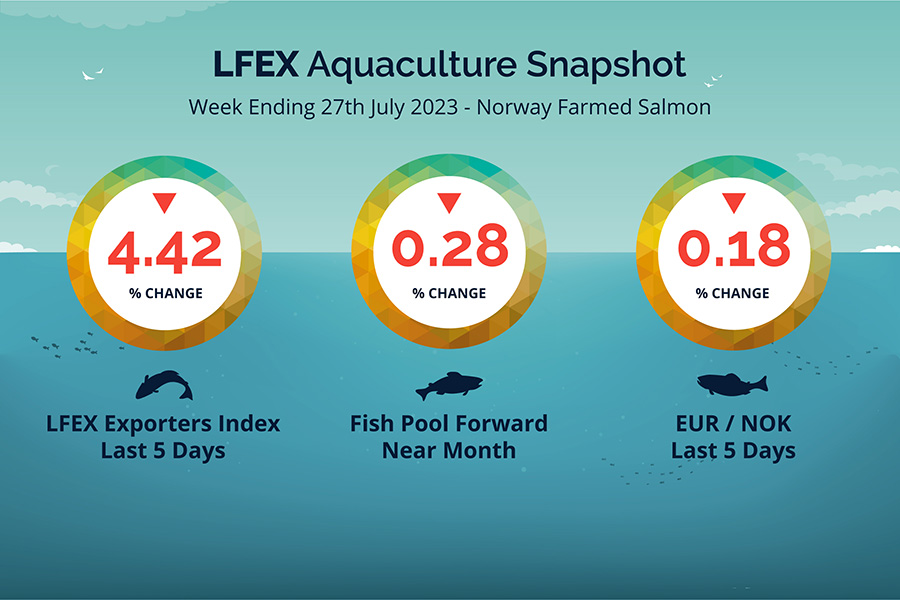 Market Data (Click Each to Expand)
| | | | |
| --- | --- | --- | --- |
| LFEX Prices | FX Rates | LFEX Indicative Exporter Prices (4 Week) | EUR / NOK FX Rate (4 Week) |
Did You Know?
This time last year in the price and volume cycle the LFEX Norwegian Exporters Index week 30 was at 72.25 NOK, down -3.06% on the week, but over 10 NOK lower than 2023 price.
The EURNOK rate was however much stronger at 9.88 vs 11.14 and the August Fishpool future was showing 73.25 vs 73.7 for 2023. Volume wise week 29 2022 posted 18,927 whilst week 29 2023 showed a lower 17,898 tons. The market bottomed in 2022 on the 29th August at 55.93 NOK.
FAQ's
Q. I trade a range of specifications – how can you support this?
A. At LFEX we spend a lot of time working closely with both buyers and sellers to capture the different activities of all the participants in the market and continually improve the system. As a consequence we are able to offer a huge range of possibilities and specifications to support all of your business.