The London Fish Exchange
Data / Market Insight / News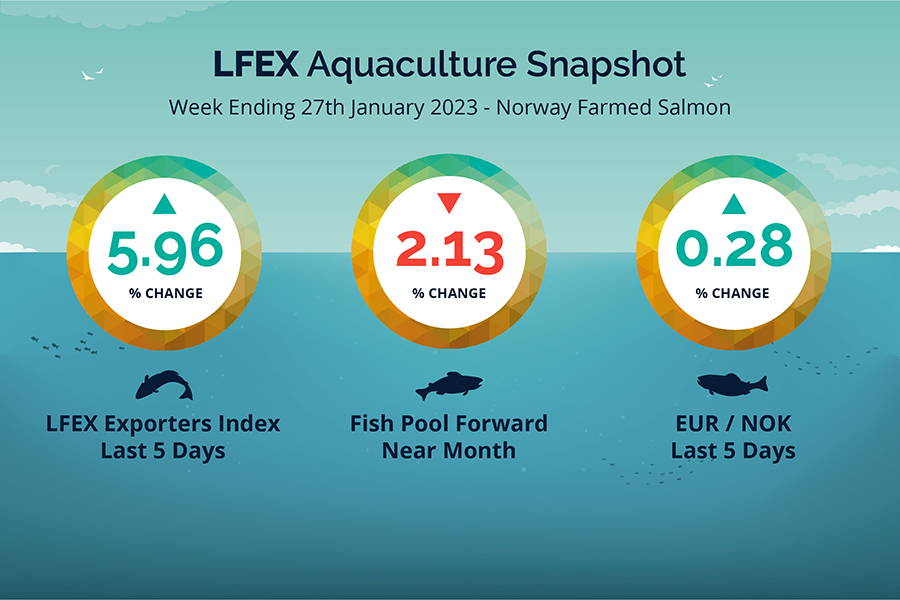 LFEX European Aquaculture Snapshot to 27th January, 2023
Published: 27th January 2023

This Article was Written by: John Ersser
---
The LFEX Norwegian Exporters Index Week 4 2023 was up +5.96 %, +5.02 NOK to stand at 89.21 NOK FCA Oslo Week ending Thursday vs previous Thursday.
The NOK rate ended up over the week ending at 10.77 to the Euro over the period Thursday to Thursday +0.03 NOK or +0.28%. The Fish Pool future January was reported lower at 89.55 NOK down -1.95 NOK or +2.13%.
The market experienced a reasonable bounce in prices in a volatile trading week. The weekly changes don't show the actual activity in the market. This week the market opened pretty flat as the buyers 8ish Euro threshold held. This lasted a day as we saw prices moving up sharply 5 NOK on Monday before giving back a couple of NOKs mid-week. Thursday saw prices pop up again as lower volumes this week supported prices. Demand is feeling low and pricing for next week will be volume dependent. Expectations for around these levels going into Friday. As usual we shall see.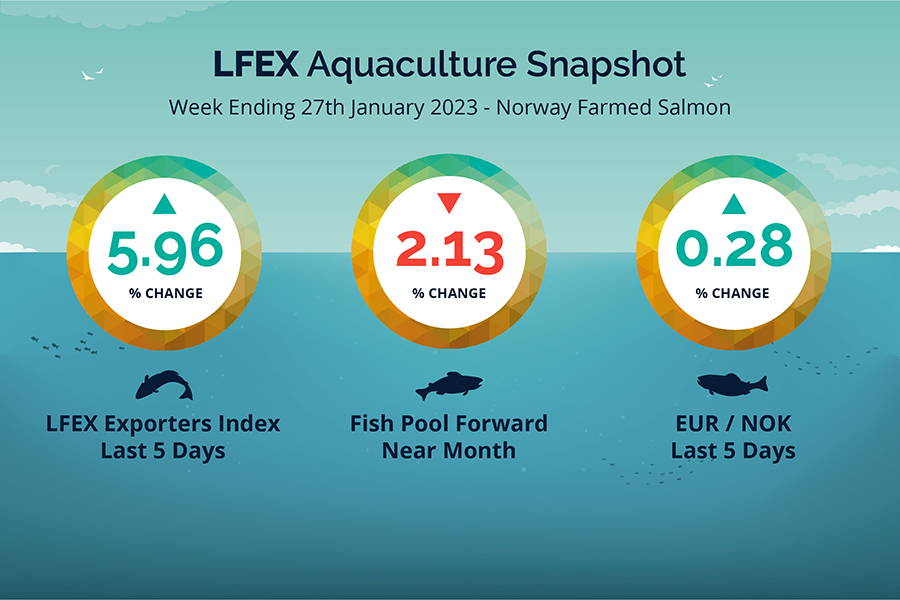 Market Data (Click Each to Expand)
| | | | |
| --- | --- | --- | --- |
| LFEX Prices | FX Rates | LFEX Indicative Exporter Prices (4 Week) | EUR / NOK FX Rate (4 Week) |
Did You Know?
By building relationships on-line you give yourself the maximum opportunity to get a trade done.
Moving your relationships on-line requires some initial time investment to link up to the counterparties you trade with and accessing new ones. However, by managing and nurturing these relationships, users can immediately connect and communicate to a bigger universe of counterparties. This can be particularly beneficial when it comes to tougher market conditions allowing instantaneous access to all your counterparties at the push of a button.
FAQ's
Q. How can I track intra week pricing?
A. The LFEX publishes on its platform its composite index everyday allowing users the visibility to track market movement and intra week trends. Volatility is hard to manage and any visibility and insights into prices and pricing trends very valuable especially if you aren't so connected to the market.