The London Fish Exchange
Data / Market Insight / News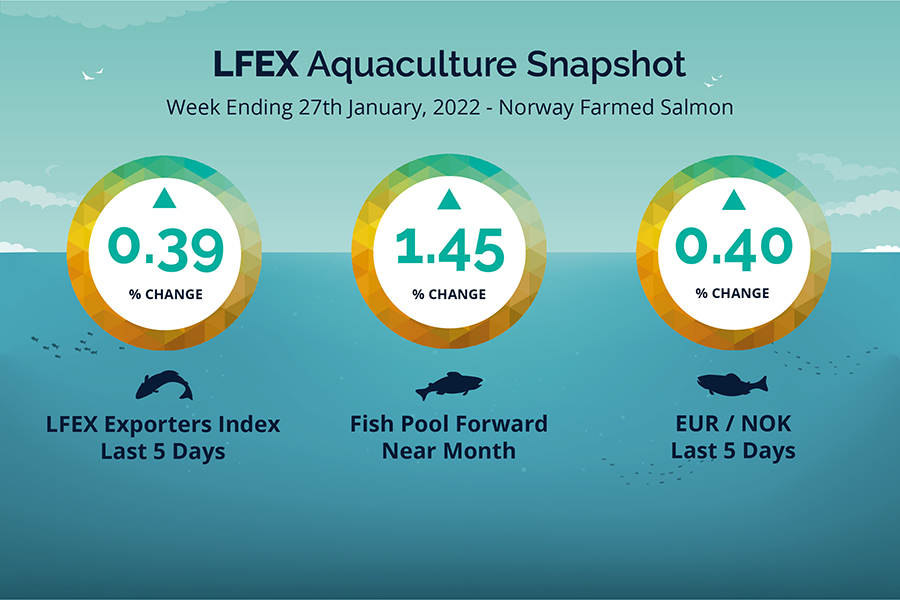 LFEX European Aquaculture Snapshot to 27th January, 2022
Published: 28th January 2022

This Article was Written by: John Ersser
---
Market Insight – Europe
The market was overall up this week with the LFEX Norwegian Exporters prices +0.39% higher, +0.28 NOK at 71.98 NOK FCA Oslo Week 4 ending Thursday vs previous Thursday price.
The NOK slightly softer against the Euro at 10.00 up +0.4% or +0.04 NOK Thursday to Thursday and the Fish Pool future January climbed +1.00 to 69.75 NOK, 1.45% better over the same period.
The numbers don't tell the whole story of the week however. The market opened down on Friday at 69.98, -1.72 NOK lower, but pushed up to the high on Wednesday at 73.19 for a range of 4.6% in the week, then again easing on Thursday, and the NOK jumped vs the Euro mid-week before landing pretty much in the same spot. Shortage of supply in 3 – 6's keep prices up, along with strong demand for 6+ and frozen fillets. Covid is affecting staffing in packing stations and processors. Next week the weather will be a potential factor for harvesting as well as Covid in packing stations.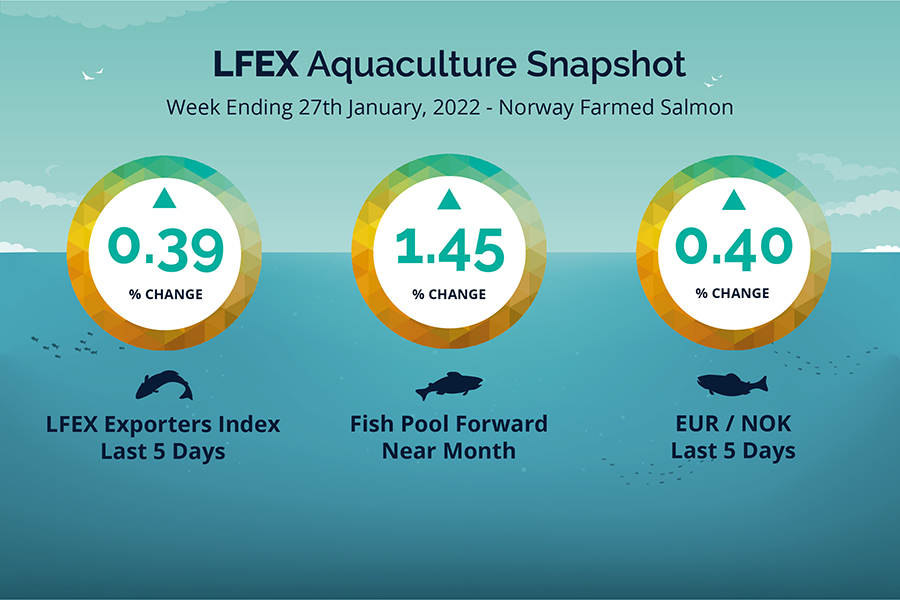 Market Data (Click Each to Expand)
| | | | |
| --- | --- | --- | --- |
| LFEX Prices | FX Rates | LFEX Indicative Exporter Prices (4 Week) | EUR / NOK FX Rate (4 Week) |
Did You Know?
Odd Lots – what does it mean, and can I trade them?
Odd Lots, or smaller orders and unusual one-off transactions are often the result of a surprise demand that needs to be facilitated by a buyer, or a smaller excess inventory from a seller. The use of a platform is ideal in this scenario allowing both sides to broadcast their Odd Lot requirement to multiple counterparties quickly and easily, and to source and mop up the requirement. It means the system can take the strain as opposed to chasing around for ultimately a low volume order.
FAQ's
Q. How flexible is the system if my needs / products aren't represented?
A. This is a great question, and the answer is infinitely flexible. Every week we get feedback from users and every week we add new features or parameters to the system to ensure that users demands are met. The system also offers multiple ways of communicating in addition to the core order/trading functions, including order commentary and chat to ensure that you can communicate effectively with each other.