The London Fish Exchange
Data / Market Insight / News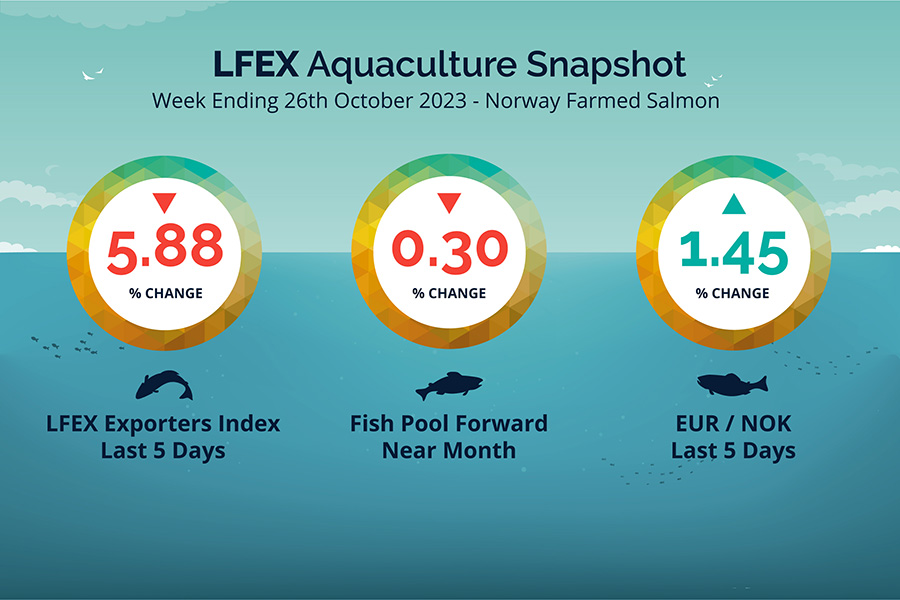 LFEX European Aquaculture Snapshot to 26th October, 2023
Published: 27th October 2023

This Article was Written by: John Ersser
---
The LFEX Norwegian Exporters Index for Week 43 2023 ended the week down -5.88%, -4.83 NOK to stand at 77.34 NOK (in EUR terms 6.52 / – 0.51 /- 7.23%) FCA Oslo Week ending Thursday vs previous Thursday.
The NOK rate was higher at 11.86 to the Euro over the period Thursday to Thursday +0.17 NOK or +1.45%. The Fish Pool future October was reported down -0.25 NOK, -0.30% at 81.75 NOK.
Index prices opened up on the Friday at 84.81 NOK / +3.11% contrary to early expectations, with an even 1 NOK spread between sizes 3-6 for the high of the week. Fridays push held on Monday at 83.38, but Tuesday was underwater at 80.13 and a crashed down to 76.67 Wednesday – top to bottom intra-week drop of nearly 10%, which left Thursday to stabilise at 77.34. What happened? A combination of more fish coming through than anyone expected in a week leading up to a holiday period in Europe which softens demand and colliding at midweek to actively push down prices. Continued NOK weakness brought EURO pricing down to 6.52 at the close. Fresh volumes for week 42 were 24,609 (vs 25,005 wk42 2022). Looking forward to next week there looks like a little overhang of volume in places which needs to be worked through at lower levels, and similar volumes to this week expected with potentially less larger fish (5/6s were indicated cheaper on Thursday than 4/5s). Range of sellers prices for next week showing around 77 currently – so flat – however there is push back at these levels from buyers coming in much lower. Updated index pricing as usual will be published later today.
David Nye's technical analysis report will be published on Monday.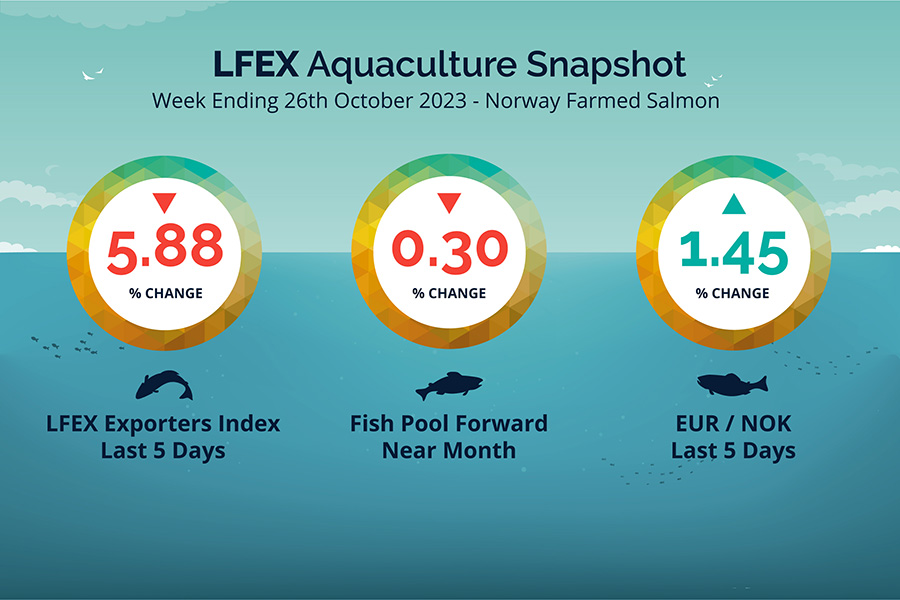 Market Data (Click Each to Expand)
| | | | |
| --- | --- | --- | --- |
| LFEX Prices | FX Rates | LFEX Indicative Exporter Prices (4 Week) | EUR / NOK FX Rate (4 Week) |
Did You Know?
Provenance and specifications documentation are supported order by order.
As provenance and certifications become more important to buyers, it is imperative that the supporting documentation can be made available down to the individual order/trade level. The system supports Fish CV's, certification documentation and detailed product specifications to ensure that you have all the required documentation and can evidence these materials for counterparty auditing, internal reporting and third-party auditing – all instantly available within your organisation.
FAQ's
Q. How can I see price changes during the week?
A. We track intra- week pricing on the index and publish this early afternoon Monday to Thursday and later on a Friday to capture the following weeks pricing. It is the ideal way to get a handle on intra-week volatility.