The London Fish Exchange
Data / Market Insight / News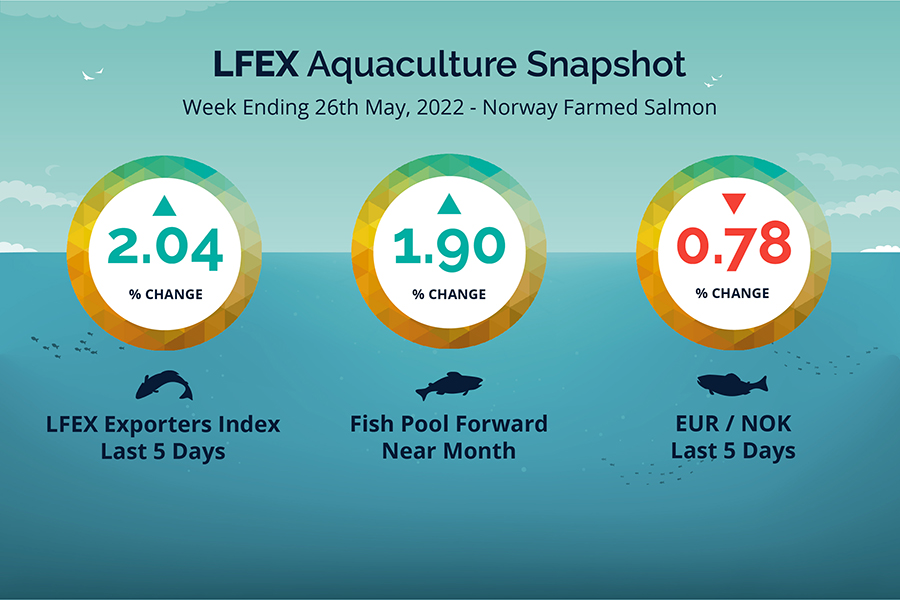 LFEX European Aquaculture Snapshot to 26th May, 2022
Published: 27th May 2022

This Article was Written by: John Ersser
---
A quieter week with a harvesting / trading day holiday in week 21. The LFEX Norwegian Exporters index was up +2.04%, +2.13 NOK to stand at 106.54 NOK FCA Oslo Week ending Wednesday vs previous Thursday.
The NOK was slightly stronger at 10.24 to the Euro over the period Thursday to Thursday -0.08 or 0.78% stronger. The Fish Pool future May gained +2.0 NOK to 107.00, +1.9% over the same period. With June showing 99.5 NOK.
Another shorter trading week with a holiday on the Thursday making price considerations for next week difficult. Low volumes in the prior week spilled over to this and the market opened on Friday 105.52, or just over 1% to the stronger. Monday saw a small increase but over all a fairly flat week finishing Wednesday at 106.54. Spreads 3-6 around 6.5 NOK. At the higher prices buyers have been using frozen inventory and appetite has been lower as have available volumes with fish held back to grow. The 3rd and 4th quarters generally see lower prices as volumes start to come through. Scottish salmon has been coming through cheaper and Chile is two weeks off of record highs with D Trim Miami showing $7.17. We'll see.
David Nye's analysis for a Technical viewpoint will be published on Monday.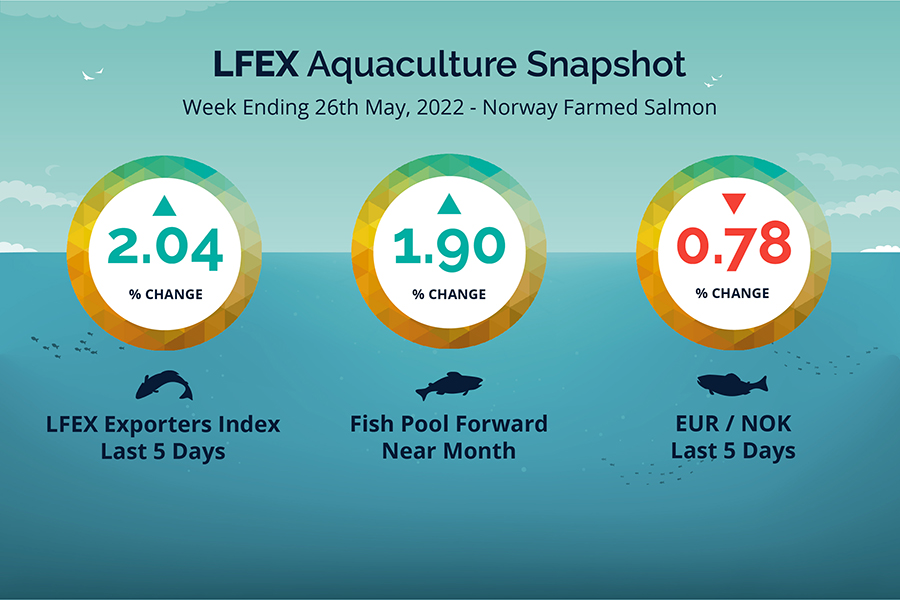 Market Data (Click Each to Expand)
| | | | |
| --- | --- | --- | --- |
| LFEX Prices | FX Rates | LFEX Indicative Exporter Prices (4 Week) | EUR / NOK FX Rate (4 Week) |
Did You Know?
As the market develops users become more sophisticated as they start to access and use more of the tools on offer.
Because we know every user is different, we allow users to configure their LFEX Web workspaces to reflect how they want to operate and use the platform. Users can create and save their own (multiple) bespoke layouts, meaning if pricing or RFQs or charts or chat or trade histories are the focus for them they can arrange this perfectly for their needs. This promotes both efficiency of working, immediate access to desired functionality and also allows technology do its job of supporting them and their businesses.
FAQ's
Q. I get confused having to track multiple communication channels, is there a better way?
A. By becoming a central focus point for a market, it is much easier to direct all communications into one channel which is secure, trusted and private. We know that companies often have to juggle 6 or 7 different solutions which becomes unworkable and unreliable as a process. LFEX chat is available 24/7 with all history accessible and auditable on web and mobile with alerts meaning you never miss that important message, order or price or conversation.