The London Fish Exchange
Data / Market Insight / News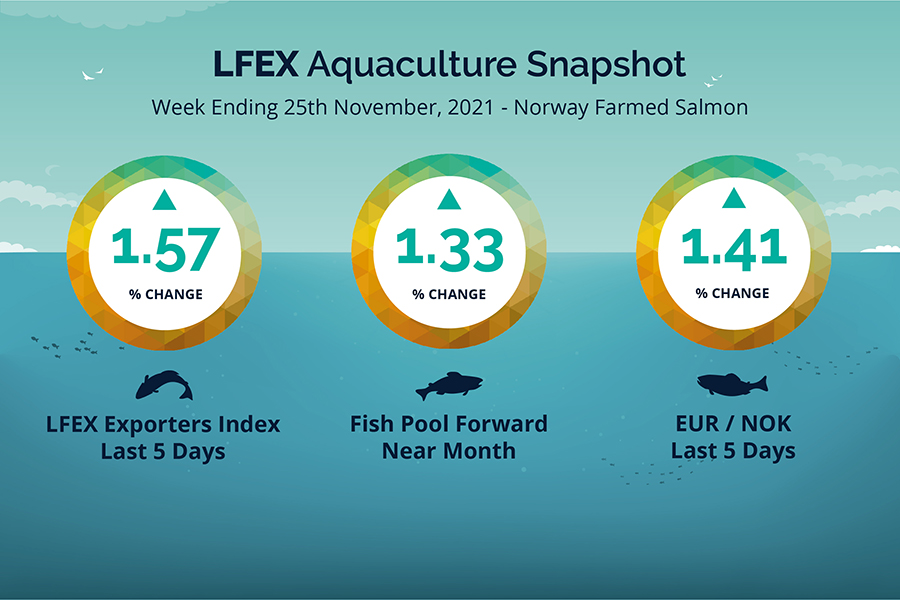 LFEX European Aquaculture Snapshot to 25th November, 2021
Published: 26th November 2021

This Article was Written by: John Ersser
---
Market Insight – Europe
The LFEX Norwegian Exporters price was up + 1.57%, +0.96NOK at 62.17 FCA Oslo Week 47 ending Thursday vs previous Thursday price.
The NOK was slightly weaker against the Euro at 10.07 up +0.14 NOK or +1.41% Thursday to Thursday and the Fish Pool future November climbed +0.75 to 57.00 NOK or +1.33% over the same period, December showing 64.5 NOK.
A 1.57% move does not tell the story of the week. Friday opened at 64.8 NOK a jump of 5.87% (after a 9%+ gain the prior week). The gains were held with a flat market through Monday and Tuesday giving back 3.55% on Wednesday at 62.53 and closing out at 62.17. The 3 – 6 spreads widen to around 3.2 NOK.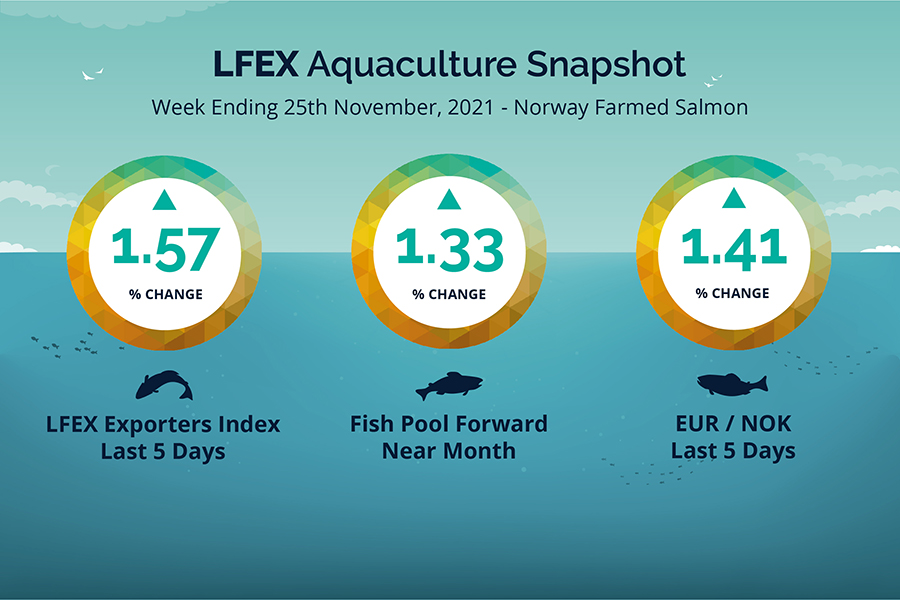 Market Data (Click Each to Expand)
| | | | |
| --- | --- | --- | --- |
| LFEX Prices | FX Rates | LFEX Indicative Exporter Prices (4 Week) | EUR / NOK FX Rate (4 Week) |
Did You Know?
We continue to add more companies registering from the USA as well as Canada, Brazil, Columbia Mexico etc.
It means we can offer these companies direct access to Chilean Salmon, Trout and Coho, as well as choice from European salmon and trout producers, which is great news for everyone involved whatever their preference.
FAQ's
Q. Does is cost to register and use the platform?
A. There is no cost to register and try out the platform. Buyers and Sellers can register for free. Once registered users receive their secure logins and can access and start using the platform. We encourage users to access the platform and look at the data and offers that are available and use the services on the system. We only make a small charge if you successfully complete a trade.