The London Fish Exchange
Data / Market Insight / News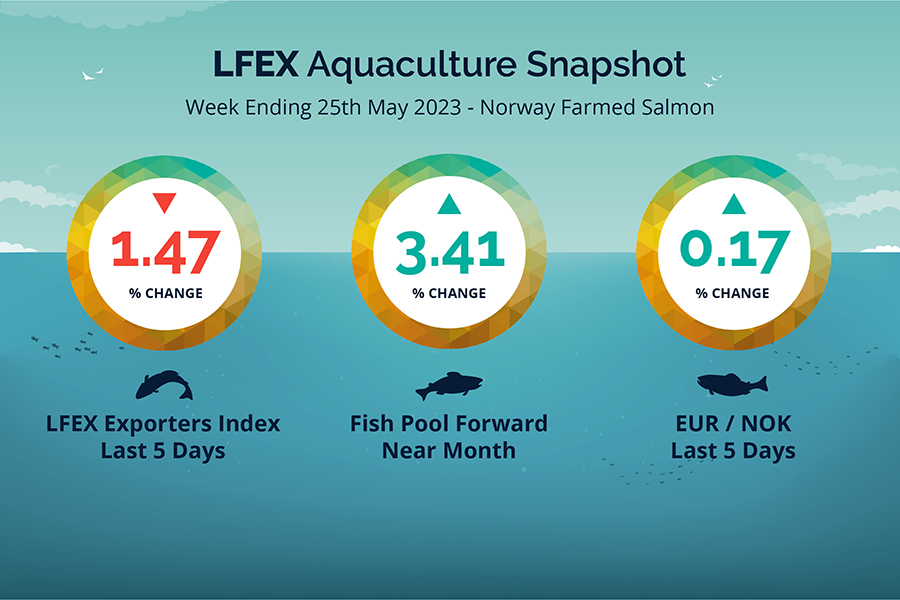 LFEX European Aquaculture Snapshot to 25th May, 2023
Published: 26th May 2023

This Article was Written by: John Ersser
---
The LFEX Norwegian Exporters Index for Week 21 2023 was slightly softer with the market down -1.47%, -1.67NOK to stand at 111.97 NOK FCA Oslo Week ending Thursday vs previous Thursday.
The NOK rate was up / flat at 11.73 to the Euro over the period Thursday to Thursday +0.02 NOK or +0.17%. The Fish Pool future May was reported higher at 106.0 NOK up +3.5 NOK or +3.41%.
A normal 5 day week opened slightly weaker with a 2.76 NOK / 2.46% drop to 110.85 NOK, and then prices remained millpond smooth for the week with a flat lining chart. Monday saw 111.09, Tuesday 111.11, Wednesday 110.1 and a slight tick-up to close the week at 111.97. Higher prices have subdued some appetite. Next week is another 4 day week (Monday off). Offers are currently a little higher than where we left off week 21 and will probably remain this way for Tuesday too. Buyer demand above 100NOK for 3-4s is poor. Consideration that prices might start to tail off later in the week. Buyers want pricing to come down but it is not happening quickly enough. In the weeks ahead biomass will be increasing and more harvest coming through and there is the expectation for the lowering of prices as we get into this cycle. We shall see.
David Nye's technical analysis report will be published on Monday.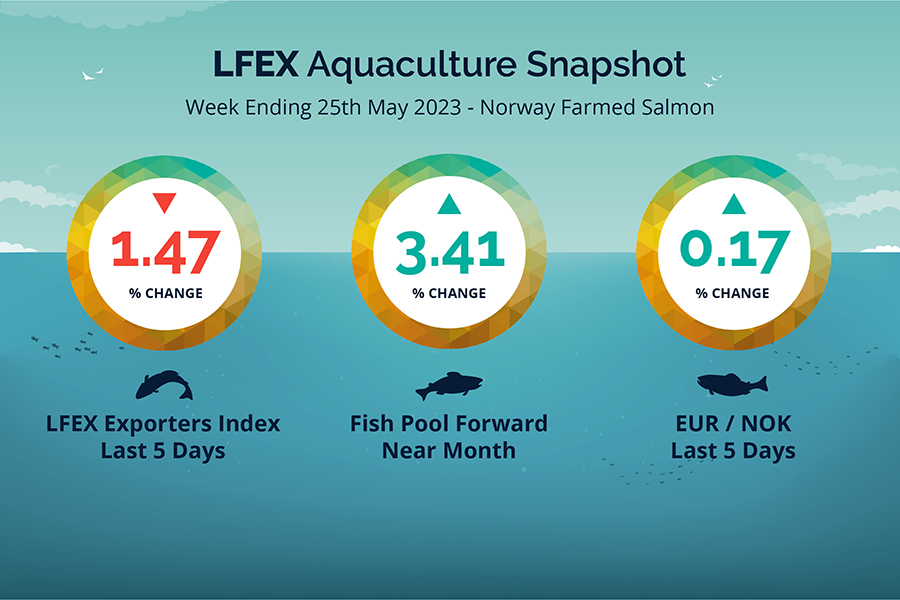 Market Data (Click Each to Expand)
| | | | |
| --- | --- | --- | --- |
| LFEX Prices | FX Rates | LFEX Indicative Exporter Prices (4 Week) | EUR / NOK FX Rate (4 Week) |
Did You Know?
As the market develops users become more sophisticated as they start to access and use more of the tools on offer.
Because we know every user is different, we allow users to configure their LFEX Web workspaces to reflect how they want to operate and use the platform. Users can create and save their own (multiple) bespoke layouts, meaning if pricing or RFQs or charts or chat or trade histories are the focus for them they can arrange this perfectly for their needs. This promotes both efficiency of working, immediate access to desired functionality and also allows technology do its job of supporting them and their businesses.
FAQ's
Q. With more volume coming through in Q3, how can I access this easily and quickly?
A. The best chance of accessing more pricing and inventory is to build up a roster of many different relationships to give you as much choice and exposure as possible. By building these relationships on the platform you can quickly and easily manage accessing more pricing and offers. We know that there is often a big pricing spread even in the same weight class between sellers and the platform will provide you with the tools to access these.