The London Fish Exchange
Data / Market Insight / News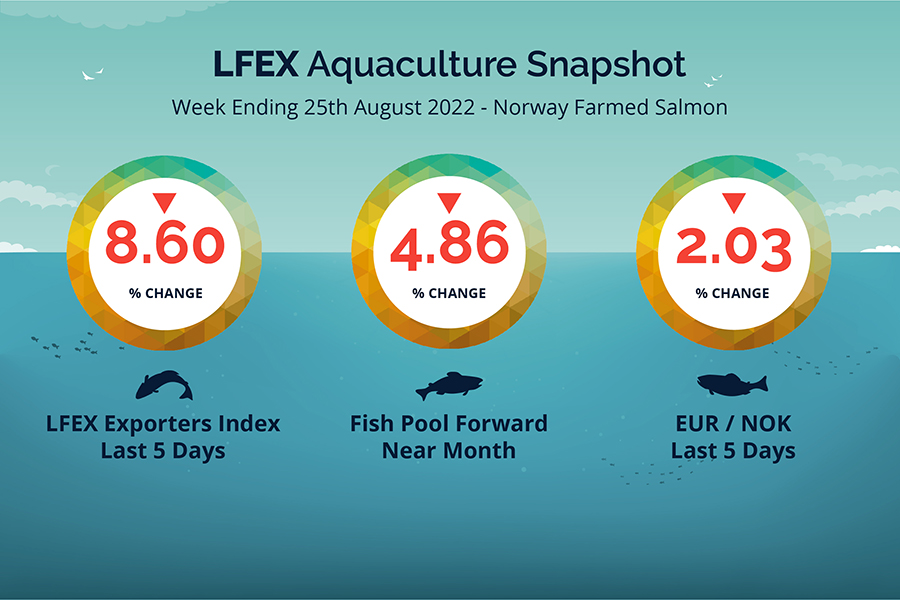 LFEX European Aquaculture Snapshot to 25th August, 2022
Published: 26th August 2022

This Article was Written by: John Ersser
---
The LFEX Norwegian Exporters Index week 34 was down -8.60%, -5.50 NOK to stand at 58.47 NOK FCA Oslo Week ending Thursday vs previous Thursday.
The NOK was stronger ending at 9.63 to the Euro over the period Thursday to Thursday -0.20 NOK or -2.03%. The Fish Pool future August was down -3.40 NOK at 66.50 NOK.
The market opened flattish at 63.72 after last weeks end of week dip, off -0.25 NOK at 63.72 or -0.39% and this was the strongest point of the week. Prices continued to fall for a large overall percentage drop of -8.60%, a similar percentage to the previous week (8.80%) albeit the quantum slightly less (-5.50 NOK vs -6.17 NOK). The week saw similar chunks being taken out of pricing each day of just under 2 NOK per day, with Monday showing 62.04, Tuesday 60.40, and Wednesday the bottom at 58.17 NOK. Producer relief was found on Thursday at 58.47 NOK as prices stabilised up 0.30NOK – an indication for next week that a balance was found? EURNOK took away some of the pain as the NOK strengthened 2%. Seasonal volumes continue to weigh on pricing (for comparison in 2021 the price on the 25th Aug 2021 was 54.69 NOK, the price on the 2nd Sept 21 was 51.39). For week 35 – overall sentiment going into next week is pricing to remain around these levels with a chance for a little more slippage. As usual, we will see…
David Nye's analysis for a Technical viewpoint will be published on Monday.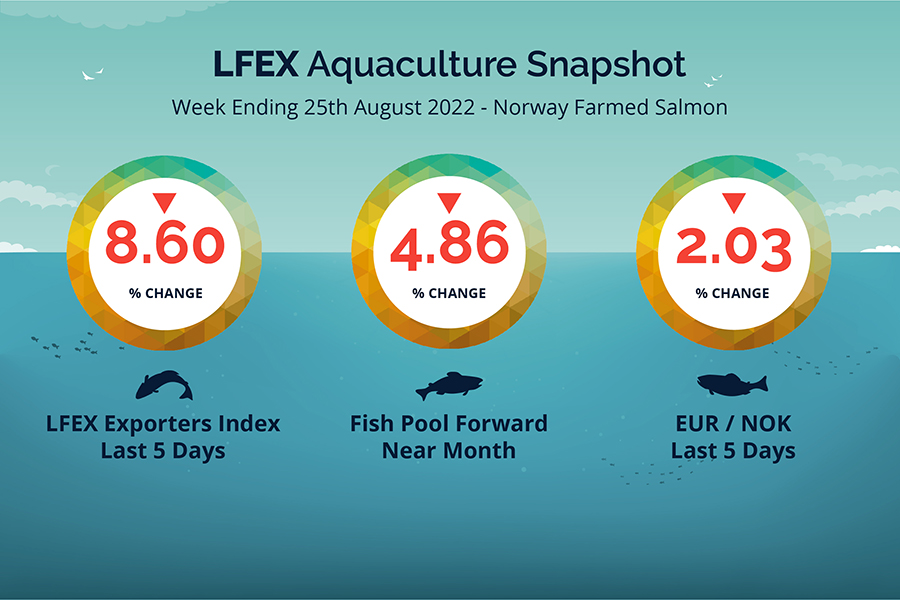 Market Data (Click Each to Expand)
| | | | |
| --- | --- | --- | --- |
| LFEX Prices | FX Rates | LFEX Indicative Exporter Prices (4 Week) | EUR / NOK FX Rate (4 Week) |
Did You Know?
LFEX provides technical analysis published each week from David Nye a world class analyst in financial markets.
You can register with LFEX to receive David's commentary on the LFEX website. Using only historical data David has been very consistent in identifying trends especially the very high prices of earlier in the year and now on the way down. Last week his analysis showed support levels at 60.83 and then 58.48, the latter just 0.01 NOK from Thursday's price.
FAQ's
Q. As a buyer I'm interested in just getting the best price, I don't mind where from – can you help?
A. The very volatile pricing we have seen over the past 12 months has been a challenge for all parts of the market, regardless of geographical supply, spot or contract. At LFEX we aim to support buyers by giving a choice of trading participants from Europe (Norway, Iceland and Scotland) as well as from the Americas, to help source and securely trade with different counterparties. This includes FX rates and calculators to help identify the best opportunities for Buyers.