The London Fish Exchange
Data / Market Insight / News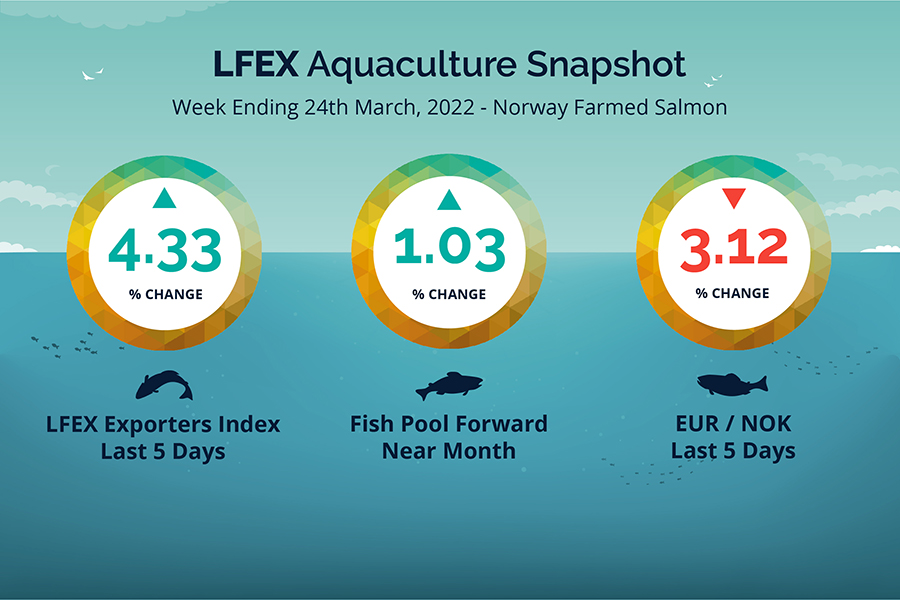 LFEX European Aquaculture Snapshot to 24th March, 2022
Published: 25th March 2022

This Article was Written by: John Ersser
---
Prices for Week 12 continued the recent rising trend. The LFEX Norwegian Exporters index was up +4.33%. +3.58 NOK to stand at 86.25 NOK FCA Oslo Week ending Thursday vs previous Thursday price.
The NOK was considerably stronger again at 9.46 to the Euro versus 9.77 NOK over the period Thursday to Thursday, the low of the week. The Fish Pool future March gained +0.85 NOK to 83.35 NOK, +1.03% over the same period, with April showing 83.1.
The market gapped up on the Friday open +5.81 NOK or 7.03% better which proved to be the high for the week, and then fixed at just over 88 NOK (88.16, 88.17, 88.14) until Thursdays drop off to 86.25. The spread between 3's and 6's remained close at 1.3 NOK. Expectations for next week are broadly similar with pretty stable prices, maybe a little more volume and a strong NOK. Geopolitical events may of course come in to play, which could affect inflation and commodity price pressures.
David Nye's analysis for a Technical viewpoint will be published on Monday.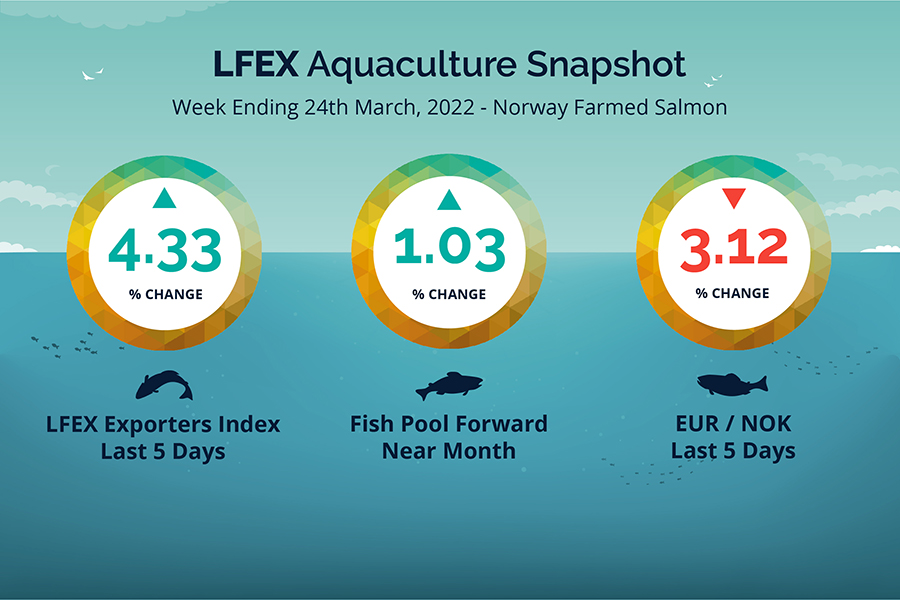 Market Data (Click Each to Expand)
| | | | |
| --- | --- | --- | --- |
| LFEX Prices | FX Rates | LFEX Indicative Exporter Prices (4 Week) | EUR / NOK FX Rate (4 Week) |
Did You Know?
As well as publishing the LFEX Norwegian Exporters index Technical Analysis each week, we also publish Technical Analysis on the LFEX DataSalmon FoB Miami Index.
This data is based on weekly price movements built up over a 6 year period, providing many data points during the annual trading cycle. This data is built up of traded prices from over 80% of the Chilean market and is therefore the most authoritative source of this data, and therefore the best benchmark to deliver technical analysis against.
FAQ's
Q. How do I get prices for products and how accurate are they?
A. If we take the Chilean market as an example, we provide price discovery in 4 forms to give users as much possible data to base purchasing decisions. We provide composite historical data to track where markets have been, a weekly composite of the current market price (so today the Miami Fob was $7.06 / lbs and Brazil FoB PM $9.56 / KG). We have both user Bid and Offer prices, and finally we offer the Technical Analysis on future pricing based on historic trends. All of which gives users the ability to access and assess pricing from this market.