The London Fish Exchange
Data / Market Insight / News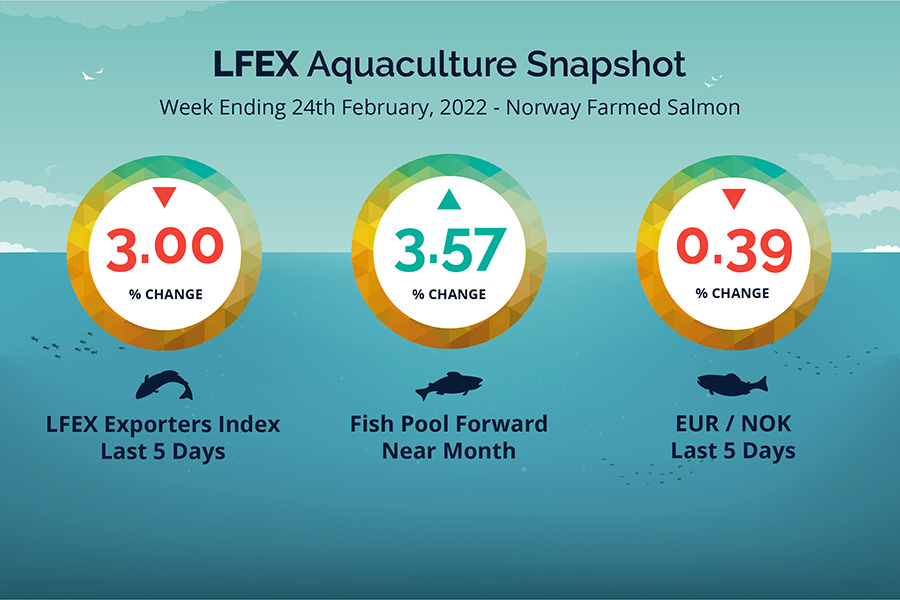 LFEX European Aquaculture Snapshot to 24th February, 2022
Published: 25th February 2022

This Article was Written by: John Ersser
---
Prices for Week 8 ended down. The LFEX Norwegian Exporters index was down -3.00%, -2.79 NOK at 90.25 NOK FCA Oslo Week 8 ending Thursday vs previous Thursday price.
The NOK was -0.39% stronger to the Euro -0.04 at 10.09 NOK over the period Thursday to Thursday. The Fish Pool future February climbed +2.90 to 84.15 NOK, +3.57% better over the same period, March showing 77.75.
Another week where prices opened stronger, up 2.45 NOK or 2.63% on the previous Thursday price, which was pushed on to 96.36 on Monday and the high. Tuesday saw 92.72 and Wednesday 94.69, but Thursday saw prices drop to 90.28 NOK around -5%. Geopolitical reasons were behind the drop with all Ukraine orders cancelled with immediate effect, with this fish redeployed in other markets. Week 9 is a typical winter vacation week with not many people around. Price expectations probably to remain high. See David Nye's analysis for a Technical viewpoint.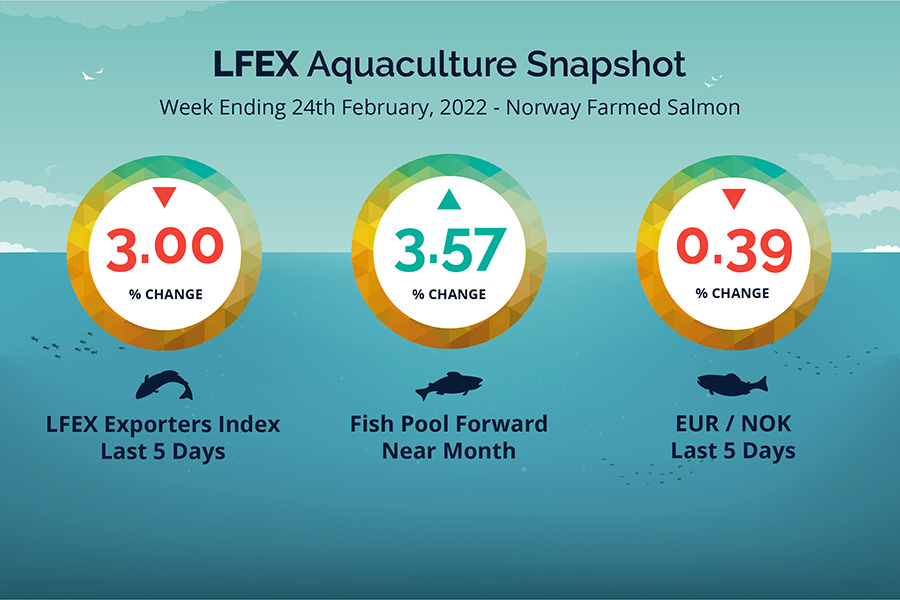 Market Data (Click Each to Expand)
| | | | |
| --- | --- | --- | --- |
| LFEX Prices | FX Rates | LFEX Indicative Exporter Prices (4 Week) | EUR / NOK FX Rate (4 Week) |
Did You Know?
By building relationships on-line you give yourself the maximum opportunity to get a trade done?
Moving your relationships on-line requires some initial time investment to link up to the counterparties you trade with and accessing new ones. However, by managing and nurturing these relationships, users can immediately connect and communicate to a bigger universe of counterparties. This can be particularly beneficial when it comes to tougher market conditions allowing instantaneous access to all your counterparties at the push of a button.
FAQ's
Q. Can I trade with multiple counterparties on one order?
A. This is happily supported in the system and means that a buyer can make a request to several counterparties and trade part of the order with one company (who may have the best price but not the total volume required) and the balance with a second or third seller. Sellers on the other hand can put up an offer with an inventory level in any amount and work this with multiple customers. The system will allow the seller to see and manage each separate negotiation with the buyers, and most importantly the system won't let sellers over-trade – i.e. sell inventory they don't have.