The London Fish Exchange
Data / Market Insight / News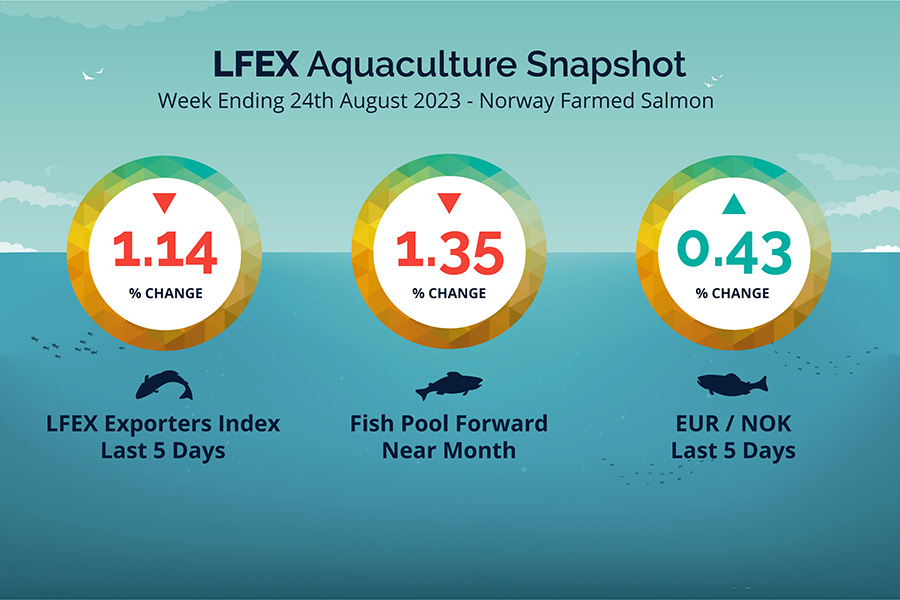 LFEX European Aquaculture Snapshot to 24th August, 2023
Published: 25th August 2023

This Article was Written by: John Ersser
---
The LFEX Norwegian Exporters Index for Week 34 2023 was down -1.14%, -0.82 NOK to stand at 71.00 NOK FCA Oslo Week ending Thursday vs previous Thursday.
The NOK rate was up at 11.55 to the Euro over the period Thursday to Thursday +0.05 NOK or +0.43%. The Fish Pool future August was reported down -1.35%, -1.00 NOK at 73.0 NOK.
The index price opened lower for week 34 trading last Friday at 69.81 NOK -2.01 NOK from the previous week (Thursday), with all weight classes down approximately 2 NOK. Interestingly this was the low of a very flat week with little pricing volatility. Trading was in a tight range of 1.2 NOK across the week and finished on a high at 71. Spreads between 3-6s remain compressed at 2.5 NOK.
Fresh volumes for week 33 were 22,698 tons. The index came close (69.81 NOK) but did not breach the 68.89 technical support level indicated last week – which therefore proved very accurate. As a reminder the technical levels are based solely on analysis of historical pricing.
For next week early views are…still mixed. Recognition that more volumes are coming over the next few weeks but relative price stability opening the coming week. Prices suggested to soften a little and 5-6s will come down further inline with the smaller fish. A weaker EURNOK (9.63 vs 11.55) means comparisons versus last year can't be made in absolute terms. We shall see.
David Nye's technical analysis report will be published on Monday.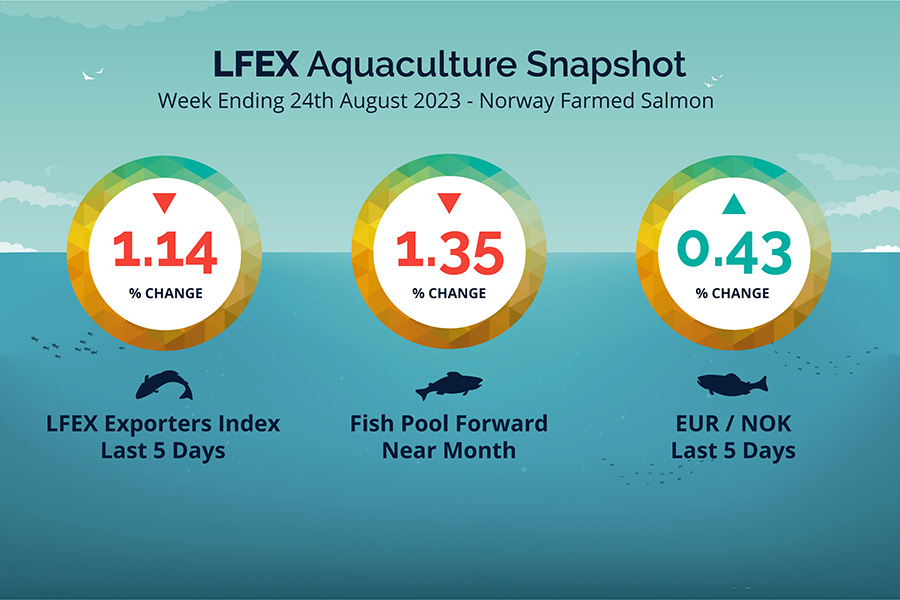 Market Data (Click Each to Expand)
| | | | |
| --- | --- | --- | --- |
| LFEX Prices | FX Rates | LFEX Indicative Exporter Prices (4 Week) | EUR / NOK FX Rate (4 Week) |
Did You Know?
The more you use the system the more benefit you will get from it.
It has been designed to be the focus of your daily activity providing pricing and updates, with centralised communication through chat services, alerts and notifications, and secure trading and confirmations with all data tracked and managed in one place for you.
FAQ's
Q. Can I communicate in a different language on the platform?
A. The chat service supports multilanguage / characters meaning as long as users have the necessary input keyboard they can communicate in any language they chose – including helpful emojis .