The London Fish Exchange
Data / Market Insight / News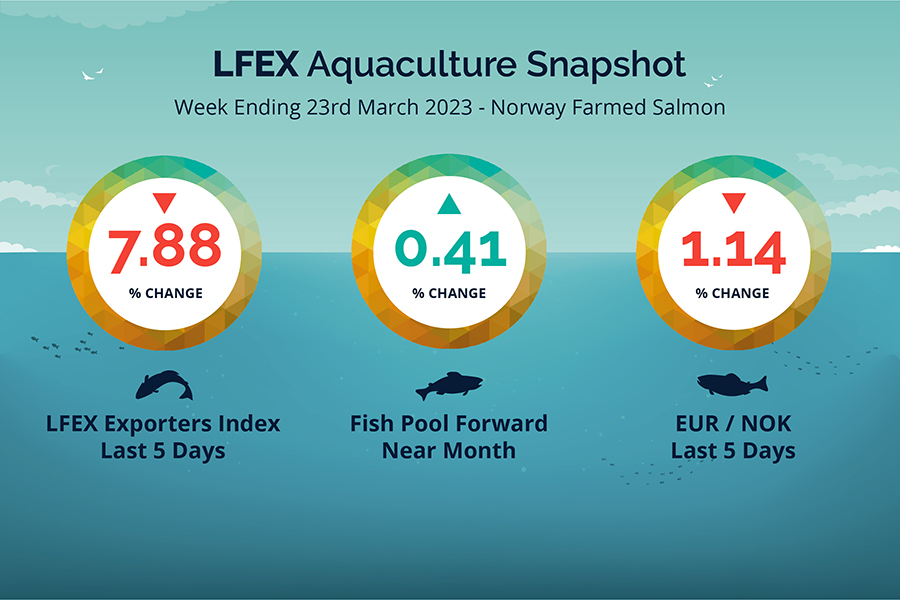 LFEX European Aquaculture Snapshot to 23rd March, 2023
Published: 24th March 2023

This Article was Written by: John Ersser
---
The LFEX Norwegian Exporters Index Week 12 2023 was down -7.88%, -9.91 NOK to stand at 115.8 NOK FCA Oslo Week ending Thursday vs previous Thursday.
The NOK rate was down at 11.30 to the Euro over the period Thursday to Thursday -0.13 NOK or -1.14%. The Fish Pool future March was reported higher at 123.0 NOK up +0.5 NOK or +0.41%.
Pricing eventually came off this week but not without a push at the start when prices opened up +3.35 NOK, 2.66% the better at 129.09 on Friday. It was downhill from there as the market weakened across the week catching out early buyers. Monday saw 125.8, Tuesday 122.77, Wednesday dipped further to 118.65 to close out at 115.83. Producers have been pulling out more fish in preparation for Easter creating extra capacity and there is downward price pressure from buyers off of the recent highs. Next week is the last week in time to fulfil easter demand, but extra capacity is forecast to be harvested. Next week prices aren't expected to go up, and more probably stable around these current levels. We shall see.
David Nye's technical analysis report will be published on Monday.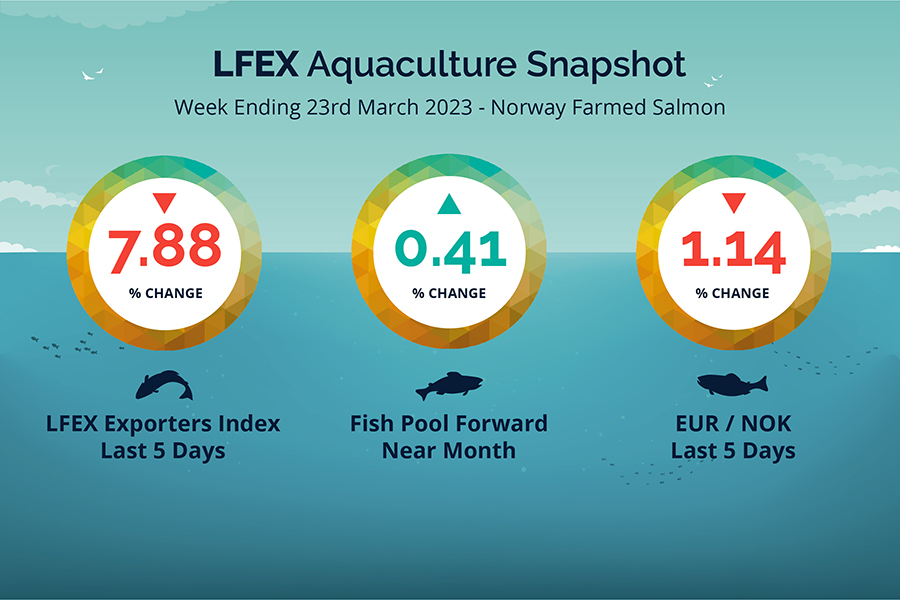 Market Data (Click Each to Expand)
| | | | |
| --- | --- | --- | --- |
| LFEX Prices | FX Rates | LFEX Indicative Exporter Prices (4 Week) | EUR / NOK FX Rate (4 Week) |
Did You Know?
The London Fish Exchange works 365 days, 24/7!
Let the LFEX work for you. It never needs an afternoon off, or a day off, or holiday (although you can access it on your vacation). It can help your company buy or sell efficiently and in a cost effective manner. Let the LFEX be a key member of your team.
FAQ's
Q. What is the purpose of the platform?
A. Bring together the buying and selling communities on a single platform. Delivering a tool for users to support; connecting, communication, pricing, market transparency and trading in a secure, modern and transparent environment, 24 x 7 globally. To deliver the same benefits of technology enjoyed by a multitude of other financial and commodity markets, as well as a single source for post sales activity, documentation and market data. Delivering efficiency, opportunity and knowledge.