The London Fish Exchange
Data / Market Insight / News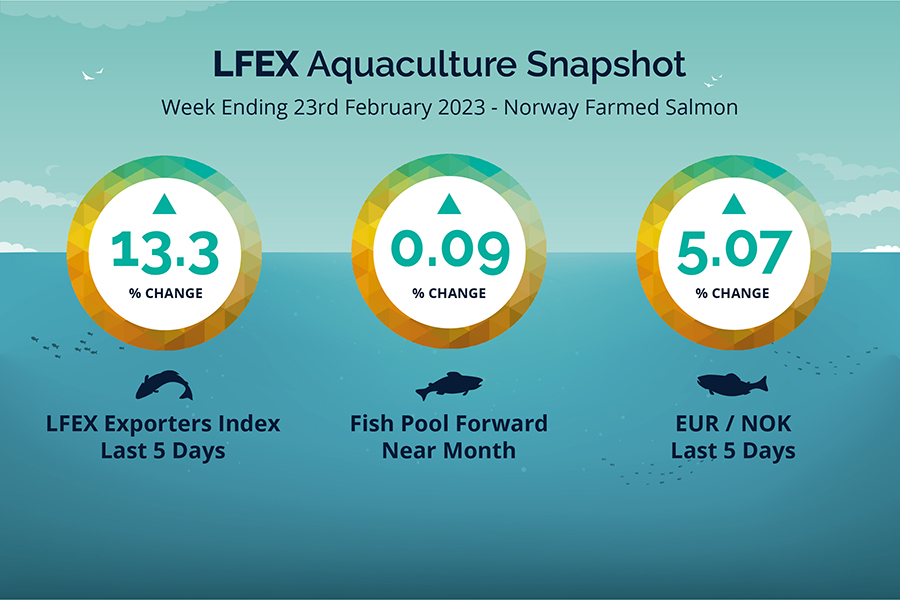 LFEX European Aquaculture Snapshot to 23rd February, 2023
Published: 24th February 2023

This Article was Written by: John Ersser
---
The LFEX Norwegian Exporters Index Week 8 2023 was up +13.31% +14.06 NOK to stand at 119.70 NOK FCA Oslo Week ending Thursday vs previous Thursday.
The NOK rate was flat at 10.95 to the Euro over the period Thursday to Thursday +0.01 NOK or +0.09%. The Fish Pool future February was reported higher at 98.5 NOK up +4.75 NOK or +5.07%.
Another big leap in pricing as expected as low harvest volumes continued to exert pressure on pricing. The market rallied up at the start of the week +8.36 NOK or 7.91% at around 114 NOK before jumping again on Monday to 119.57 NOK where the market found some equilibrium. Tuesday marginally higher at 119.99 and small peak on Wednesday at 121.55 NOK before settling back again at 119.70 to close out the week. Week 7 (2023) volumes were 14,851 tons vs 17,933 in week 7 2022 as a comparison. There isn't much expectation of higher volumes available next week either (or the following) which will continue to apply pressure on price. Potential for 5/6 fish to be incrementally higher. Demand at these levels will start to reduce, really depends on volumes available. As usual we shall see what the week brings.
David Nye's technical analysis report will be published on Monday.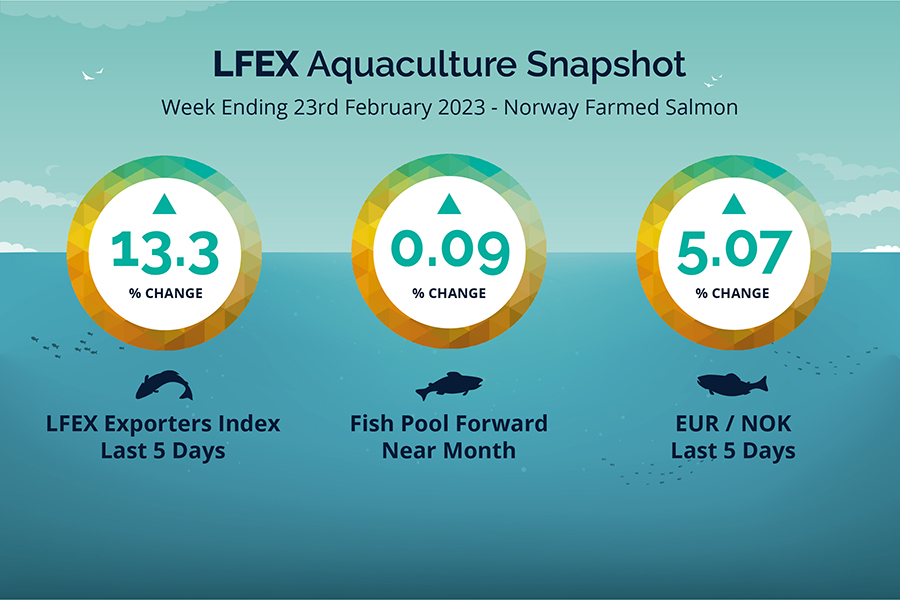 Market Data (Click Each to Expand)
| | | | |
| --- | --- | --- | --- |
| LFEX Prices | FX Rates | LFEX Indicative Exporter Prices (4 Week) | EUR / NOK FX Rate (4 Week) |
Did You Know?
The best way for any market to handle volatility is to increase the number of participants which increases available liquidity, and LFEX participants should push to try and achieve this.
For sellers making better margins in an upward market is easier, but it also allows them ability to be a little more aggressive where they have inventory available. In falling markets, the bigger the universe to go for, the better chance, which is beneficial for sellers with inventory to go.
FAQ's
Q. How flexible is the system if my needs / products aren't represented?
A. This is a great question, and the answer is infinitely flexible. Every week we get feedback from users and every week we add new features or parameters to the system to ensure that users demands are met. The system also offers multiple ways of communicating in addition to the core order/trading functions, including order commentary and chat to ensure that you can communicate effectively with each other.