The London Fish Exchange
Data / Market Insight / News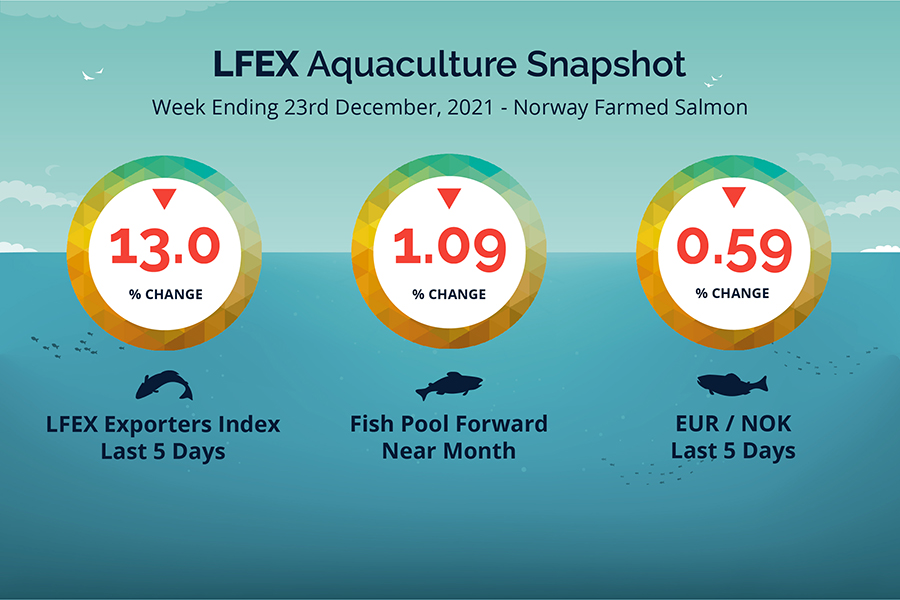 LFEX European Aquaculture Snapshot to 23rd December, 2021
Published: 24th December 2021

This Article was Written by: John Ersser
---
Market Insight – Europe
Wishing you all a very Happy Christmas and New Year.
The market dropped from it's recent highs this week with the LFEX Norwegian Exporters prices down -13.0%, -9.83 NOK at 65.79 FCA Oslo Week 51 ending Thursday vs previous Thursday price.
The NOK strengthened a little against the Euro at 10.02 down -0.11 NOK or -1.1% Thursday to Thursday and the Fish Pool future December reduced -0.4 to 67.6 NOK or -0.59% over the same period, with Jan 22 at 68.1Nok.
An interesting pre-Christmas week with lower liquidity and indicative prices falling robustly. Prices opened for the week flat at 75.51 versus 75.62, held their nerve on Monday before falling sharply to 69.45 on Tuesday with further reductions on Wednesday and Thursday. Christmas week is short and Thursdays' price may be an indication of starting prices for next week.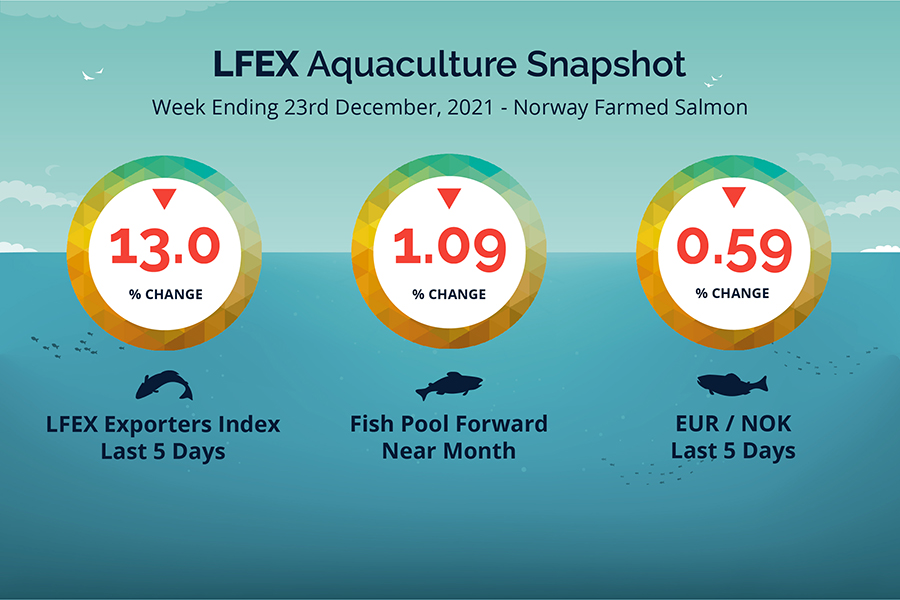 Market Data (Click Each to Expand)
| | | | |
| --- | --- | --- | --- |
| LFEX Prices | FX Rates | LFEX Indicative Exporter Prices (4 Week) | EUR / NOK FX Rate (4 Week) |
Did You Know?
You can arrange Contracts on the LFEX platform?
We offer 'spot' physical trading on the platform e.g. the trade for the current week. We also support 'Contracts' or 'Programs' and forwards on the system meaning users can lock into prices to help secure pricing or inventory. The contract content is entirely flexible and can be used with any product. For the user short term contracts (from 2 weeks and longer) and long-term contracts (12+ months) are available.
FAQ's
Q. Can I as a buyer enter a price that I am prepared to trade on?
A. 100% yes. Buyers can not only make specific requests based on their own requirements, they can also add a price to the request that they are prepared to buy at. Sellers can accept this price and trade with you, or counter with their own price(s). Buyers can amend their prices, or withdraw them at any time, and are in complete control of the prices they want to show and to whom they want to show them.
This is a great way of building an understanding of a market where there are both sellers prices and buyers prices are visible.