The London Fish Exchange
Data / Market Insight / News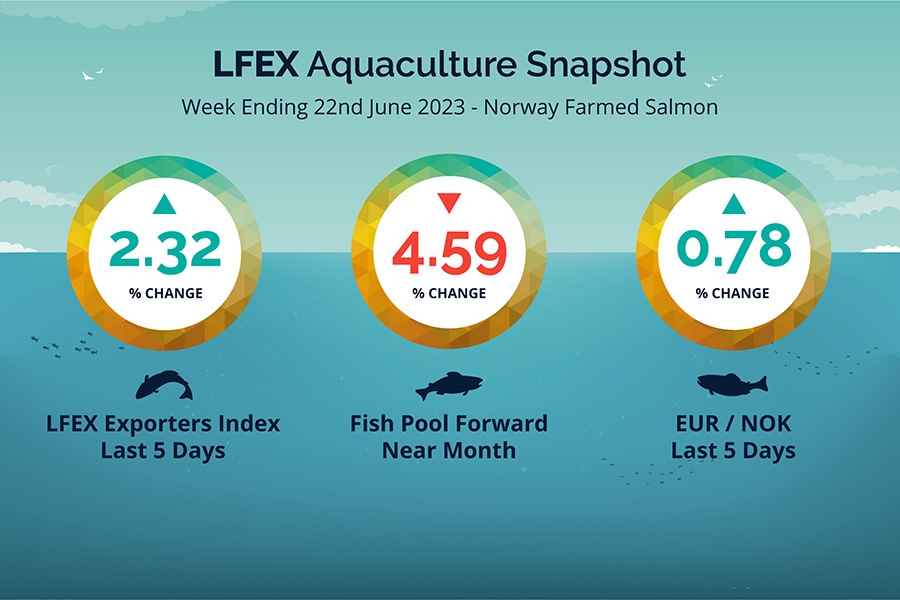 LFEX European Aquaculture Snapshot to 22nd June, 2023
Published: 23rd June 2023

This Article was Written by: John Ersser
---
The LFEX Norwegian Exporters Index for Week 25 2023 was up + 2.32%, +2.03 NOK to stand at 89.36 NOK FCA Oslo Week ending Thursday vs previous Thursday.
The NOK rate was up at 11.59 to the Euro over the period Thursday to Thursday +0.09 NOK or +0.78%. The Fish Pool future June was reported lower at 93.5 NOK down -4.5 NOK or -4.59%.
Prices at the end of the week were pushed back up. As suggested, pricing started off a little lower from the bruising previous week, down 1.22 NOK or -1.22% on the Friday, and this weakness continued into Monday at 84.62 NOK. Tuesday saw a slight upward move to 85.47 NOK and Wednesday at 87.87 NOK – where the previous week left off – only Thursday saw positive pricing over the previous week. The story for last week is that while a little more volume has come through, the farmers have been trying to push prices back up. Next week early indications are varied as of last night. There aren't big volumes coming through yet and farmers are trying to push prices up, however the feeling is this probably won't be achieved. Best guess is for similar average levels to this week, the 5+ may do slightly better, but unsold fish and buyer pressure may have an effect. To get Fridays actual index price login to the platform this afternoon. We shall see.
David Nye's technical analysis report will be published on Monday.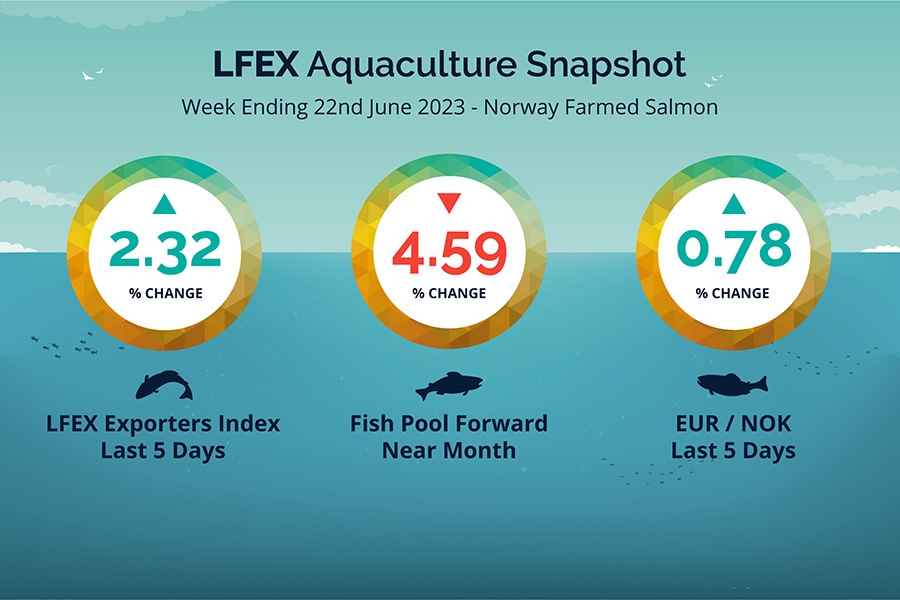 Market Data (Click Each to Expand)
| | | | |
| --- | --- | --- | --- |
| LFEX Prices | FX Rates | LFEX Indicative Exporter Prices (4 Week) | EUR / NOK FX Rate (4 Week) |
Did You Know?
If you have scheduled and/or multiple orders you can input and manage them all using the LFEX platform.
It provides a fantastic tool for organisation and schedule management for your business with all your counterparties. If you need to be buying over the course of the week for different delivery dates, you can send these different requirements to numerous counterparties and build a picture of potential available inventory over the week and how this and the pricing picture changes.
FAQ's
Q. After I have executed transactions on the platform can I access documentation from this order?
A. By executing on the platform you have a confirmed transaction between you and your counterparty. Full details of this are immediately available in real-time. The system also allows you to access documentation flow around the order, whether it is invoices, specifications, logistics etc it is all available to both parties the instant they are uploaded / updated. Documentation is available trade by trade and therefore easily and immediately available for staff who need the access to the complete trade / logistics / invoicing picture.