The London Fish Exchange
Data / Market Insight / News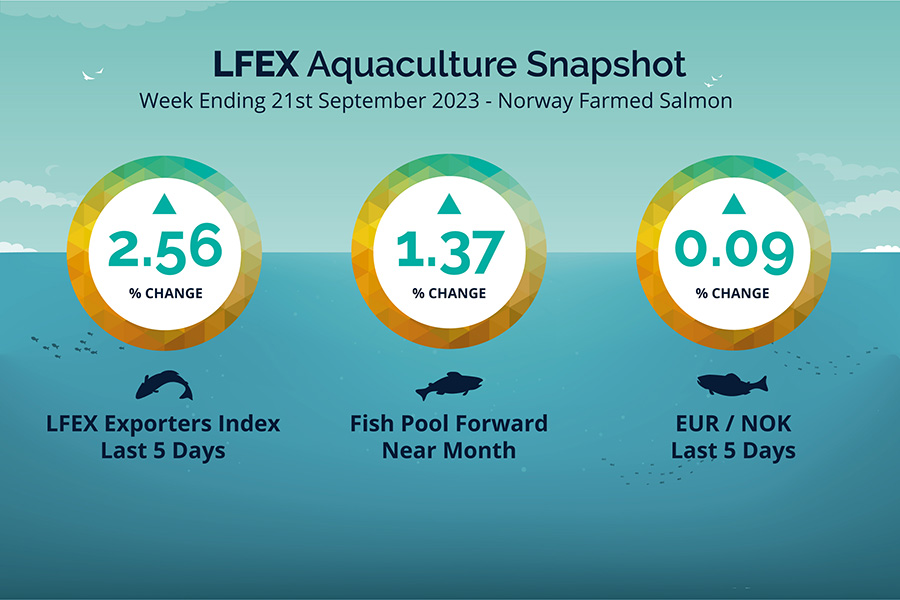 LFEX European Aquaculture Snapshot to 21st September, 2023
Published: 22nd September 2023

This Article was Written by: John Ersser
---
The LFEX Norwegian Exporters Index for Week 38 2023 was up +2.56%, +1.91 NOK to stand at 76.44 NOK (approximately 6.64 EUR) FCA Oslo Week ending Thursday vs previous Thursday.
The NOK rate was pretty flat at 11.51 to the Euro over the period Thursday to Thursday +0.01 NOK or +0.09%. The Fish Pool future September was reported up +1.00 NOK, +1.37% at 74.00 NOK.
Index prices opened up higher for offered prices week 38, +2.50 NOK to the good over last Thursday's price at 74.53 NOK as product was pushed early doors. However, Monday's pricing found the balance for the week at 75.44 where it remained pretty flat through Tuesday 75.35 and Wednesday 74.96. Thursday saw a pick-up where buyers who bought early in the week needed a top up, pushing prices up to the close at 76.44. This week will be interesting. A lot of small fish (1-2s) available, but less volume in the larger fish will see pressure to push up prices. Some hopeful punts at larger sizes, with a range of indications averaging around 76 / 78.5 / 80.5+ in early market. Week 37 2023 volume was 25,480 tons (down slightly on 25,816 for '22). We shall see.
David Nye's technical analysis report will be published on Monday.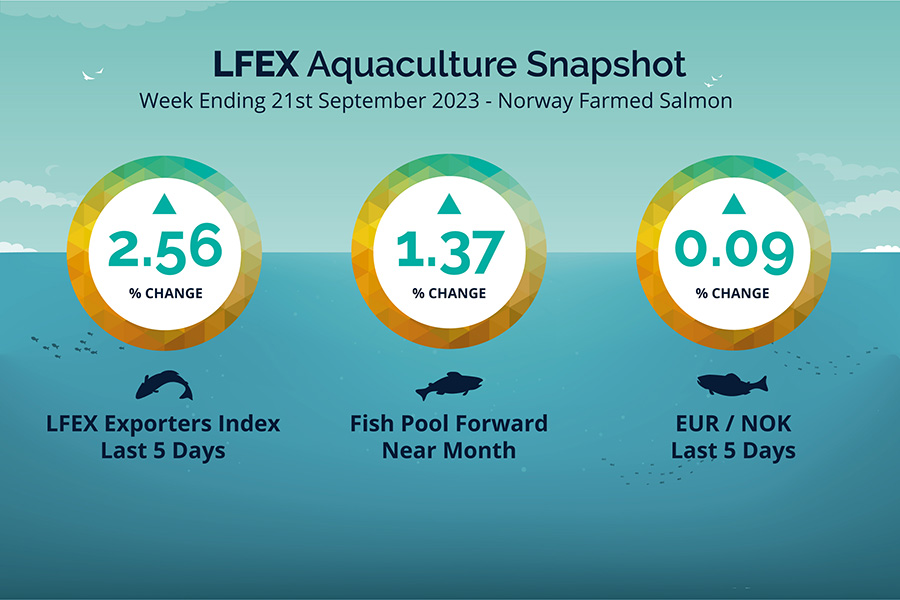 Market Data (Click Each to Expand)
| | | | |
| --- | --- | --- | --- |
| LFEX Prices | FX Rates | LFEX Indicative Exporter Prices (4 Week) | EUR / NOK FX Rate (4 Week) |
Did You Know?
The LFEX RFQ allows users to make offers and requests for forward orders not just the current week?
If a customer has a specific need for inventory at a specific day / week in the near future this request can be put up, and likewise if a seller wants to secure some early sales they can put up offers for that date/week. The system also offers contracts trading for multi-leg orders.
FAQ's
Q. I trade a range of specifications – how can you support this?
A. LFEX has spent a long time working very closely with both buyers and sellers in the salmon and trout market to develop the platform which captures the different needs of all the participants in the market. It means users can manage a wide range of parameters and complexity – easily, quickly and simply.