The London Fish Exchange
Data / Market Insight / News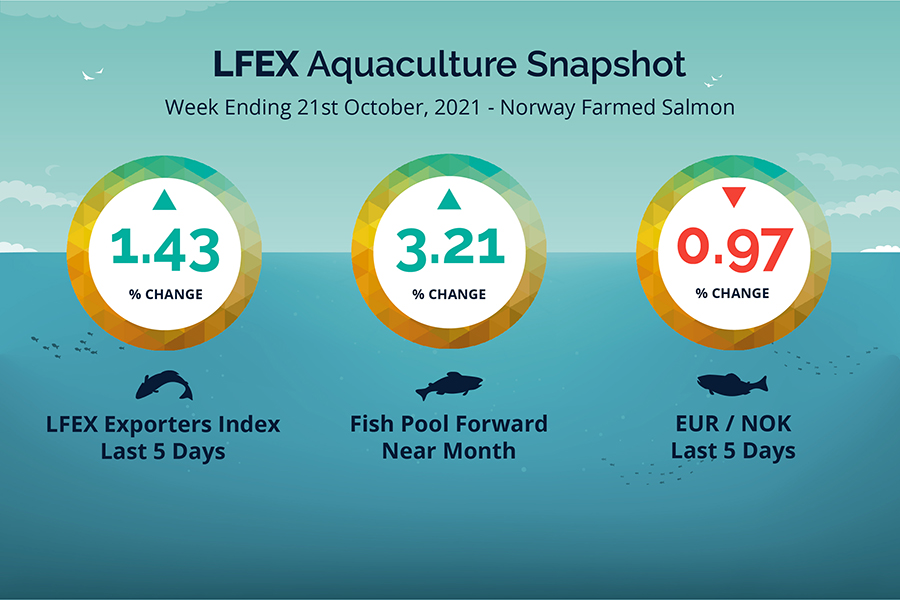 LFEX European Aquaculture Snapshot to 21st October, 2021
Published: 22nd October 2021

This Article was Written by: John Ersser
---
Market Insight – Europe
The LFEX Norwegian Exporters price was up +1.43%, + 0.83 NOK at 58.79 FCA Oslo Week 42 ending Thursday vs previous Thursday price.
The NOK showed further strength against the Euro at 9.7 down -0.095 NOK or – 0.97% Thursday to Thursday and the Fish Pool future October increased +1.75 to 56.25 NOK or +3.21% over the same period, with November showing 60.75.
Prices gapped higher Friday (+0.79 NOK / + 1.44%) and then a further (+1.01 NOK / +1.57%) on Monday for the peak before retreating back to the start levels of Friday. 3 – 6 spreads remained around 2.75 NOK.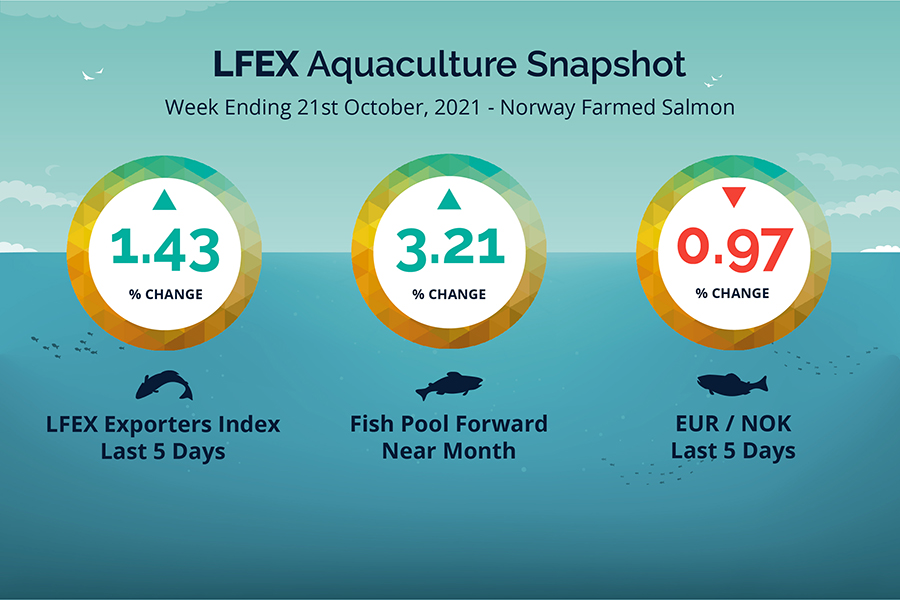 Market Data (Click Each to Expand)
| | | | |
| --- | --- | --- | --- |
| LFEX Prices | FX Rates | LFEX Indicative Exporter Prices (4 Week) | EUR / NOK FX Rate (4 Week) |
Did You Know?
For Buyers when markets are tight, it helps to have access to multiple suppliers and well as independent price points for the market.
Many buyers use the same sellers each week, knowing the provenance and having relationships. Sometimes, it isn't always possible to source from these same sellers (no inventory / wrong inventory / no credit etc) and it is helpful to have a tool like LFEX to provide additional choice as well as independent pricing to support the buyers business.
FAQ's
Q. Can I see the overall market price?
A. LFEX has develop a world leading technology for the aquaculture market, partly based on our groups' collective experiences in different financial and commodity markets and trading technology. We support you with both a choice of real-time prices from sellers as well as LFEX provided, independent pricing, to benchmark your markets. This is helpful for both buyers and sellers when gauging the current market price.